Defining the CRM
Customer Relationship Management (CRM) programmes are a great way for businesses to use automation to provide more personalised interactions with customers and prospects. CRM definitions usually detail how CRM helps organisations to improve processes, boost profitability, increase sales, enhance customer service, and deepen customer relationships. However, a universal CRM definition is difficult to produce because of the variety of uses CRM has. Choosing a customer relationship consultancy requires thorough research and consideration, so that the investment will be valuable for the business. This article will provide a valuable framework for understanding customer relationship management in a clear, defined way.
Understanding the differences between CRM variants is essential for a good relationship with CRM. Below are 3 CRM Definitions.
CRM Platform: This is a technology product, typically in the cloud. This enables businesses to record, report, and evaluate interactions between the company and its customers or prospects.
CRM Strategy: This is an organisation's approach to driving relationships with customers, or prospects forward, in order to achieve their ambitions.
CRM Programme: Best practice CRM Programmes should include a set of rules and processes that a company implements to nurture and manage its relationships. By focusing on contact density, channel, timing, content, and personalisation, brands can develop CRM programmes that engage individuals and increase loyalty.
What is a CRM system and how can it benefit your business?
For a clear-cut definition of CRM Systems, we need to consider their functionality. Modern CRM systems can enable businesses to store their customer and prospect data, track calls, send emails, schedule consultations, make notes, manage sales pipeline and view email open statistics all in one place. CRM Systems can also automatically pull in other information, such as current news about the business's activity, as well as saving information on a customer's individual preferences around communications.
CRM systems help businesses enhance customer relationships and also increase customer lifetime value (CLV) by offering personalised communications and relevant offers.
Each time a sales rep or customer support agent picks up the phone to speak with a customer, heads out to meet a new prospect or follows up on a prospective lead, they learn something new and potentially valuable.
With a CRM system, every question, service request, preference and previous contact detail about every customer or prospect is easily accessible. This means that every new interaction can be customised, made relevant and kept up to date. CRM systems can also be utilised to plan follow-ups and other actions.
Why a CRM is critical for improving your customer management
Understanding customer relationship management programmes will enable sales and customer success teams to deepen their relationships with new and existing customers.
In today's extremely competitive environment – and with many products or services to select from – customers are picky, and customer loyalty can seem hard to achieve.
The moment a new item is released into the market, it can take just a few months before that product or service is a commodity. A robust customer relationship management programme will retain those customers and reduce customer churn levels.
Some customers are unprofitable and drain customer service resources. Other customers regularly purchase new services and products and may even be strong influencers in their market. Setting up a CRM system through a customer relationship consultancy can help businesses to identify and focus their sales and marketing efforts on the most profitable customers.
Understanding customer relationship management programmes can give businesses a much better method of identifying the customer's wants and needs in order to improve cross-selling and up-selling initiatives. The most effective customer relationship management programmes enable you to understand your customers, their purchasing choices and behaviour. Therefore, the more likely your offer will be on target.
13 benefits you can achieve by setting up a CRM System
1. Increased marketing ROI
CRM analytics performed by a trusted customer relationship consultancy can help companies to understand how they can improve customer engagement and communications with their customer base. Campaign tracking in CRM systems allows companies to develop actionable insights about the campaigns and marketing communications that work best for specific customer segments; making it easier for marketers to deliver greater ROI.
2. Improved contact management
With a well set up CRM system, every call, query, purchase and customer touchpoint is recorded and is accessible to the entire company with a centralised contact management system. This gives sales, marketing, and customer support functions superpowers and enables them to track pipeline development and customer history.
3. Marketing teams can use CRM to make forecasting easier and more accurate
Teams can get clear visibility on every lead and opportunity and plan the whole customer journey from initial contact through to sale – sales teams are equipped with a far stronger understanding of their sales pipeline. It's also possible to include information from customers' social media.
4. Enhanced productivity
With a CRM system, follow-up emails and other administrative communications can be automated, tracked and optimised based on the engagement rate of messages that are sent. Sales or customer service agents can also quickly access the most recent information from a customer meeting. Customer service agents can find out the background of a customer without leaving their call.
5. Enriched product or services
A great customer relationship consultancy will help to launch a CRM programme that collects data from a wide variety of touchpoints throughout the business (in-store, social media, email, web and phone calls). This enables organisations to improve their communications and identify customer service problems earlier.
6. Effective Sales Management
CRM platforms enable sales managers to score leads and build customer relationships, track sales-related activity, and provide teams with real-time updates. Teams can manage the sales pipeline and all the specific milestones on the sales journey, from lead generation through to closing.
7. Customer support teams can successfully track multi-channel conversations
A customer might flag an issue in one channel — say, Twitter or Facebook — but then switch to email, phone or live chat to settle the problem in private.
Without a common platform for customer interactions, previous conversations can be missed; leaving customers exasperated at having to explain their problem to each new agent.
8. Precise sales forecasting
Setting up a CRM System will enable sales teams to learn from the past and predict future sales using historical data. Meanwhile, predictive analytics can deliver insights about customer engagement levels and can predict how customers might interact and what the future sales may be.
9. Improved relationship handling
A robust customer relationship management system will allow sales, marketing and customer support teams to track meetings with customers and suppliers, record requests, add notes, plan follow-ups and follow the next steps.
CRM reporting allows companies to compare the efficiency of providers and, therefore, manage their entire supply chain more effectively.
10. Enhanced sales metrics
Support the ideal prospects promptly by focusing in on the leads that have the highest probability of converting based on their level of engagement with the CRM's website and e-mail tracking system. CRM data and reporting supply insights into conversion rates at key stages in the sales funnel. When a business understands its customers, upselling and cross-selling chances occur- unlocking extra value from existing customers.
11. Sales teams can utilise CRM to understand their sales pipeline much better
Sales managers can access data about how close a sales rep is to achieving their targets and see how well individual sales teams, products and projects are performing.
12. Cross-team partnership
A CRM system empowers people from different parts of a business to work together. A sales group can collaborate with the product team to produce tailored quotes, whilst a marketing campaign that produces a lead can provide a sales representative with deeper knowledge about the lead, in order to have a more personalised discussion with that lead.
13. Improved customer satisfaction and retention
Best practice customer relationship management programmes allow brands to have a readily available view of a customer's interactions to date, making it easier to predict potential concerns and complaints. This leads to a more positive experience for customers, who will not have to be referred to different departments and have to re-explain their issue at every stage.
10 Key Steps in setting up your CRM with a customer relationship consultancy
Step 1: Vet the suppliers and ask the hard questions
Before you commit to your chosen customer relationship consultancy, make sure that you research the reviews, responsiveness, clients, familiarity with other tech suppliers and service levels. You should also ask about the support and training you will receive–there are bound to be many tech updates and requirements throughout your partnership with this company.
Step 2: Put milestones in place
A correct CRM setup project with a customer relationship consultancy would be nothing without objectives and milestones. When these are set up, you'll have the ability to track your progress, check off key milestones, and sharpen customer relationships.
Software can help in deepening the CRM system's integration across different business functions and channels. A point-of-sale system like QuickBooks Point of Sale is a great example of how small retailers can integrate their CRM within their stores. It tracks earnings and order history so that you can customise your services or product offerings. Other tools can extend out the CRM system to set up gift cards and loyalty programs, analyse customer purchase habits and identify the highest value customers which you can then give special treatment to, in order to retain them for the long term.
Step 3: Offer correct training and help
Training is imperative for CRM software and should be tailored to each business function and stakeholder within the business. For example, marketing groups should understand list building, event management and contact segmentation; whereas the sales team needs to learn the various methods which boost their productivity and conversion rates. Managers need to understand how to extract actionable insights and measure team performance from the reports.
CRM Programmes can benefit from a key understanding that a CRM is not a project–there is no end to running a CRM platform, so support and training should be continuous. A good CRM system should transform sales and marketing performance and should pay for itself many times over – investing in strengthening the team's CRM capability, therefore, has a significant ROI.
Step 4: Be clear about your objectives
One of the most common mistakes that businesses make with their CRM system is to invest in a CRM system before they have outlined their business objectives, targets, and developed their strategy. This can prove to be a costly mistake as it typically takes a few months to complete this and during these few months, the CRM technology lies dormant (but the subscription charges mount).
Ask the hard questions like – Why do we need a CRM system? What do we hope to achieve? Which procedures can be enhanced? What KPIs do sales and marketing need to hit with this CRM system? Setting goals in advance means you will develop metrics for measuring progress and will spend less time stuck in the quagmire that is 'CRM functionality'. Many CRM systems have an overabundance of functionality that can become a distraction to getting the CRM programme live and adopted across the business.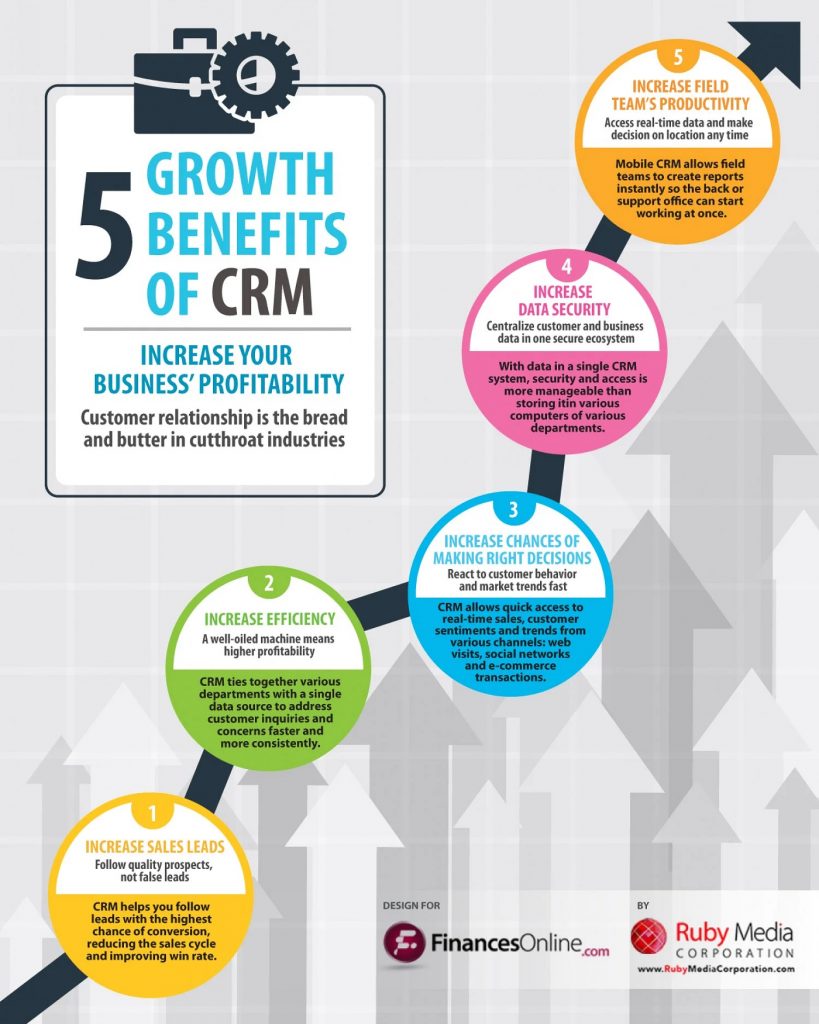 Step 5: Automate procedures
At every stage, automate your processes. Your employees should be free from repetitive tasks and should focus on engaging with customers.
This is the weakest part of CRM implementation, but often the most crucial. The more the workflow is automated for sales and marketing teams, the easier it is for users to find information on their customer and execute the next action.
Even if you only have a couple of employees, workflows are essential in order to pin down procedures and make sure the customer experience goes smoothly. Training brand-new employees as your business continues to grow is also simpler when you have workflows in place.
Workflows give employees a definitive action for what to do next. They can be as simple as a bullet list of steps saved as Google Docs, or flow charts which explain the actions in a graphic format. These workflows can also be built directly into CRM systems to give sales and marketing teams reminders of what the next step is within their workflow. No more tracking and note taking required.
Step 6: Ensure you can personalise, scale and tailor for the future
When selecting a customer relationship consultancy, it's vital to think long term and consider what is required today and what might be needed tomorrow. Good questions to ask CRM consultancies are; How easy is it to automate something new? Can I change the layout of the interface? How hard is it to change an existing automation process?
Opting for a long-term, future-proof CRM system which can grow alongside your business will prevent costly digital transformation projects later on in your businesses's evolution.
Step 7: Cross-Train Workers
Making sure staff members are cross-trained in multiple areas of the business – particularly if you have fewer than 25 employees – is essential. Having employees trained in various areas helps to guarantee that others can pick up if there's a departure or long-lasting illness. From support requests to sales campaigns and marketing projects, cross-training means the customer experience will remain positive no matter who's managing the project.
Step 8: Get executives to buy-in
A great customer relationship consultancy will suggest that when implementing CRM software, all of your executive team are on board from the get go–They are the secret to other employees embracing the new system. It's also important to explain to your employees the importance of the new system and how it will lead to company growth.
Step 9: Create Content, and Make Changes From Experiences
Control marketing campaigns in the customer relationship management system by making routine modifications and additions to CRM content, such as messages and email templates, to test what works best. If customers flag the same concern twice, respond by developing a new question and answer on your FAQ page, or compose a blog post with the concern as the title and an in-depth solution as the post.
This helps future customers to find the right response to their commonly occurring questions, whilst also creating new content for your site, helping to improve your search engine ranking.
Step 10: Understand how users work.
Remember, the universal definition of CRM Systems is to help businesses interact and retain customers. Therefore, the greatest CRM systems are suitable for many users, not just the leading sales representatives or the most technologically astute employees. When selecting a CRM option, study a cross-section of your CRM users–from sales, marketing, customer service, and finance–to understand how they work and how they 'd like to operate in the future. This increases the likelihood of a slicker, quicker company-wide adoption.
Setting up, or moving to, a new CRM platform may seem like a large task, but, in the long run, taking the time before launching to cleanse your data and prepare your CRM programmes and messages will ensure that your transition to your CRM platform is seamless and your team can hit the ground running. Many businesses may overlook this step and struggle with optimising their CRM Programme.