Creating a CRM content strategy to win leads for your CRM
A great CRM content strategy is vital for having a healthy sales pipeline. Letting your audience know what your brand can offer and help with is a critical step in ensuring they successfully convert.
This article aims to cover the best CRM content strategy for capturing leads, alongside our industry proven 6-step plan for creating a content strategy that any brand can easily incorporate.
Without a clear structured CRM content strategy, brands cannot clearly communicate their solutions and social proofing to customers, leading to a dry pipeline. By the end of this blog, brands will have a strong understanding of the different benefits individual CRM content can provide, helping to prioritise and streamline content production significantly.
Which CRM content strategy is the best for capturing leads?
1. Whitepapers
An often-overlooked factor into a good CRM content strategy is whitepapers. These can help you build credibility and expertise within an industry. They help you share a unique perspective and challenge the status quo within the market. Whitepapers are also usually backed by good market research and statistical evidence which is used to support your opinion.
Whitepapers can be used to:
Challenge the status quo and get cut through in the market.
Demonstrate your knowledge and authority.
Increase brand awareness.
Drive traffic to your website.
Capture leads behind lead capture forms.
2. Ebooks
Ebooks can take multiple formats. They usually focus on helping a prospective customer get a job done or solve an existing problem they are struggling with. Step-by-step guides, roadmaps and checklists are proven formats that work for ebooks. However, ebooks are not usually backed by market research. Therefore, they require you to prove your technical knowledge with a proven methodology. This may be one have used with existing clients that generated excellent results.
eBooks allow you to:
Focus on the pain point of a customer.
Show exact solutions to their pain points.
Demonstrate your technical competency.
Experiment with different formats for the content.
Increase brand awareness.
Drive traffic to your website.
Capture leads behind lead capture forms.
3. Infographics
Infographics are visual representations of data of complex concepts that help you visually explain a technique, insight, or process.
An infographic should:
Focus on between 8 and 12 pieces of data and present them visually.
Include references in the footnotes explaining how the data was collected.
Attribute any third-party reports used.
Promote an ebook or whitepaper, so you can capture leads.
Use graphic elements rather than just numbers and statistics.
4. Blogs
With long-form text and images, blogs allow your business to produce engaging, multimedia content. A blog also allows you to increase your SEO ranking using keywords.
Blogs allow you to:
Drive organic traffic to your website in order to capture leads.
Allow prospects to gain a better understanding of your competencies.
Maintain engagement as they can be shared via social media.
How to create the perfect CRM Content strategy in 6 Steps
Step 1: Auditing your content
Creating a great CRM content strategy begins when you ask yourself a few key questions:
What is the biggest challenge that your target customers currently face?
What existing content gets the most traffic on your website?
How long do people spend reading existing pieces of content on your website?
What content topics are most popular with your website?
How can you improve your existing content?
Understanding what works with your existing content is a great starting point for refining and optimising your ongoing content strategy. Generic content that offers little value is simply a waste of your time because it is unlikely to capture leads or generate traffic.
Step 2: What are your content marketing goals?
Having clearly defined goals allows you to make sure that every piece of content is geared towards achieving the same aim. As a result, this can lead to increasing the amount of traffic that your website gets, increasing the lead capture rate or ranking on Google for very specific keywords. 
Whatever your aim is, break it down into smaller and more manageable tasks which can be achieved in the short term. You can then build towards achieving your long-term objective.
Step 3: Understanding your audience
Understanding your audience is crucial for a CRM content strategy! If you don't already know your ideal audience, research them and find out about their issues, needs and aspirations. Try to identify any problems that they have that relate to your business which you can help them solve. This will allow you to create content that talks directly to your audience, who are most likely to purchase your product or service. You can research your target audience easily using some of these tactics: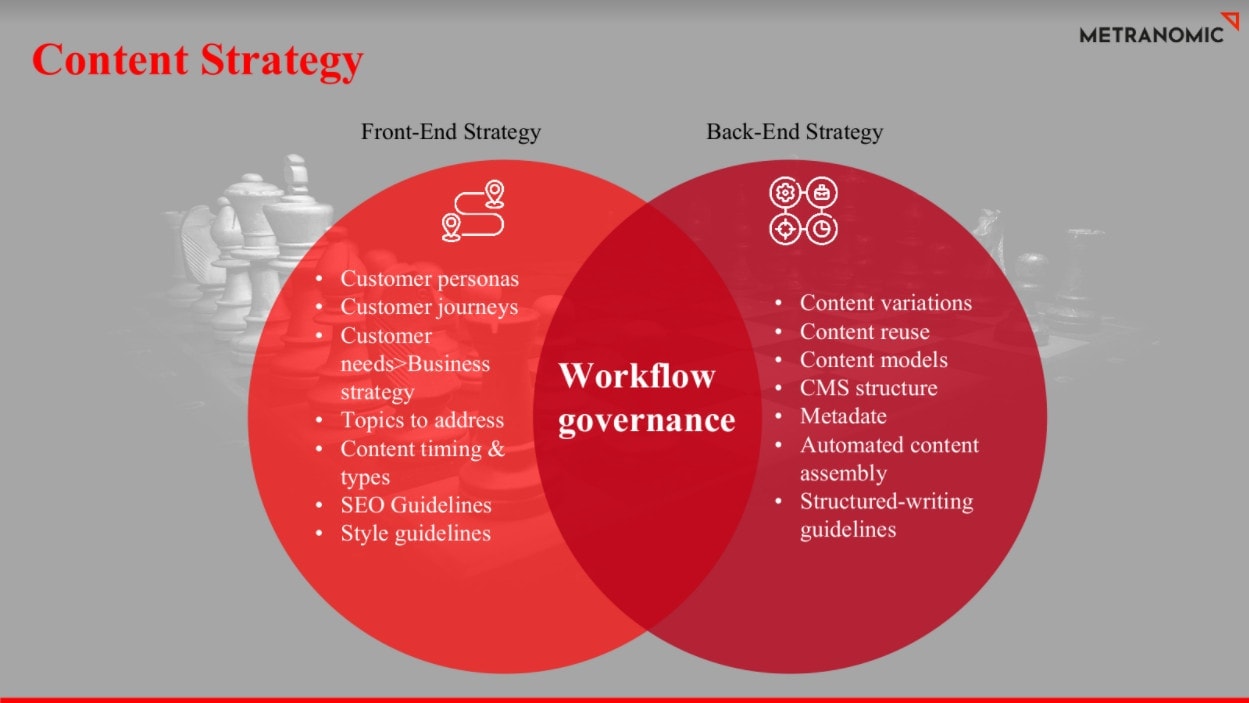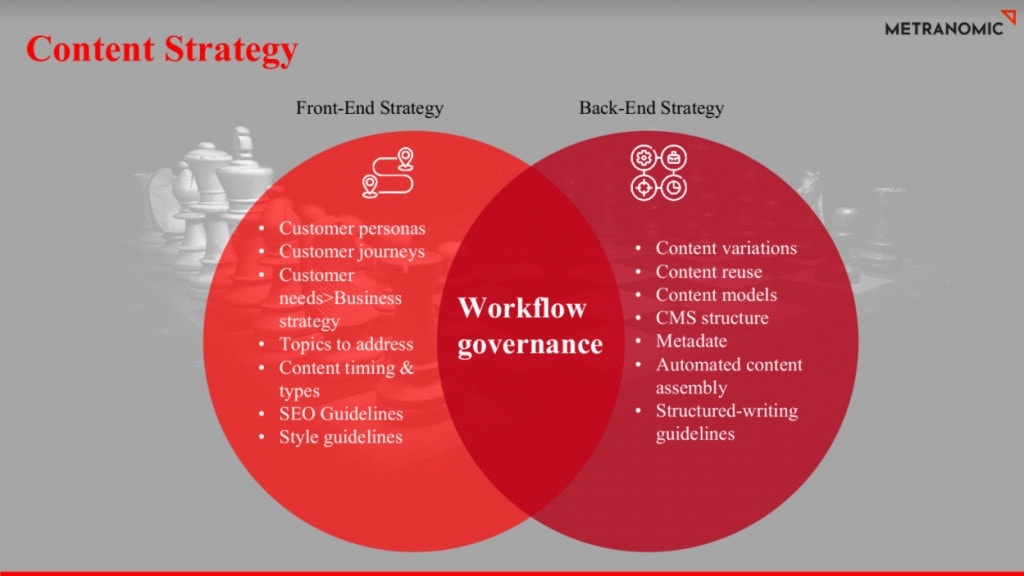 Step 4: Creating an editorial plan
By planning out your content, you will streamline production and can then easily map your content marketing campaign. You can save yourself a lot of time in content production if you focus on producing one singular piece of content. Take an ebook as an example. You can adapt this into smaller content for social media and blog posts. This technique is known as 'content adaption'. A good content calendar should contain the following pieces of information:
Theme: What is the core topic that the content is focused on?
Keywords: What are the 5 keywords we want to optimise all content for in order to be seen as industry experts or authority on the topic?
Channels: Where will this content be published? Blog? Instagram? Twitter? PR editorial?
Publishing date: when will this piece of content be published?
Hook: where do we ultimately want this content to take people? An ebook landing page to capture leads? To our podcast to increase subscribers there?
Objective: What are we trying to achieve with this piece of content? Brand awareness? Lead capture? Industry authority?
Step 5: Organising your content production
Determine the purpose of each of your pieces of content before you create it and make sure that it is focused on pushing people forward in their sales journey. This will also allow you to reduce friction in the sales journey and improve sales conversion rates. What type of content you should provide at each stage of the customer journey?
Awareness stage. Content in this stage should be based on questions your leads might have coming into your sales funnel. This might provide information on your industry topic, or something that will entertain your audience.

Consideration stage. Within this stage, your prospects will want to know more, so you should 'hook' them with an ebook or a piece of content that requires their email address to access. Give them content that really helps them solve a problem they have. This shows your authority and highlights why they need your help.

Decision stage. Content here should help your potential customers understand why you are the best choice to help them with their problem. Client reviews, case studies and specific analysis of your past work can help them compare you with any other providers.

Retention Stage. Show your customers ways to get more out of your product or service. This may include how they can solve any product issues or access customer support. A great technique to use is to build a customer FAQ section. Think about what questions that might have at this stage and answer them before the prospect gets frustrated.

Step 6: Regularly examining content performance
Once you have published your content, you can use analytics to measure the performance of the content across all channels. Here, you may discover that some social media channels work better than others. You can use this insight to prioritise those higher-performing channels in the future. Your audience will show you exactly what they like. Therefore, use this information to choose what content to produce next.
You can measure the success of your content by examining:
Your SEO results: organic traffic, dwell time, back links.
Leads generated: number of leads captured, lead capture rate.
User behavior: unique visitors, pages per visit, bounce rate.
Social media engagement: social shares, likes comments and mentions.