Are you struggling to make your B2B SaaS marketing efforts stand out in a crowded market? Unlock the ultimate CRM content strategy with our 6-step framework that will skyrocket your marketing success! In today's competitive landscape, it's essential to have a powerful content strategy framework and leverage cutting-edge CRM content to captivate your audience and drive high-value conversions. In this comprehensive guide, we'll reveal top CRM content strategies, introduce must-have content marketing tools, and share insider tips from the best in the B2B marketing world.
Discover the Top CRM Content Strategies for Capturing Leads Like a Pro
Whitepapers
One underrated gem in a solid CRM content strategy is whitepapers. These powerful tools help establish credibility and expertise within your industry. By sharing unique perspectives and challenging the status quo, you can make a lasting impact in the market. Whitepapers typically rely on robust market research and statistical evidence to support your opinion, which bolsters their effectiveness.
White Papers can be used to:
Stand out and challenge conventional thinking in the market.

Showcase your knowledge and authority.

Boost brand awareness.

Drive traffic to your website.

Capture leads through gated content forms.
According to a DemandGen Report, 76% of buyers are willing to share their information in exchange for whitepapers, making it an essential part of your B2B marketing and CRM content strategy.
Ebooks
Ebooks come in various formats and generally focus on helping prospective customers achieve a goal or solve a problem they're grappling with. Step-by-step guides, roadmaps, and checklists are proven formats that work wonders for ebooks. Unlike whitepapers, ebooks may not always be backed by market research. Instead, they require you to demonstrate your technical knowledge through a proven methodology, such as one that has generated exceptional results for existing clients.
Ebooks enable you to:
Address customers' pain points.

Present tailored solutions to their challenges.

Exhibit your technical expertise.

Experiment with diverse content formats.

Enhance brand awareness.

Drive traffic to your website.

Capture leads through gated content forms.
Infographics
Infographics offer visual representations of data or complex concepts, simplifying the explanation of a technique, insight, or process. These visual aids can be particularly useful in SaaS marketing, where explaining complex software features and benefits is crucial.
A top-notch infographic should:
Highlight 8 to 12 data points and present them visually.

Include footnotes with references explaining how the data was collected.

Attribute any third-party reports used.

Promote an ebook or whitepaper to capture leads.

Utilise eye-catching graphic elements rather than just numbers and statistics.
Blogs
Blogs, featuring long-form text and images, allow your business to create engaging, multimedia content. They also provide opportunities to increase your SEO ranking through targeted keywords, making them essential components of your CRM content strategy.
Blogs empower you to:
Drive organic traffic to your website and capture leads.

Enable prospects to gain a deeper understanding of your competencies.

Maintain engagement by facilitating content sharing via social media.
A HubSpot study revealed that B2B companies that blogged 11+ times per month had almost three times more traffic than those blogging 0-1 times per month. This highlights the importance of consistent, high-quality blogging in your CRM content strategy.
Master the 6-Step CRM Strategy Framework for Crafting Irresistible Content that Converts
Step 1: Audit Your Content
Embark on your CRM content strategy journey by asking these pivotal questions:
What is the biggest challenge your

target customers

currently face?

Which existing content attracts the most traffic on your website?

How long do visitors spend reading content on your site?

What content topics resonate most with your audience?

How can you enhance your existing content?
Understanding what works with your current content sets the stage for refining and optimising your ongoing content strategy. According to a study by Content Marketing Institute, 72% of marketers reported that a content strategy was a major key to their success. So, ditch generic content that offers little value and focus on capturing leads and generating traffic.
Step 2: Define Your Content Marketing Goals
Having well-defined goals ensures that every piece of content contributes to a common objective, leading to increased website traffic, higher lead capture rates, or improved Google ranking for specific keywords. Break your aims into smaller, manageable tasks to achieve short-term victories and build towards long-term success.
Step 3: Understand Your Audience
Getting to know your audience is crucial for a CRM content strategy! Research your ideal customers to discover their issues, needs, and aspirations. Identify problems related to your business that you can help them solve. This enables you to create content that speaks directly to your audience, who are most likely to purchase your product or service. Use these tactics to research your target audience: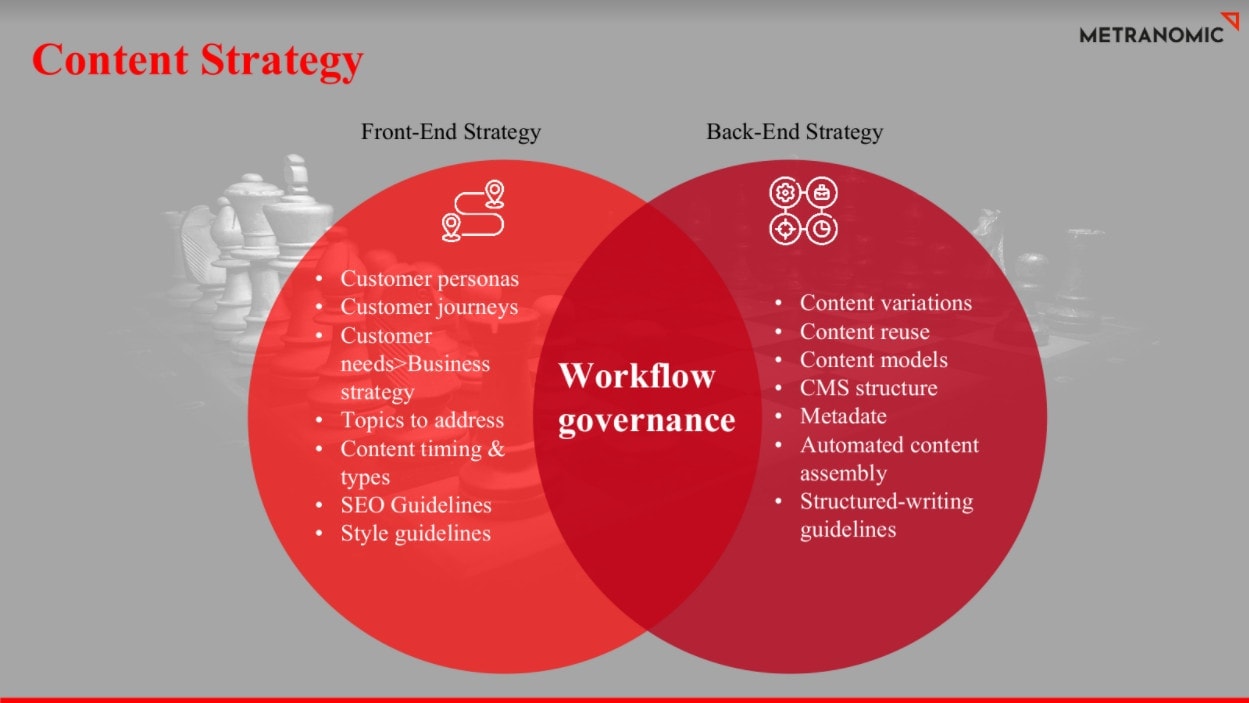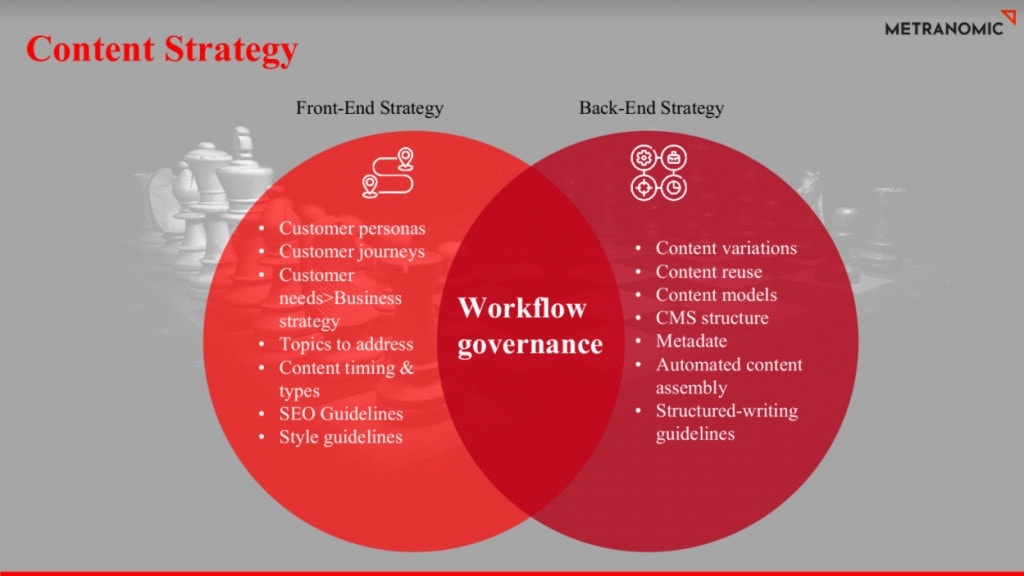 Step 4: Craft an Editorial Plan
Planning your content streamlines production and allows you to map your content marketing campaign effectively. Focus on producing one core piece of content, such as an ebook, and adapt it into smaller content for social media and blog posts. This technique, known as 'content adaptation', saves time and effort. An efficient content calendar should include:
Theme:

The core topic the content focuses on.

Keywords:

5 keywords to optimise content for, establishing industry expertise or authority.

Channels:

Where will this content be published? Blog? Instagram? Twitter? PR editorial?

Publishing date:

When will this content be published?

Hook:

Where should this content ultimately lead? An ebook landing page for lead capture? A podcast to boost subscribers?

Objective:

What are we trying to achieve with this content? Brand awareness? Lead capture? Industry authority?
Step 5: Organise Your Content Production
Determine each content piece's purpose before creating it, ensuring it propels readers further along their sales journey. This reduces friction in the sales process and improves conversion rates. Consider the type of content to provide at each stage of the customer journey:
Awareness stage:

Content should address questions leads might have or provide industry information or entertainment.

Consideration stage:

'Hook' prospects with an ebook or gated content that requires their email address. Offer content that genuinely helps them solve a problem, showcasing your authority and expertise.

Decision stage:

Help potential customers understand why you're their best choice by sharing client reviews, case studies, or specific analyses of past work.

Retention stage:

Show customers how to maximise your product or service. Address product issues or customer support access. Building a customer FAQ section can be particularly helpful.
Step 6: Regularly Assess Content Performance
After publishing content, use analytics to measure its performance across all channels. Prioritise higher-performing channels in the future. Your audience will show you exactly what they like, so use this information to guide your future content creation.
Measure the success of your content by examining:
SEO results:

Organic traffic, dwell time, backlinks.

Leads generated:

Number of leads captured, lead capture rate.

User behaviour:

Unique visitors, pages per visit, bounce rate.

Social media engagement:

Social shares, likes, comments, and mentions.
Supercharge Your B2B Marketing with Must-Have Content Marketing Tools for CRM Success
Ready to elevate your CRM content game and leave your competition in the dust? Embrace these must-have content marketing tools, proven to turbocharge your B2B SaaS marketing and CRM success.
HubSpot:

The undisputed titan of inbound marketing, HubSpot empowers businesses with an all-in-one platform that seamlessly integrates CRM, content marketing, and automation tools. With HubSpot, managing a tailored CRM content strategy is a breeze.

SEMrush:

Your secret weapon for SEO domination, SEMrush uncovers valuable keyword insights and helps you optimise your content for stellar search engine performance. Kiss obscurity goodbye and let your CRM content shine!

Buffer:

Social media can be a labyrinth, but fear not! Buffer is here to help manage and schedule your social posts with ease. Flaunt your CRM content across multiple platforms and watch your brand visibility soar.

Grammarly:

Don't let pesky typos and grammar blunders tarnish your CRM content's reputation. Grammarly polishes your writing to a high shine, ensuring your content is always top-notch and professional.

Google Analytics:

Knowledge is power, and Google Analytics provides a treasure trove of data on user behaviour and content performance. Use this indispensable tool to optimise your CRM content and watch your SaaS marketing triumph.
According to a 2021 HubSpot report, 70% of marketers actively invest in content marketing, which means the competition is fierce. With these exceptional tools in your arsenal, you'll supercharge your B2B marketing, boost CRM success, and leave your competitors scrambling to catch up.
Effortlessly Tailor Your CRM Content to Boost SaaS Marketing and Drive High-Value Conversions
If you want your CRM content to work its magic, you need to tailor it to your target audience. Here are four strategies to help you effortlessly personalise your CRM content:
Map Buyer Personas to Content:

To make your CRM content resonate, build detailed buyer personas that represent your ideal customers. According to a study by Cintell, 71% of companies that exceed revenue and lead goals have documented buyer personas

Segmentation for Relevance:

Segment your audience based on factors like demographics, job roles, and pain points. A report from Campaign Monitor showed that segmented campaigns have a 100.95% higher click-through rate than non-segmented campaigns, proving that relevance drives engagement

Dynamic Content Customization:

Personalise your CRM content with dynamic elements, such as tailored CTAs, personalised email subject lines, or even custom content recommendations. According to a study by Instapage, personalised CTAs can increase conversions by 202%.

Retargeting for Better Conversions:

Utilise retargeting strategies to serve relevant ads and content to prospects who've previously engaged with your brand. A study from WordStream found that retargeted ads can lead to a 147% higher conversion rate compared to regular ads.
Tailoring your CRM content to your audience's unique needs and preferences is a surefire way to boost your SaaS marketing results and drive high-value conversions. By implementing these strategies, you'll take your CRM content to new heights and forge lasting connections with your target customers.
Maximise Your CRM Strategy Framework with Insider Tips from Top B2B SaaS Marketing Gurus
To make the most of your CRM strategy framework, follow these insider tips from top B2B SaaS marketing experts that will help you create compelling, high-converting content.
Focus on Storytelling:

Emphasise storytelling to connect with your audience on an emotional level. A study by Headstream found that 55% of people are more likely to buy from a brand if they share engaging stories.

Embrace Video Marketing

: 93% of marketers in a Wyzowl study reported that video is an important part of their marketing strategy. Leverage video to showcase product demos, customer testimonials, or educational content.

Consistent Brand Messaging:

Ensure your CRM content maintains a consistent brand voice and messaging across all channels. Consistency can improve brand recognition by up to 80%, according to Lucidpress.

Optimise for SEO and User Experience:

Strive to create content that is both SEO-friendly and user-centric. A study by Backlinko found that the average Google first page result contains 1,447 words, demonstrating the importance of comprehensive content.

Test and Iterate:

Regularly analyse your content's performance, and make data-driven decisions to optimise your CRM strategy. According to CMI, 72% of successful content marketers attribute their success to a strategy that focuses on measuring and learning.
B2B SaaS Examples of Winning CRM Content Strategies
Case Study 1: Asana's Task Management Success
Asana faced the challenge of showcasing their task management software's effectiveness in improving team productivity. They identified the pain points faced by their target audience, such as disorganisation and communication gaps. Through a content strategy focused on tutorials and success stories, Asana utilised CRM content to engage leads and demonstrate the value of their software, driving SaaS marketing success.
Case Study 2: Trello's Visual Project Management Breakthrough
Trello aimed to highlight the benefits of their visual project management tool in a competitive market. To address their audience's struggles with staying organised and managing workflows, Trello employed a CRM strategy framework that incorporated product demos, webinars, and case studies. This content strategy successfully showcased Trello's unique selling proposition, bolstering their B2B marketing efforts.
Case Study 3: Mailchimp's Email Marketing Powerhouse
Mailchimp wanted to convey the value of their email marketing platform and help potential customers overcome the challenges of low open rates and conversions. Their CRM content strategy included informative guides, best practices, and customer success stories. With the support of content marketing tools, Mailchimp executed a successful B2B marketing campaign, leading to increased user acquisition and customer satisfaction.