How you can achieve healthier pipeline management
Creating a strong pipeline is often a priority for many brands. However, pipeline management can optimise and improve your chances of getting more sales.
This article will aim to cover how a CRM can improve your lead management, alongside 3 best-practice tips for optimising your sales pipeline management. It will also break the 7 stages of sales pipeline management down to turn prospects into customers.
Without a firm grasp of how to manage your sales pipeline, brands cannot find and convert qualified prospects. By the end of this blog, brands will understand how to coach sales reps at each stage of the sales process, leading to more leads generated and more customers kept after purchase.
How does CRM improve your lead management?
1. Lead capture.
With the use of a CRM, you can automatically turn any new lead into a contact and add them to your database. Some CRMs will even auto-generate tasks for new leads so you can shelve that pesky do-to list!
2. Lead enrichment.
A new lead's basic information may include their email address, company, website, and position. However, this can be expanded to include their social media profiles and blogs. This is called lead enrichment. Some CRM systems do this on an automated basis, saving huge time when researching your prospects.
3. Lead qualification.
Some CRM systems can help sales reps identify the most engaged prospects by tracking the number of times they have opened an email, clicked an email or visited your website. This is called engagement tracking. CRM systems can score leads based on their level of engagement to help sales reps identify the most valuable prospects. These are most likely to become paying customers.
4. Lead nurturing.
CRM systems can partner with sales reps to help them nurture target prospects by keeping track of the last meeting, phone call, or email that was sent. If too much time has passed, sales reps can be prompted by automatic reminders that encourage the sales rep to reactivate the conversation. This can continue to push the deal forward.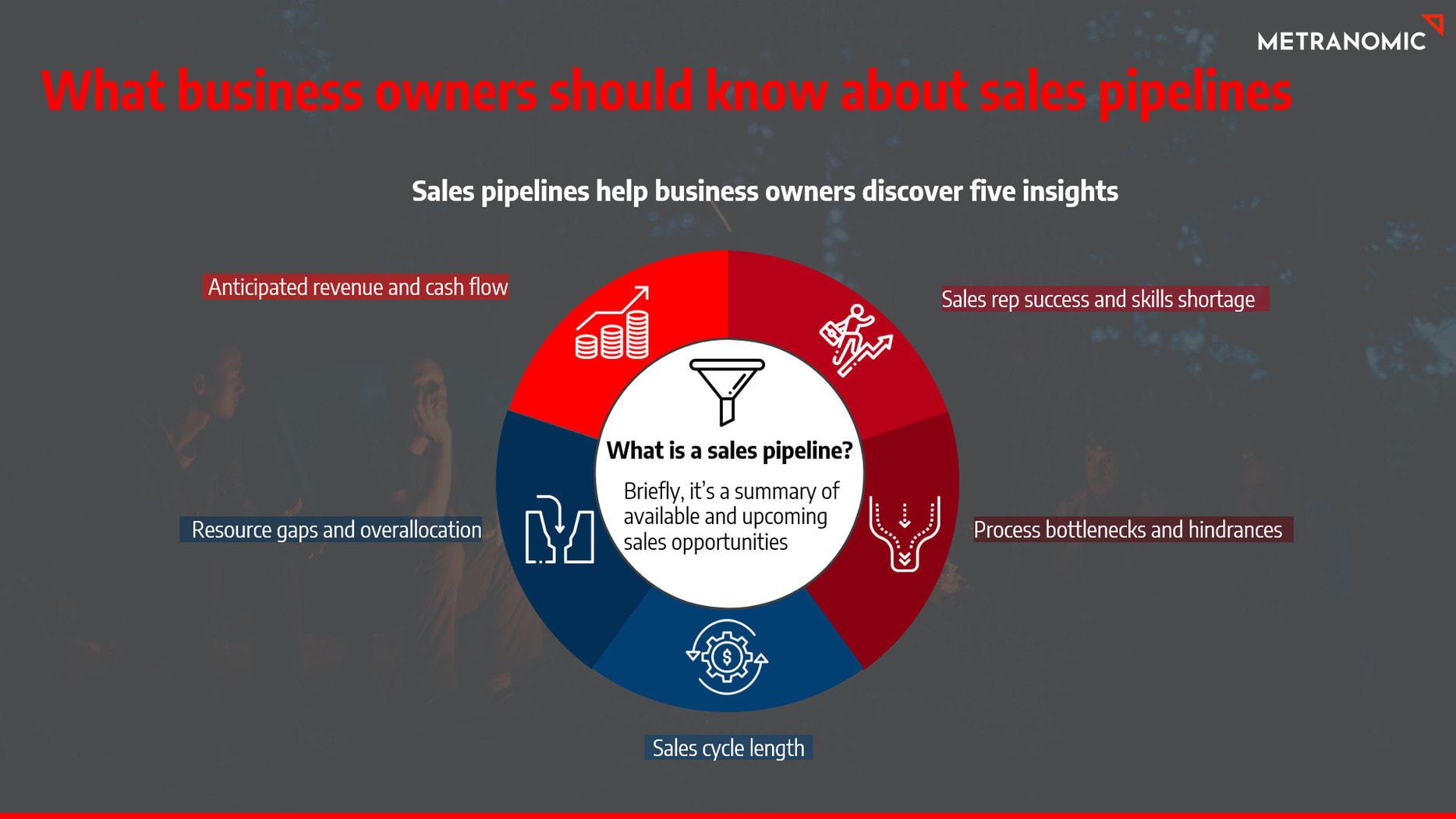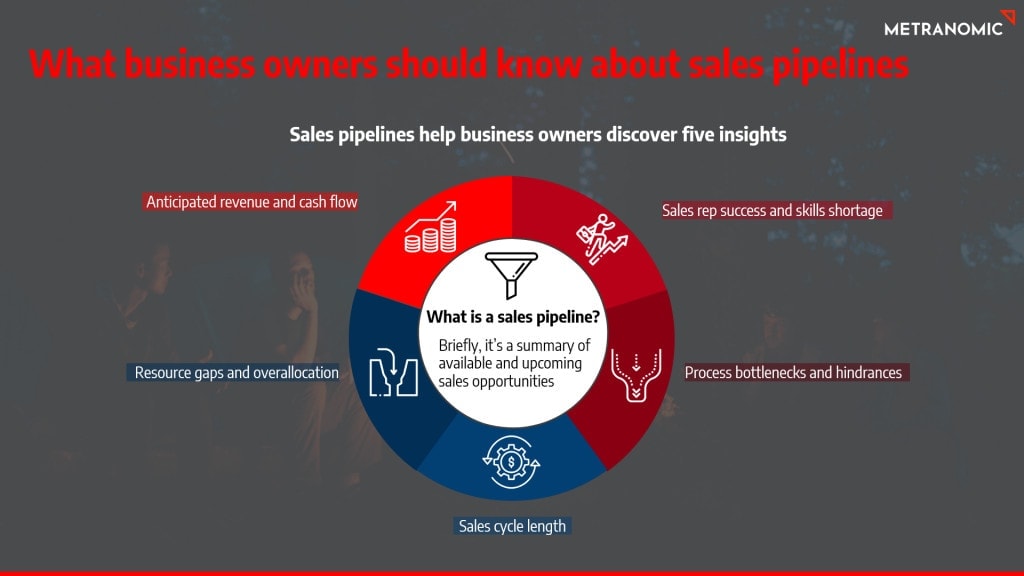 Breaking down 7 Stages for a successful sales pipeline management
Within the sales pipeline, there are seven distinct actions that your sales professionals can take to turn a prospect into a won deal. Pipeline stages are specifically focused on the actions of a sales rep, giving your sales team a clear overview of their tasks on each deal. Check out these 7 steps for great sales pipeline management:
1. Lead generation
Lead generation is the first stage of the sales pipeline. It involves finding potential prospects and leads who are interested in your product/services.
In this stage, your team should:
Create a well researched 'ideal customer profile'. By mapping out your ideal customer profile, you will understand exactly what your customers want and don't want. Look at some of your previously closed deals and think about the similarities between them. Doing so will make you better at targeting and capturing future leads.
Work with your marketing team to create relevant content. Content marketing is one of the best ways to generate new leads for your business. Use your customer profile and work with your marketing team to create content that targets your ideal customers.
Ask for referrals. Referrals are one of the best ways to convert leads. If your customer seems to be happy with your service, make sure you are asking them if they have a friend who would be interested too. The resulting leads are likely to be highly qualified.
2. Prospecting
Whereas lead generation is quite a broad approach to building a sales pipeline, prospecting is more of a focused approach. With prospecting, you are trying to find potential customers who are more likely to close a deal. Here is how to do prospecting:
Attend industry events and start building relationships. Industry events are useful for a wide range of reasons, but they are especially useful when prospecting. Discuss relevant topics and make sure you are leaving them with a positive impression of your business. Don't forget to get their business card!
As an expert consultant, make sure you are sharing your knowledge. During the prospecting stage, it is very unlikely that your leads will have any trust in you or your company. Because of this, it is a bad idea to push the sale. Show them you know what you are talking about and share some insightful pieces of information so that they know you are someone they can trust.
Try reaching out. Whether you choose to do this over email or through a social channel like LinkedIn, reach out to your prospects. Let them know what you can do for them and see how they respond.
3. The qualification process
At this point in the sales pipeline, you are narrowing down the prospects who are likely to continue along the buying journey. This gives you time to focus your energy on leads that are more likely to become paying customers.
Within the qualification process, you should be:
Using the BANT method. This method suggests the four most important characteristics of a qualified prospect are budget, authority, needs and timeline. Using these four points, you can establish whether the prospect is likely to become a paying customer. For example, does the prospect have a big enough budget for your product? If not, they are probably not going to result in a closed deal. However, if your prospect has the budget and the authority to make the choice, as well as a need that your company can fill and the right timeline to do so, they are much more likely to close a deal.
Think about who you are competing with. When talking to your prospects, find out who else they have worked with and what they liked or didn't like. You can also ask them who else they are currently considering and what they like about your competitor's offering.
4. Contact
You should have successfully narrowed down your prospects to the people who are most likely to close a deal with you. In the contact stage, it is all about getting in touch and really selling your product or service.
In this stage of the sales pipeline, you should:
Ensure everyone involved understands what the overall goal is. When setting up a meeting with the qualified prospect, you should know who is going to be there. For example, any decision-makers or the relevant stakeholders involved.
Set out realistic steps and don't forget to follow up. Before ending the meeting, everyone should know what to expect and what steps need to be taken next. You should make sure that you send a follow-up email the following day with a recap of what was discussed and a summary of the next steps.
5. The proposal
The proposal is one of the final stages before a closed deal. By issuing a good proposal, you can make the customer happy and eager to accept.
When creating a proposal, include information like:
An outline of the customers' fundamental problems.
What you are offering, including all the specs.
A timeline showing how long it will take to implement. For example, how long it would take to provide any required training.
Clear details regarding cost.
The exact terms.
6. Negotiation and close
The negotiation and close is always a delicate stage. You'll need to balance your commercial interests with the objectives of the prospect.
During this stage of the pipeline:
Ensure signing the contract will be easy. The best way to make the contract signing go as smoothly as possible is to make it digital. This is an easy and organised process for everyone involved.
Don't be afraid to walk away from a bad deal. Make sure you know at what point you need to walk away and do not hesitate. Trying to cling to deals that just won't work is simply a waste of time for everyone involved.
7. Retention
The deal is closed, but that doesn't mean you have a customer for life. You need to keep them! There are many research studies that have almost universally concluded that it is 10 times cheaper to retain a customer than it is to keep an existing one.
To improve your retention rate, try:
Assisting the customer as they come onboard. Be available to answer questions and provide helpful training materials. These simple tasks make sure that your customer has a smooth transition and is getting the best use out of your service.
Make sure that you're checking in. After the deal has been closed, organise a meeting with the customer to see how they are doing and if they need any additional support. This is normally done a month after the deal was closed to give the customer some time to get on their feet.
Get feedback. Asking your customer for feedback has two primary purposes. To let your customers feel valued and appreciated, as well as getting some insights into how your product/service could be improved.
3 Great Principles to remember for your sales pipeline management
1. Remove any unneeded steps. The smoother your sales pipeline and sales experience are for prospects, the more that your sales will progress. If things are too difficult, your potential buyers will consider this too much bother and are less likely to want to continue.
2. Think about the external factors. The purchase consideration stage (when prospects are considering alternative competitors) can affect sales much more than expected. Studies have shown that almost 60% of prospects decide whether they will talk to a sales rep within this stage.
As the prospect will already have a list of options when they reach this point, creating a strategy that shows them that your business would fill their needs is crucial for success.
3. Try using video content to target prospects throughout your sales pipeline. Videos are an amazing way to connect to your prospects. This usually happens at a specific point of intent in order to show them relevant content that applies to them on a personal level. Depending on their stage in the sales funnel, you can use different videos to better target your customers and encourage them to progress further towards closing a deal.