How to boost your digital marketing with data analytics
Why data analysis is essential for your digital marketing
How are data analytics used in marketing?
Analytics in digital marketing uses raw marketing data you collect from social channels. LinkedIn, Twitter, Facebook, Gmail, and Yahoo are a few examples.
Why are data analytics needed for online marketing?
Data analytics are essential in helping you track and measure your marketing performance. This can include your digital channels and your buyer's journey. Data analytics also provide you with analysis on the areas of your digital marketing that need improvement. For example, social media, content (blog posts, social media posts), email and SEO.
Best-Practice Strategies you need for digital marketing
5 online marketing analytics that are essential in 2022
Your marketing goals help you identify the analytics in digital marketing. Here are five ways to help you track if you are on target:
1. Web traffic. There are a good deal of metrics that measure your traffic quality. For example, bounce rate, traffic to-lead ratio, time spent on the website, or conversion rate.
2. Customer engagement. Measuring engagement from your target audience is helped by identifying the different channels and posts that are interacted with. Metrics such as page views, bounce rate, page/scroll depth, social media state and customer engagement score can help you.
3. Conversions. Tracking and measuring where your customer is in their buyer's journey is easily done with conversion metrics. For example, lead inquiries, value per visit, interaction per visit and return on ad spend.
4. Paid ads. Click-through-rate marketing metrics identify how well your paid ads are doing by measuring the amount of clicks on your ads. As a result, a CTR metric can be helpful because it can show if you are targeting the right audience or not. 
5. Website's load time. Using Google page speed insights improves areas of your website. For example, minimising HTTP requests, enabling compression, and reducing image size. These all help to improve your website speed.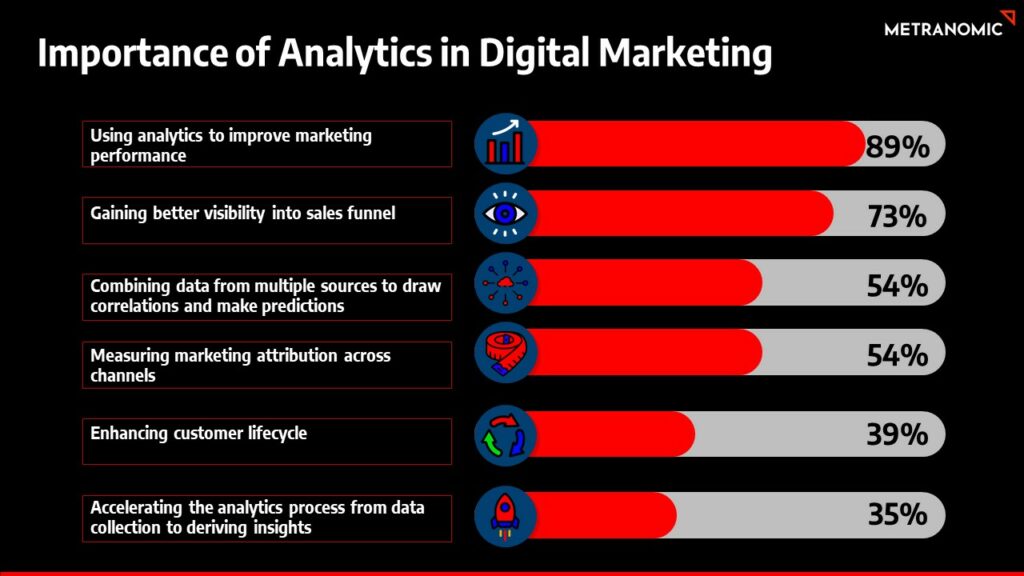 6 Steps for Enhancing your Digital Marketing Strategy
1. Find problems in your digital marketing 
Find out if you have any problems in sales, leads, brand awareness and more. Doing this can let you know if you need to measure and keep track of them. 
2. Set goals for your data-driven marketing
Once you find your marketing problems, you can set goals to structure your data-driven marketing. The goals you set should be based on past data analysis or other benchmarks. For example, customer loyalty, customer lifetime value, and customer engagement.
You can change your goals depending on the performance that is needed. Doing this can give you an idea of what needs to be improved to reach your goal. 
3. Use tracking pixels 
Using tracking pixels such as Facebook pixel or HotJar plugin. They measure and track user behaviour on your website, such as what they clicked, what they watched and how they got to your website. 
Integrate these devices with data gathering platforms, such as Teamscope, Redcap and survey CTO. Therefore, you can review your analytics in digital marketing. Another way of doing this is by integrating your website tracking devices with a CRM system. Hubspot, Pipedrive and Fresh works are good examples.
4. Use A/B testing 
A/B testing is a great marketing strategy that you can use to measure which webpage is more effective for your target audience by using statistical analysis. 
A/B testing can edit parts of your website, such as headlines, background images, layout, and navigational links. It then receives real-time data from your website performance. A/B testing can help boost your user engagement, web content, and reduce bounce rates. 
5. Experiment with new data analytics tools
Digital marketing is changing because of marketing technology. You can adapt and track your analytics in digital marketing by using up-to-date marketing analytics tools. Rank active, Little data and google analytics are great examples.
6. Adapt and improve your data analytics tools
Sometimes it's difficult to use new marketing analytics tools because they have not been tested by your business. However, by pinpointing problems in your digital marketing, you can adapt and improve your marketing analytics tools. Therefore, use them effectively for the best results.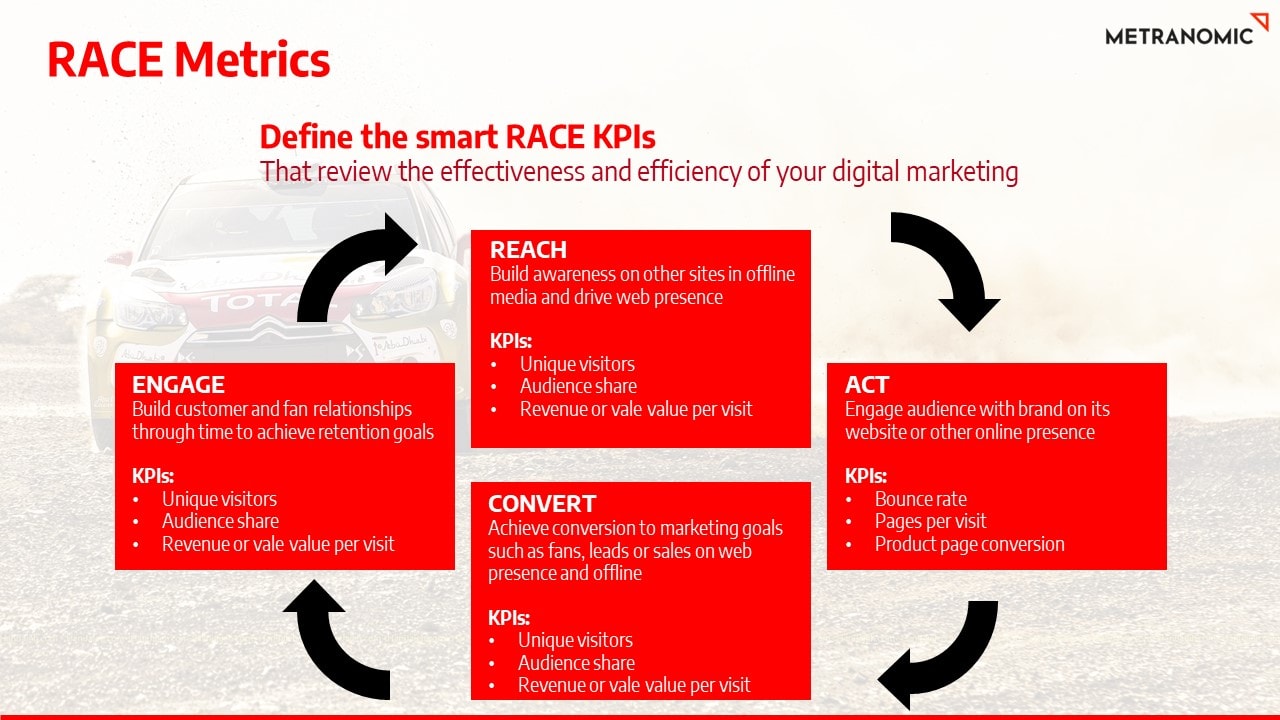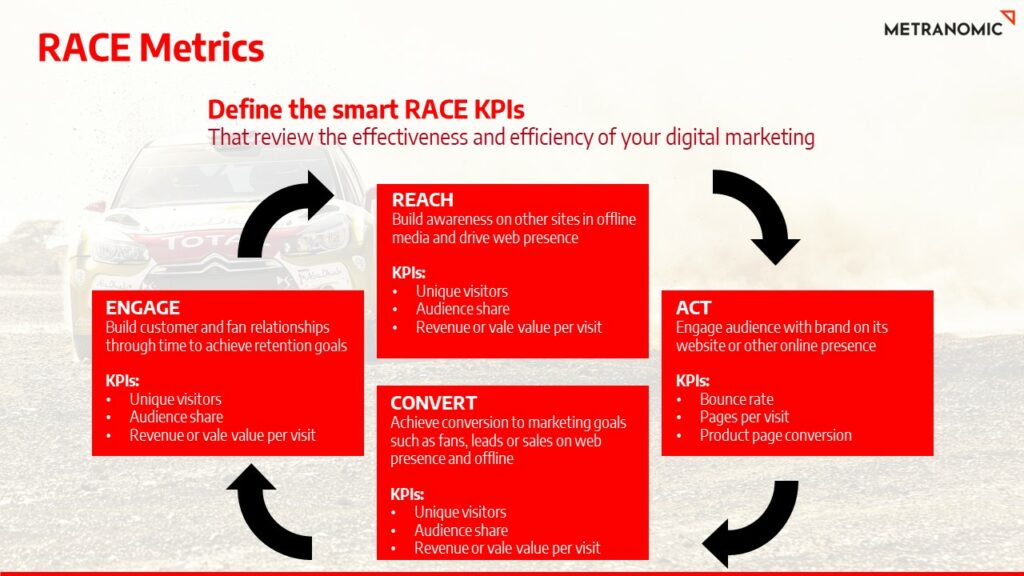 5 Great Examples of Businesses that benefit from analytics in digital marketing
Below are five examples of how businesses use analytics in digital marketing to improve their marketing efforts. 
Netflix applies algorithms to data such as the customers' viewing time, their search history or when they paused their show/film. 
Doing this can help them predict what their customers may want to watch next. It provides Netflix with insightful data on what shows, films or documentaries they may want to upload on their site.  
There are several ways Amazon uses digital marketing analytics to improve their customer service. Alexa's voice recordings, one-click ordering and kindle book recommendations are just a few.
These methods of data analytics can identify what reviews their customers write, purchasing history and their behaviour on the Amazon website. 
By using customer data, Kroger can analyse their customer's purchasing history. Doing this can help them personalise their mail coupons, helping create a personalised shopping experience for their customer base.   
The Economist uses a data-driven marketing approach to improve their customer engagement. As a result, they offer subscriptions that customers are interested. 
Airbnb uses a data-driven marketing approach to help customers find their ideal bed-and-breakfast. They use data analytics, such as A/B testing, natural language processing, and photo analysis. This helps them find which photos will gain the most clicks, improve customer satisfaction and find out how customers reach new websites and services. 
How Data Analytics Tools can help you improve digital marketing
8 impactful digital marketing analytics tools to optimise your digital marketing 
This data analytics tool analyses your web traffic, web user behaviour and session duration. Google analytics comes with features such as custom reports, custom metrics, and segments.
You can gain in-depth analysis by integrating it with data visualisation tools such as Google data studio, chart blocks, datawrapper and more. 
An essential data analytics tool that analyses user behaviour on your mobile app, website or products. This data analytics tool comes with A/B testing, dashboard, device and audience targeting, and campaign segmentation.
MixPanel is helpful because it offers a free starting plan that comes with a demo to get you started. 
AdWords performance grader allows you to measure the performance of your google advertisements. This tool provides an in-depth report which shows your click-through rate, best practices, quality score, and account activity. This shows the weaknesses and strengths of your ads. 
AdWords performance grader can be flexible to use because it is free and comes with a range of free courses to help you get started. 
A data analytics tool that can help you measure user behaviour on your websites. Clicks, page views and swipes, to name a few. This helps you separate users into different segments based on their web behaviour.
Heap analytics also comes with A/B testing, CRM, insight reports, and interface. This data analytics tool comes with an amazing free plan that offers you standard analysis, data dictionary and much more. 
This great tool tracks and manages data from different platforms, such as social media, email, pay-per-click and SEO marketing.
Coming with an array of amazing features, such as pre-built widgets, push API, TV mode and data exports. The data you collect from all your platforms can then be displayed for you on one dashboard. Cyfe also comes with a flexible free plan that offers you 2 dashboards to view all your data. 
Klipfolio creates a real-time dashboard with marketing data presented from your different channels. This tools comes with pre-made template dashboards, drag & drop, performance management and customisable reports.
This data analytics tool lets you integrate your data with a range of different platforms, such as Google analytics, Facebook, Instagram and Twitter. This tool also offers you four different payment plans, which each come with different features. 
Optimizely is an effective data analytics tool that can help you build and experiment A/B tests on your websites to measure the performance of your website's content and layout. This tool comes with a range of excellent features, such as visitor targeting, content recommendations and approval workflows.
This tool can also be integrated with data analytics tools, such as Google analytics and Clicktale, to help track your A/B results on other dashboards. 
A data analytics tool that can provide you with marketing insights to give you a competitive edge over other competitors. This tool can give you information about other competitors' brands, social media accounts and more. 
SEMrush can also help you find the best keywords, content that applies to your target audience, web traffic analysis and can help you analyse your social media posts. This tool comes with rank tracking, SEO analysis, paid ads and content optimisation. SEMrush comes with three different payment plans that offer different features.