Maintaining and optimising a marketing automation sales funnel is an extremely time-consuming process for some brands. However, to make this undertaking less daunting, we feel learning from industry proven methods is a great place to start.
This article will aim to cover the best-practice tactics Netflix and Zendesk take for optimising their sales funnel for sales performance, alongside the strategies used for implementing follow-ups and down-selling to increase conversion rates.
Without successfully optimising the sales funnel to push conversion rates higher, you may find your annual goals becoming harder to hit. By the end of this blog, brands will have a good sense of the tactics employed by real-world companies to maximise their ROI and streamline their sales funnel.
How you can easily optimise your sales funnel
Use offers to keep your prospects engaged
Studies show that the most effective sales reps are those that are persistently following up, engaging, and making offers to their prospects. Brands should aim to contact a lead a minimum of six to eight times before they are lost.
Have a look at the offers the following businesses have successfully implemented:
1.Netflix's free trial
People are often much happier subscribing to a service if they know exactly what they will gain from it. But how is this shown in the stages of the sales funnel?
Awareness: Most people have already heard of the Netflix brand. With adverts on social media platforms, TVs and podcasts, it's fair to say that Netflix has got this covered!
Interest: A prospect may research to see if there are any cost-effective platforms available from a different brand. This is when Netflix suggests the free trial. The prospect can have a taste of the full service before they decide whether they want to make a purchase. 
One of Netflix's strategies is to provide free trials of the more expensive premium service. People get attached to the better version and are likely to want to upgrade after the trial period is over. This is a clever way of increasing customer lifetime value. 
Decision: If users don't cancel during their free trial, the first month's charge will automatically come out of the customer's bank. Netflix sends a reminder 3 days before the trials end so they can cancel if they are not enjoying the service. 
Netflix rarely pushes people to continue using their service. They have faith in their product and it comes across to their customers. By mentioning all the details of the subscription and not constantly pressuring their prospects, Netflix has grown into a brand that people trust.  
Action: If the customer liked Netflix's service, they might decide to subscribe (which means no action for the customer as payment is automatic!). If not, they will have to cancel the subscription. Either way, Netflix has increased its traffic.
2.Scheduling a demo with iNECTA 
iNECTA provides companies with specialised cloud ERP software and targets business owners as their potential prospects. Their target audience is unlikely to invest in expensive software without speaking to someone involved. Free demos are the perfect way to answer questions and discuss the features available.  
Have a look at how the free demo fits into the sales funnel:
Awareness: Most of iNECTA's traffic comes from organic Google searches. This is because they are heavily focused on producing great quality blog posts.  
Interest: A customer might be interested in the product but is wary because of the price and the importance of the software for their business. Hence the free demo. Although it works for streaming services like Netflix, a free trial would take too much time and investment to set up in with this software. Free demos give the prospect a chance to talk with the people who produced it in virtual meetings so that they can get a feel for the features and abilities available.
Decision: If the demo goes well, the customer is more likely to decide to purchase the software.  
Action: The product is purchased or isn't.
3.Personalised Video Demo with Zendesk
Especially within the service industry, video demos have become increasingly popular when promoting a product that is hard to explain. 
But for brands like Zendesk, it's not quite enough. Zendesk offers its customers a wide variety of tools to assist people working remotely. Due to the complexity of their offering, they personalise their video demos to maximise sales conversions.
How do personalised video demos fit into the AIDA sales funnel?
Awareness: They use social media, referrals, press releases, PPC ads, and marketing strategies like blogs and a podcast. This helps Zendesk build their reputation.
Interest: Zendesk favours the personalised video demo when trying to hold their prospects' interest. The demo can help them understand what the product can provide and answer questions they may have. 
Decision: Once a prospective customer has all the information they need about Zendesk, a lead will either invest in the product or realize it is not a good fit for them
Action: If the customer invests, Zendesk guides them to deploy the solution within their business.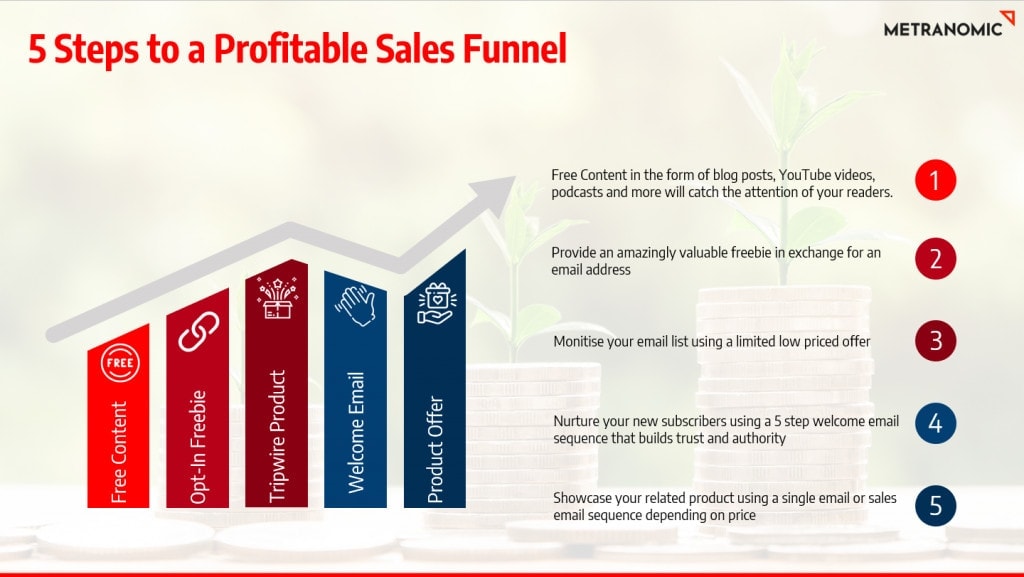 How follow-ups and down-selling can increase your conversion rates
Follow-up funnel
Sometimes, no matter how hard you try, you are just not going to close that sale. The next best thing to do is to focus on recovering lost sales. Good businesses do this with a technique called follow-up sales funnels.
A follow-up funnel is an email-based marketing automation sales funnel with a singular goal: to remind people of their abandoned purchase and what they are missing out on. For people who need a little time to decide, a reminder email can be the difference between a sale or a lost customer. 
Down-selling
Another useful conversion technique is to offer a lower-cost option to customers that have abandoned their purchase. This is known as down-selling. In order to down-sell, we need to know why the customer did not convert.
There are many reasons a customer might have abandoned their purchase, for example:
The price 
A lack of relevance 
Not ready to buy yet
They could dislike your content or brand
They might not have gotten enough help during their decision-making process
If your customer believes your product is not a good fit for them or that it is out of their budget, they are not likely to make a purchase.
To combat this, try implementing one of these 4 effective down-selling techniques to encourage your prospects to change their minds. These are key for an excellent marketing automation sales funnel.
A trial offer: Give the customer a chance to experience your service before purchasing so that they know if it is a good fit for them.
Payment plans: This strategy eases the financial pressure your customer might be under. It gives them the ability to space out their payments.
Multiple buying options: Maybe your main package is not a good fit, but one of your other options might be just what your prospect needs.
Value package: Offer a paired-back economical version of the product that they were considering. This helps the customer get what they need, at a more modest price point that they can afford.