Many brands are familiar with how to construct a sales pipeline. But often, the process ends here. By understanding how to manage your sales pipeline, brands can optimise it for identifying the best leads and updating it as your company scales. This article will provide you with our sales pipeline management tips, alongside the 7 best-practice techniques for optimising it. You will also uncover the 5 sales pipeline management tools every brand should use.
Without great sales pipeline management, brands may not understand the best ways to engage with prospects, or how to track the performance of their sales reps. All of this could culminate with inaccurate data for hitting sales targets. By the end of this blog, brands will have a strong grasp of these concepts, leading to great sales performance.
How you can efficiently manage your sales pipeline
Managing your sales pipeline is done by updating the status of each prospect after every interaction (meeting, phone call, or email) within your CRM platform. By doing this, the sales pipeline in your CRM platform becomes the centre of all operations! It can also help you progress deals forward through the sales journey until the deal is won or lost.
Businesses that mainly use spreadsheets to manage their sales pipeline will struggle to track sales and follow-ups with the same accuracy as a CRM system. A healthy sales pipeline usually deals with many potential deals, therefore it becomes overwhelmed quickly.
Nothing quite beats the simple interface of a CRM system. To help you stay on top of your sales pipeline management, modern CRM systems are now fairly affordable. Some are even priced as low as $5 a month… Bargain!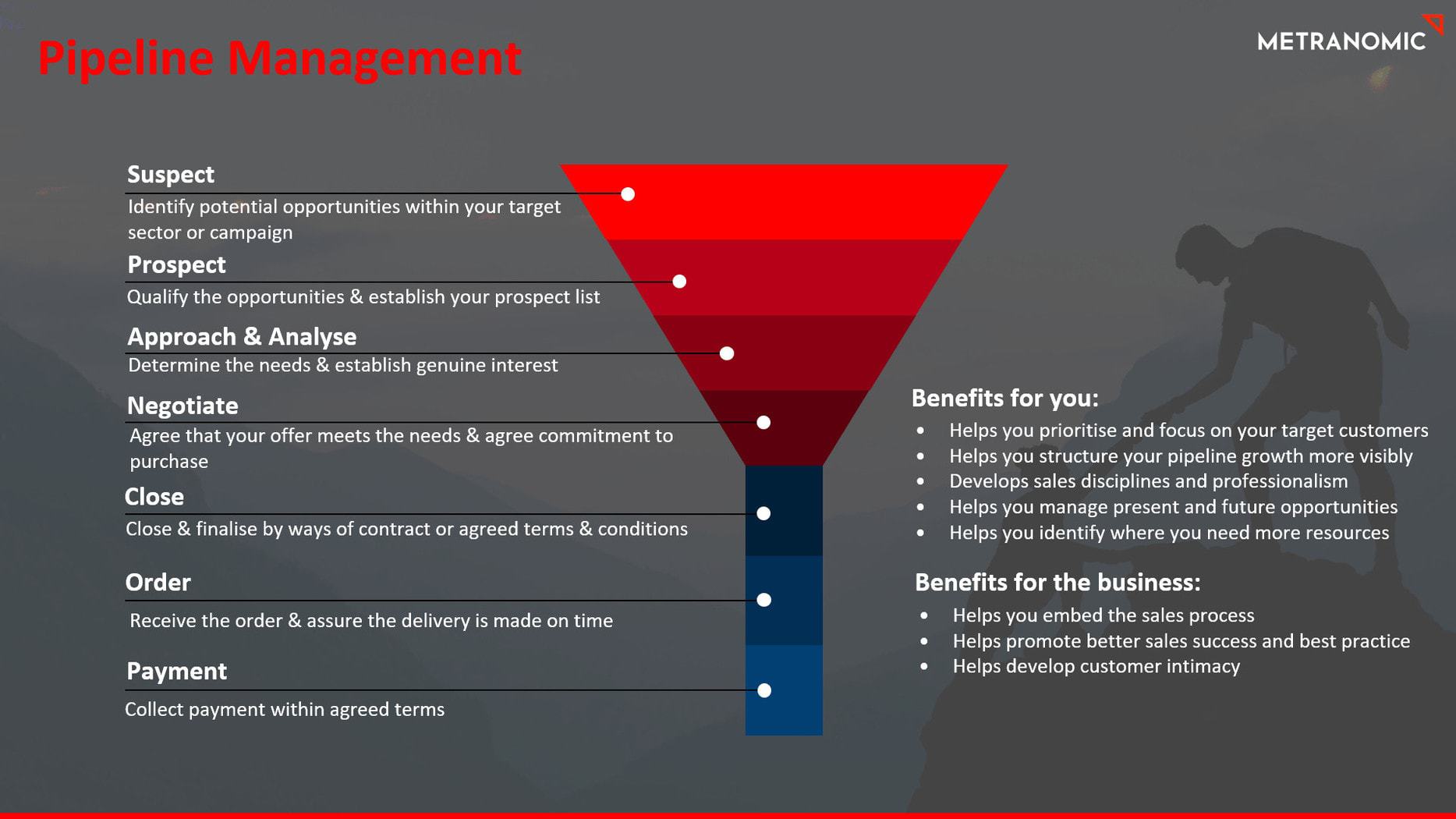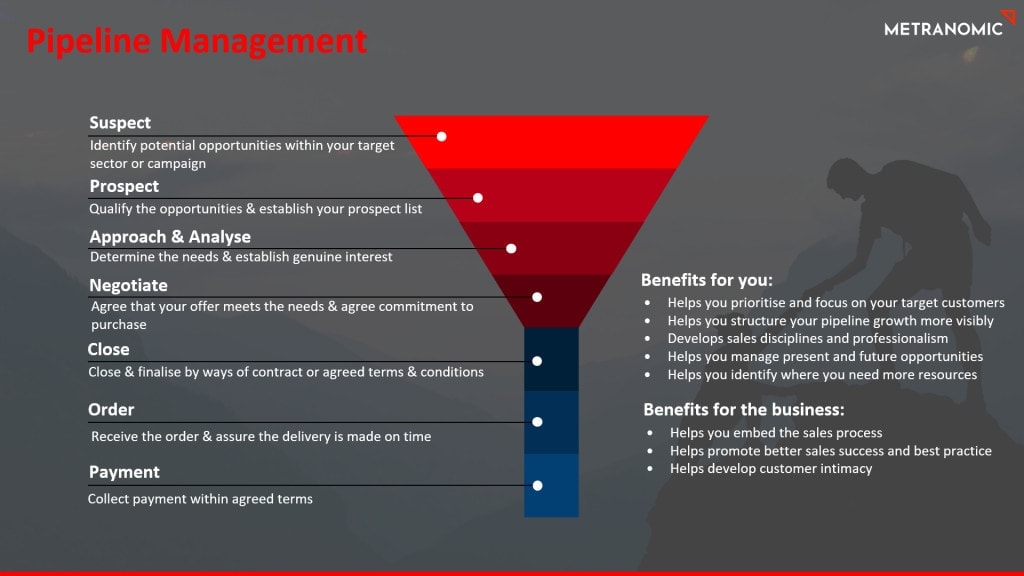 What are 7 tips you need to remember to optimise your sales pipeline?
1. Always follow up
The easiest way to do this is to set a reminder that will notify your sales reps each time they need to follow up with a prospect. You could also try automating this process completely. Use a sales email template to contact a prospect automatically after a certain amount of time has passed. For example, this could be a week after the initial call.
2. Focus on the most promising leads
This is a great sales pipeline management tip. You'll find that throughout the sales process, most deals take a similar amount of time to close. To get the most out of your business, it's more important to concentrate your efforts on high value and sales-ready prospects. This saves time working on leads that will most likely not make it all the way through the pipeline.
3. If a lead is dead, drop it
When you have spent a long time working on building a relationship with a lead, this can be tricky. But if that lead is no longer interested, it is a waste of time to continue pursuing it.
You will know a lead is dead if they tell you directly that they are no longer interested. Or if they are simply ignoring your calls and just not willing to move forward despite the best efforts of the sales reps.
4. Monitor your sales pipeline's key metrics
The sales pipeline is constantly changing and, because of this, you need to be monitoring your sales pipeline metrics. These key metrics include:
Deals within your pipeline
The average deal size within your sales pipeline.
How many deals have been won? What is the close ratio?
How long is the average deal before it is closed?
5. Review your sales pipeline
The most successful sales organisations review their sales technique and the sales pipeline constantly. This is to make sure that everything is as optimised as possible and that their businesses are running at maximum efficiency.
6. Continue to update your pipeline
As your pipeline grows and develops, you will need to be careful that it doesn't become overwhelmed and disorganised. A sales pipeline in this state will spread your resources too thin and can lead to the loss of sales. To avoid this, update your sales pipeline regularly.
7. Condense your sales cycle
Studies show that 75% of B2B sales can take at least 4 months to close a sales deal. On top of this, 18% can take up to 12 months. By doing things like reducing the number of days before you follow up with a prospect, you can shorten the time to close a deal, which could lead to more sales opportunities in the long run.
5 Essential Sales Pipeline Management Tools for optimising your pipeline
Features of Insightly:
Email Management
Workflow Automation
Relationship Linking
Features of 3 XANT:
Team Management
Sales playbooks
Smart Email
Gamification
CRM Reporting
Features of Pipedrive:
Mobile App Integration
Communications Tracking
Analytics Reports
Automated sales pipeline management tools
LeadFize is not a sales pipeline management tool, but it can bring new qualified leads into your sales pipeline by collecting your target prospect's contact information.
Features of LeadFuze:
List Building that can be automated
Programmable AI to find very specific leads
De-Duplication
Verification
Ignore Lists
Feature of Freshsales:
Lead and Contact Management
Email Management
Sales Sequencing
Lead Scoring
Account Management