Continuously turning a prospect into a loyal customer is a critical step towards a healthy business. This process can be optimised for any company by using sales workflows in their sales process.
This article will cover the best method for building your sales workflow in 6 steps, alongside how to easily map your sales workflows. You will also uncover how to streamline your sales workflows by using standard operating procedures that can be easily implemented.
If brands choose to ignore the benefits that sales workflows provide, their approach to each customer will be inconsistent, leading to poor sales performance. By the end of the blog, brands will have a strong understanding of how sales workflows can affect their sales process, producing consistent and healthy sales results.

How to build your sales workflows in 6 simple steps
Decide where to store your data. It is important to choose a good CRM that integrates well with the other systems you are using. This is because a CRM system will provide a base for collecting and storing all of your prospects' details and deals, as well as working as a reporting tool.
Create your ideal customer profile. It is crucial that you do not forget this stage. Figure out what your customers have in common. This may include the size of their business, the industry, their focus on technology or investment in their staff. The more you understand about your ideal customer, the more effective you will be when selling them your product/service.
Find your prospects. After you have figured out who your perfect customer is, you can start looking for them. Find the organisations that would benefit the most from your services. You can do this by prospecting to filter through the masses. Then all you need to do is contact the right person at the company. To save time when prospecting, remember to work with your CRM.
Reach out. Once you have found the key decision maker within the target company, grab their attention. Experiment with multiple tactics, like blog posts and cold-calling, to make the best impression.
Inbound Tactics: Create relevant content that will help your target audience solve their problems. Post targeted ads on social channels to increase the chances of it being seen among target buyers.
Outbound Sales: Have a look at outreach.io or salesloft.com and create a sequence of content for your potential customers. Use relevant and highly tailored content besides phone calls, emails and social channels to make sure you get a reply.
Take care of your target accounts. Don't forget about an account. If you contact someone and they seem quite interested, but tell you that the timing is all wrong, don't write them off. Most organisations follow up an unsure account in 3-6 months to see if they have interest, but there are plenty of things you can do in between.
Nurturing the account during this time frame can be very beneficial. You could set up reminders to check in with them. Keep in touch by telling them about an interesting article or a good tip and even update your service offer through a newsletter.
It is also a good idea to monitor their company to see if circumstances have changed. For example, if they invest more in things to do with your industry, you could find that they are now more interested in your services. Set up a system that notifies you so that you can contact them again and see how you can help.
Just be careful that your line of communication comes across as helpful and not as badgering.
Change things based on the results. Throughout the sales process, there are many numbers that can measure your success. However, keeping the math's as simple as possible makes it a lot easier to manage. Try using:
Number of conversations X average hit rate X average deal size = total sales.
Using the results, you can focus on improving the key metrics. Ask yourself, is there anything obvious that we can do to improve? Taking the time to improve all three of the metrics is much more rewarding than just looking at total sales.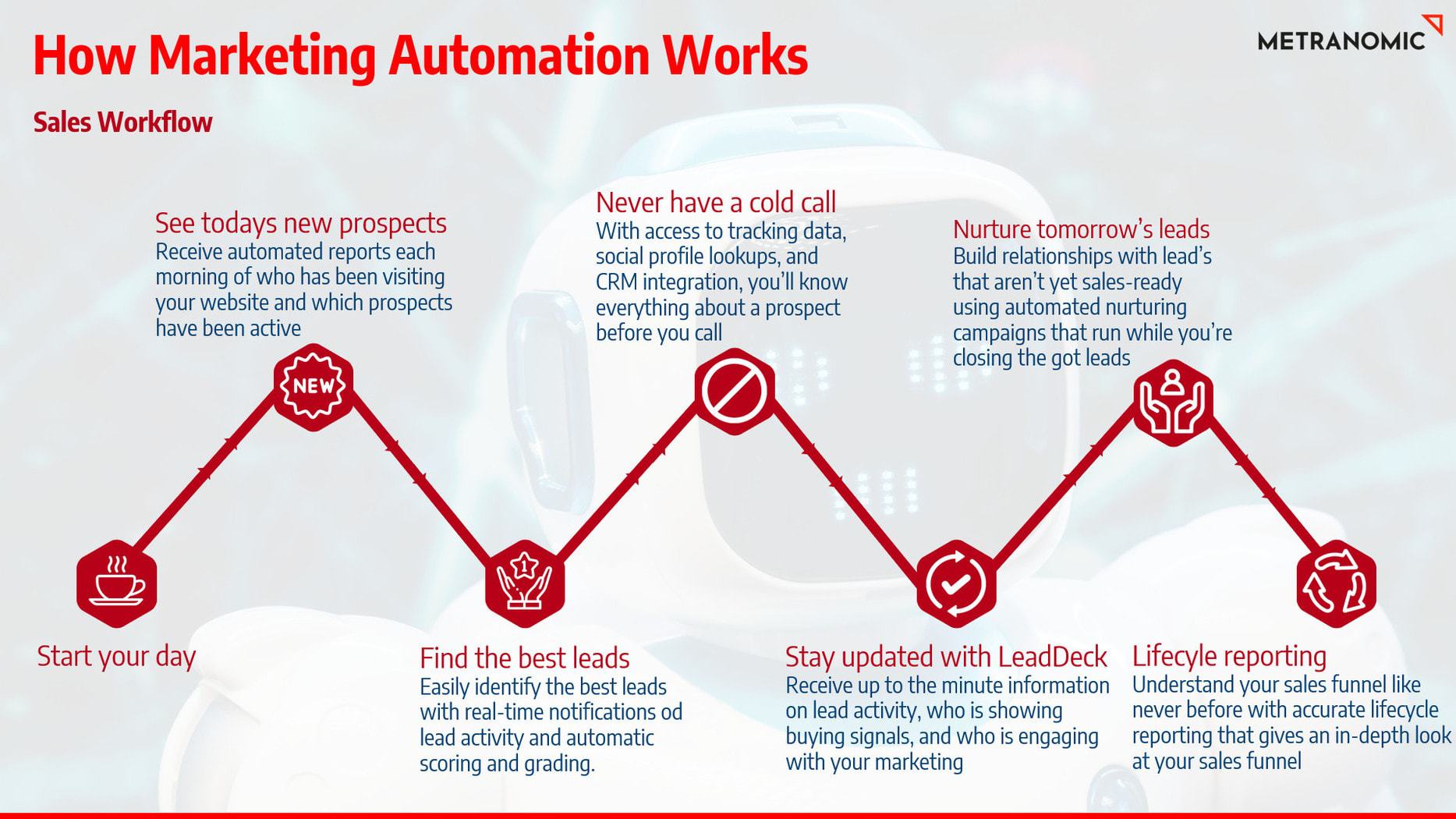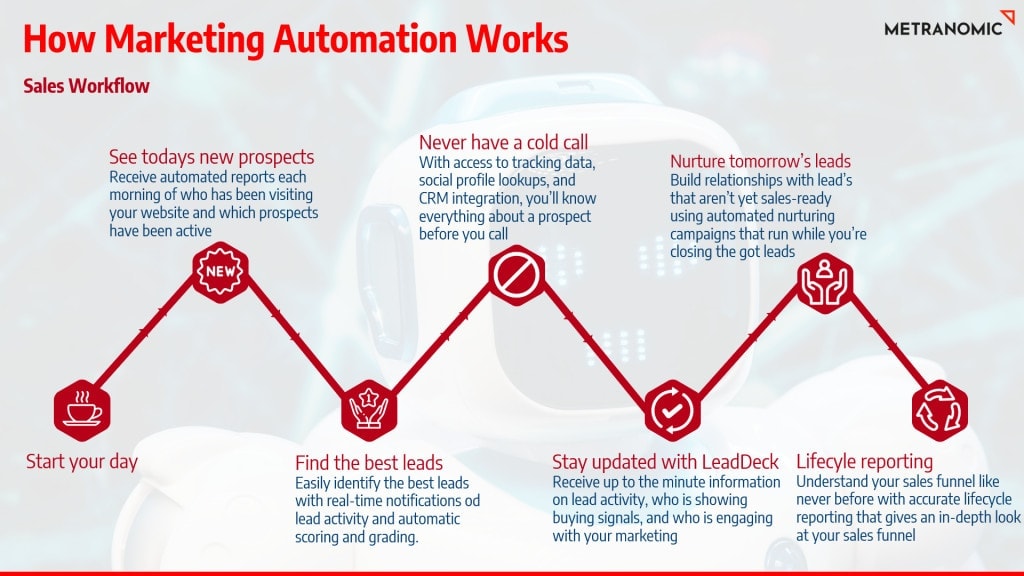 How you can easily map sales workflows
How to map your sales workflow with business process mapping
BPM, or business process mapping, is a process that is used to visualise a business's steps as they deliver a service or a product. Basically, it helps to map out the full workflow and is one of the best ways to maintain consistency. It's great for mapping sales processes.
BPM involves documenting the relation between business elements (roles, capabilities, strategies) and the workflow processes. It also takes into consideration the 'how' and 'who' while focusing on documenting the process. This means the BPM can break down details that help identify where, when, who, what, and why within the workflow process.
How you can use the lean principle when mapping your sales workflows
To help simplify the BPM process, we recommend using the lean principle. The lean principle is a set of rules that ensures you can build the most efficient sales workflows possible. The rules that structure the lean principle are:
Make sure all team members feel valued
Remove all waste
Make your project requirements flexible
Document and create repositories of knowledge
Meet delivery timelines
Think of your processes as one big system
Develop and build-in quality control checks
Identifying sales opportunities with gap analysis
Gap analysis is used to discover areas of high value and excellent sales opportunities within your market. By looking at the gap between market supply and customer demand, a business can find high value customers within empty markets. Using this information, businesses can change their offering to enter high-demand areas where sales will be easier.
Using gap analysis differs from the typical forms of market research because, instead of simply reacting to trends, it is actively looking for gaps in the market. Business-to-consumer companies often use this method to expand their customer reach by exploring unused markets. Gap analysis can help find opportunities for companies within many areas, such as products, sales channels, and geographical locations.
Improving your sales workflows with standard operating procedures
What is a standard operating procedure?
SOPs or standard operating procedures are a set of instructions to be followed in order to complete a routine task. They improve efficiency and performance, as well as ensuring quality through a more routine approach to doing work.
SOPs maintain quality standards
SOPs help you scale your training and speed up onboarding
Processes become more efficient over time with SOPs
SOPs can improve sales conversion rates.
Building your standard operating procedures in 5 Steps
Step 1: Have an end in mind. What is the purpose of your SOP? Say you outline the protocols for closing a deal. The purpose would be to make sure the contract is signed, and the deal is ready for the team to deliver the work the next morning.
Processes like this are made to be replicated repeatedly, whether that's daily, weekly or monthly.
Step 2: Selecting a format. You probably find that your business already has some SOP documents that were written for a previous operation. Review how these documents are formatted and use them as a model for future SOPs.
Step 3: Ask for input from your sales team. Communicate with your sales team as they will have the best insights into the current sales processes. Ask them how the sales task is currently working to identify ways of optimising the process and build the SOP collaboratively with them.
Step 4: Define the scope. Your standard operating procedure is linked with SOPs used by other teams and departments. Create a map or flowchart so everybody can navigate and understand their role in the SOP.
Step 5: Write your draft. It is important to produce content that your audience will understand. If you dumb it down too much, they will feel patronised and not trust the content. Whereas if you make it too complex, they simply won't understand. Finding a good balance is important if you want to keep them engaged.
Now is the time to write your first draft. Have a look at the following elements and make sure you have included them in your SOP:
Title of the proceedings
The SOP identification number
A publication deadline/revision date
Names of all the companies, divisions, roles and agencies that the SOP relates to.
The names and signatures of the people who prepared the protocols and approved them.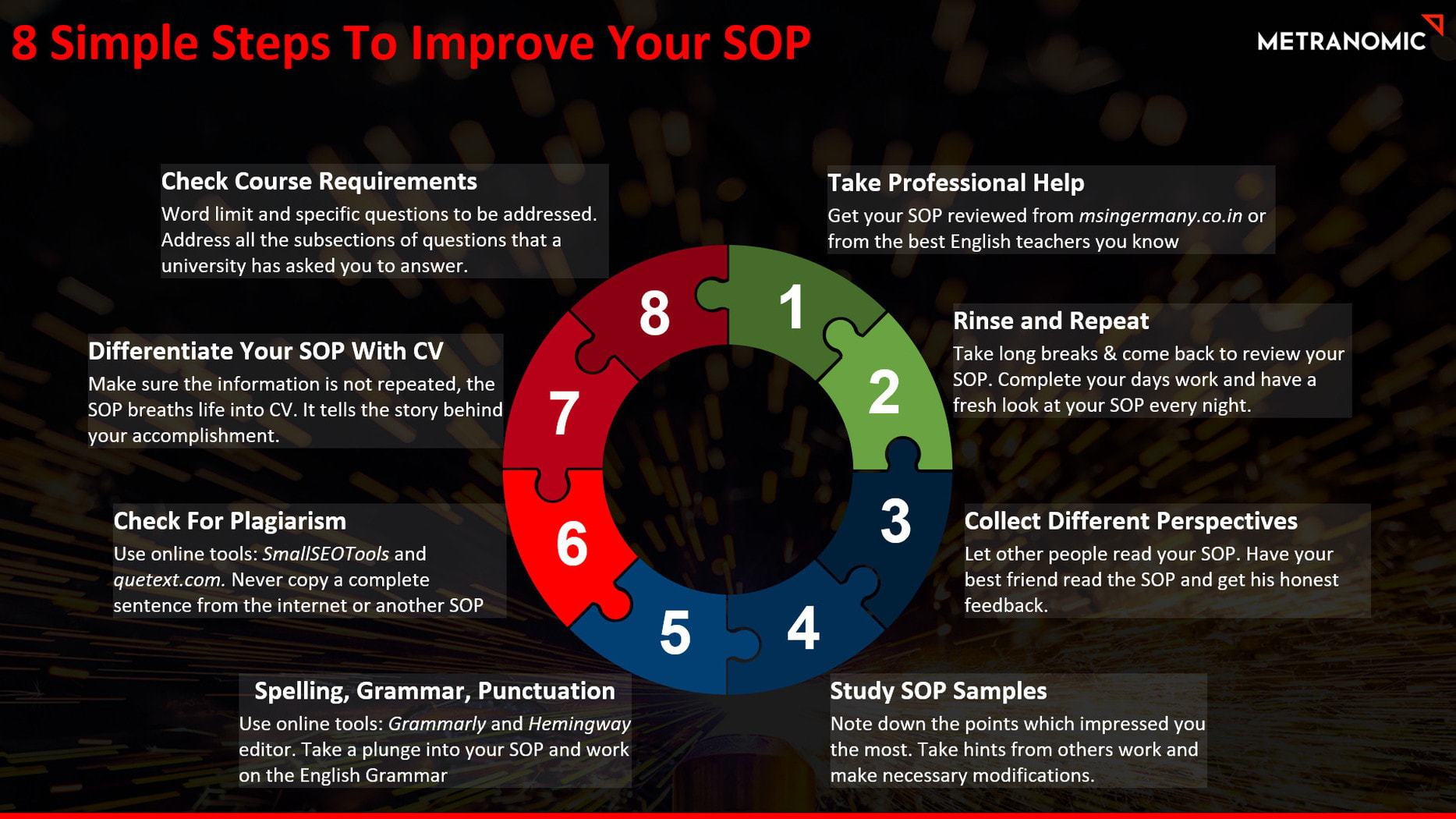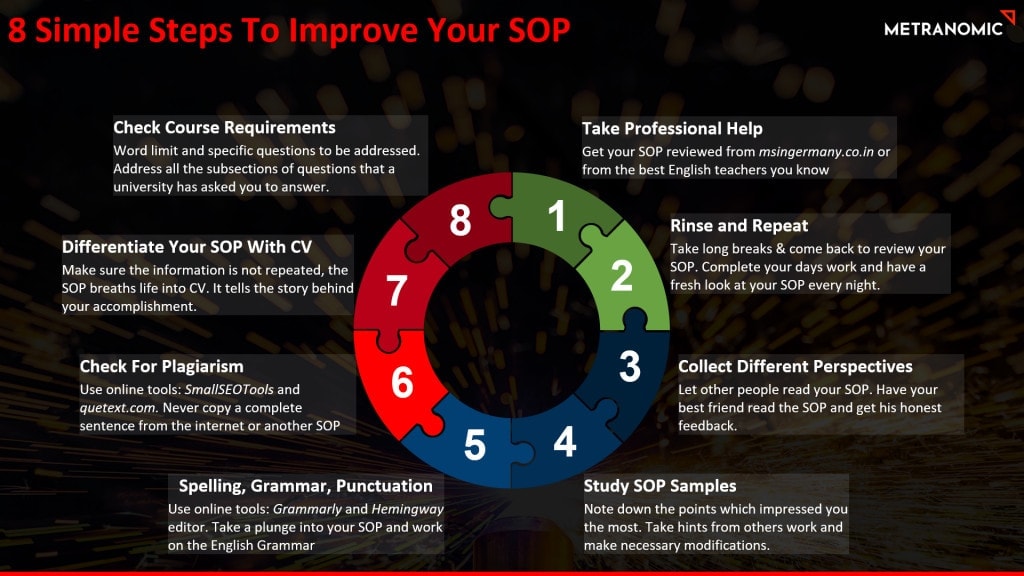 What different formats can you use for sales SOPs?
To reduce the amount of confusion, you should have a standardised way of formatting your SOPs. This will help make your how-to easier to implement. Below you will find the top 3 ways of formatting your SOPs:
1. Step-by-step
The step-by-step format splits the routine SOPs into numbered or bulleted steps, much like a cooking recipe. This approach makes it incredibly easy to follow.
Each step will be clear and concise with its own action. For example, if you were laying out how to mop the floor, your first step could be to fetch the mop, with a separate step for filling the bucket with water and floor cleaner.
The step-by-step method should be used when the process is simple and does not involve decision-making.
2. Hierarchical format
This format seeks to look at the big picture to help split up complicated processes. It starts by looking at the entire process and then focuses on the details.
For example, a hierarchical SOP for a card shop would have an overview policy like 'the floors must be mopped every night'. This would then be split up to explain how to mop the floor, where to do it, and how to know when the floor is clean.
This follows a fairly basic formula:
Create an outline that provides the why for the next steps.
Explain the official way of doing the task.
Tell them any details that are need-to-know.
Keep things legitimate by providing any documents needed.
The hierarchical format should be used when the process is a little more complicated and requires 10 or more steps. However, it does not need any decision-making.
3. The flow-chart
A flow chart is a guide that leads you through tasks and considers different events along the way.
Some processes can have multiple outcomes and so you can't always rely on a structured list of actions. But by providing agreed upon responses to a variety of situations, a flow-chart can accept every step does not need to be complete.
For example, if you are supposed to mop the floor of the card shop every evening but because of a spillage the floors had only been mopped twenty minutes ago, you might not need to mop them again.
The flow-chart format should be used for any process that involves decision making, regardless of how complicated it is.