An automated sales funnel build can provide insight into how a customer will progress through the customer journey. This article will take you through the 5-step process for creating a great automated sales funnel for your brand, alongside how AIDA can fit into your sales funnel to successfully engage with your prospective customer in each stage.
Without an in-depth understanding of how a sales funnel operates, brands may not find valuable customers and retain them after purchase consistently. By the end of this blog, brands should have a strong grasp of the tactics used to streamline each stage of the sales funnel, maximising the opportunity for a boost in revenue.
The building blocks to creating your automated sales funnel
5 Steps you can follow to build a great sales funnel map
Step 1: Identifying the strengths and weaknesses of your existing sales processes
Use your sales data to identify products or services that are normally purchased together. Remember, your website analytics are key to analysing the stages of the sales journey. This helps to identify where there is a steep drop-off in sales. This insight will help you build your sales funnel map for better performance.
Step 2: Enticing people into your funnel
Publish content to raise awareness of your services/products in your target market. You can experiment with a variety of methods to find out what works best for your business:
Social media: Raise awareness with short form content on social media, which gets people clicking to visit your blog posts.
Infographics: Infographics are a great format to use when you're looking to explain complex concepts in an easy-to-read format.
Blog posts: Publish insightful blog posts that educate, entertain and help your audience solve a problem that relates to your service offering. They'll be enticed to know more about what you offer!
Paid ads: Paid ads are a quick way of raising awareness of your services. This is something that is only worth launching after a good amount of insight has been developed about the key sales drivers among the target customer. It is also vital that you have a solid landing page in place first, before launching paid ads.
Step 3: Developing an amazing landing page and hook
The blog posts and social media content that you're producing should ideally all be pushing potential prospects to visit your landing page. This landing page should entice people to give their email address for a high-value piece of content. Some examples of high-value content that you can experiment with are:
Ebooks: A guide to help the target customer overcome a challenge or get a job done. This can also be a piece of thought leadership or a piece of market research.
Templates: A template that helps the target customer do a complex job easily. Examples are content planning templates, SEO templates, analysis templates, etc.
Webinars: A live event for people to learn something that helps them achieve their business objectives.
Step 4: Building an email drip campaign
Send your leads one or two emails a week, filled with amazing and engaging content. This is a great way to keep their attention without annoying them with unnecessary information. Increase your sales by educating your market. Consider what they want to learn and what is holding them back. Don't forget to promote your service and throw in a few promotional offers into your emails also!
Step 5: Don't forget your existing customers!
Instead of ignoring buyers, continue engaging with them post-purchase. Thank them for their business, deliver content that is useful and offer them exclusive deals to maximise customer lifetime value. This helps to keep your brand awareness high whenever they next need your services.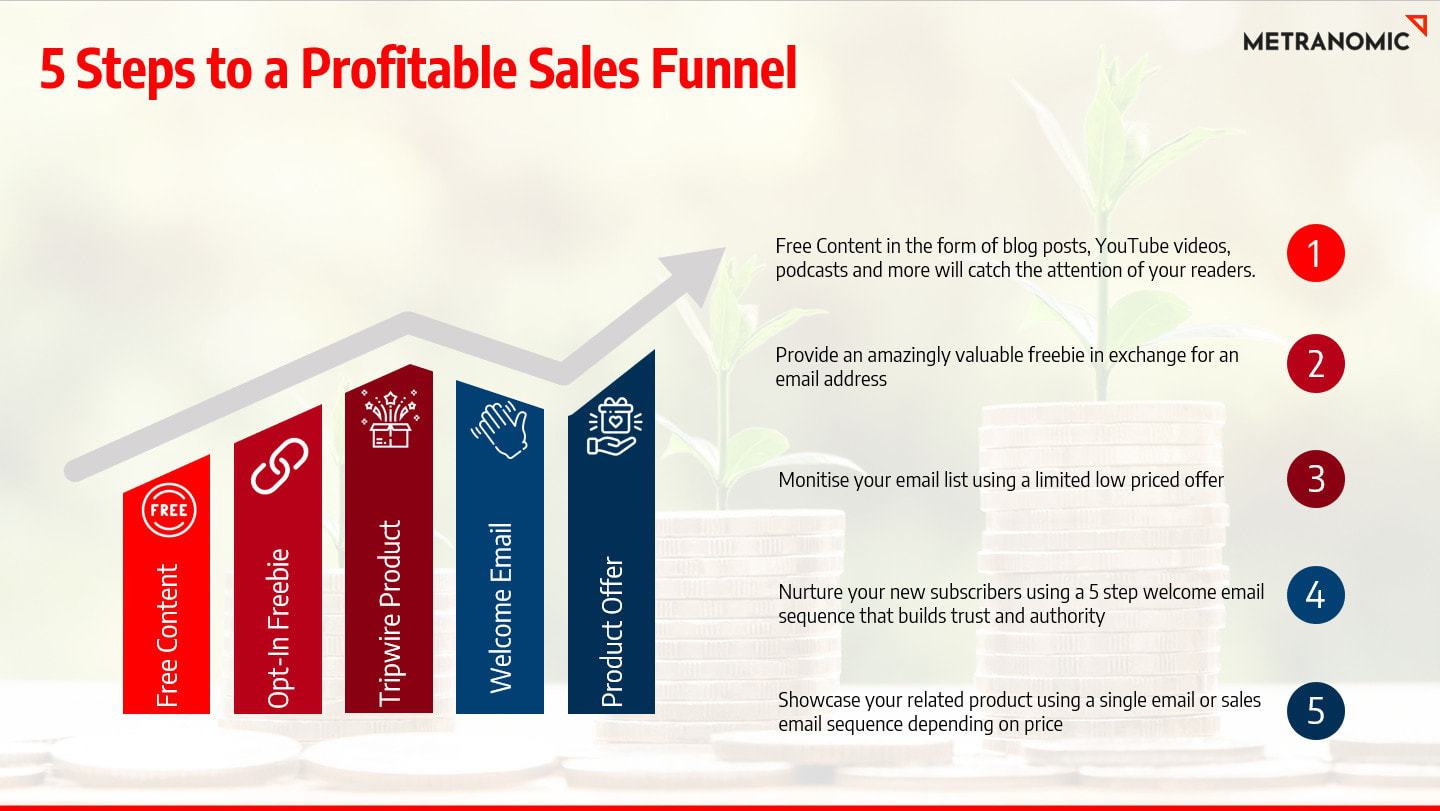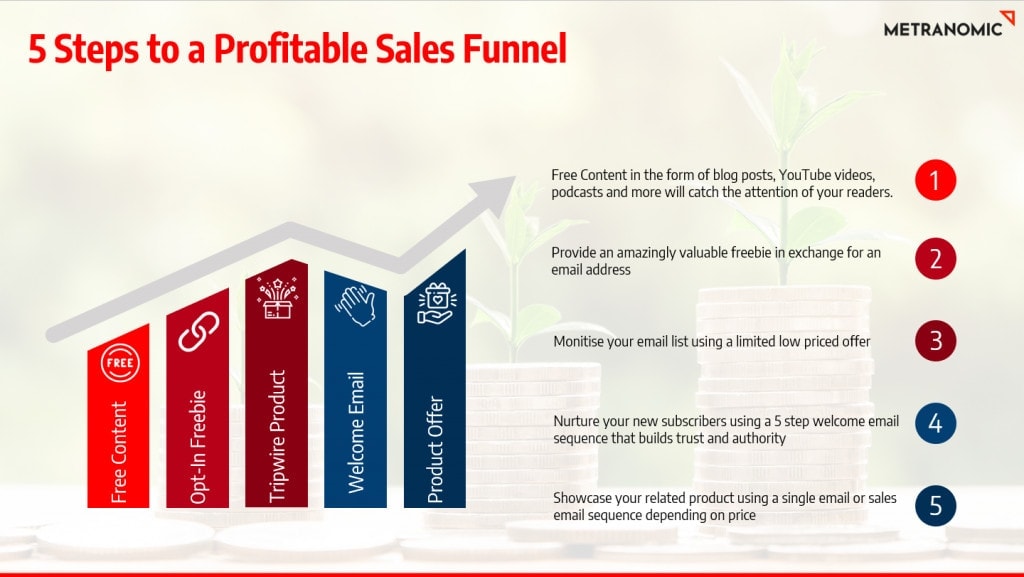 How does AIDA Fit Into your Sales Funnel?
The four stages of the sales funnel represent your targeted customer's mindset as they move through their purchase consideration process. An automated sales funnel build can benefit by using AIDA correctly!
Simplified by the acronym AIDA, the four stages are awareness, interest, decision, and action. In each stage, the prospective customer has a different mindset and you should engage with the customer throughout each stage in order to achieve the best sales results.
Awareness
The first stage is awareness, and it refers to the moment your business first catches a prospective customer's attention. Maybe they saw a tweet or post about your products/services, noticed an advertisement or found you through Google. Wherever it is, the consumer is now aware of your business and becomes a potential prospect.
If you are lucky, the prospect might find your business desirable and buy something straight away. If not, they will move on to stage two.
Interest
Your prospect is now thinking about their options, comparing you and your product/service to other businesses. Instead of immediately trying to push them to close a deal, now is the time to tell them a bit about your business. Give them quality content that assures them you're the best option on the market.
Trying to sell right from the beginning will simply chase prospects away. Show them you are an expert in your field. Be reliable and show that you can help solve all their problems before pushing for a sale.
Decision
By the third stage of the sales funnel, your prospect is interested and ready to make a purchase, whether that is with you or someone else. Now is the time to put forward your juiciest offer. This could be a discount if you buy before a certain time, bonus products, free shipping or anything to make your business irresistible to them!
Do a little research and find out what deals your competitors are offering so you can offer your customers something a little more compelling that better meets their needs.
Action
The last stage of the sales funnel is action. Here, your customer decides if they like your offer and purchase your product or service.
But the action stage is not the end! Once a target prospect has become a paying customer, we can begin nurturing them for the long term. The best way to do this is by delivering exceptional service. However, asking for their feedback if they had a good experience is always a must. See if they are happy to refer their friends and family. This can help to expand sales for the business. We can also up-sell them additional services to maximise their revenue contribution to the business.