A quality automated sales funnel is the key to converting more customers. To ensure your approach is successful, taking notes from proven methods that work is a great way to start. This article will aim to take you through the most affordable and reliable tools on the market to build a great automated sales funnel, alongside real-world examples of successful sales funnels, for your inspiration. You will also uncover the best benefits for sales funnel automation can provide you, regardless of your business size.
Without a strong sales funnel, brands cannot accurately identify customer insights to move them along their journey. By the end of this blog, brands should have a good understanding of the ways an automated sales funnel can aid in increasing customer rapport and revenue opportunities.
3 Key Benefits You Can Enjoy with Automated Sales Funnels
Free yourself from mundane tasks: Having a sales funnel that can independently operate frees you up from the mundane sales admin. This sales funnel automation benefit also gives you more time to focus on closing deals.
Decrease your operating costs: An automated sales funnel also lowers your operating costs. To put it bluntly, sales funnels reduce the amount of work and support staff required to run your sales processes. This can also help uplift operating profit in the long run.
Gain clarity over what converts sales: Automated sales funnels are equipped with lots of analytic capabilities and reports. This enables you to identify the strengths and weaknesses of your existing sales processes. Therefore, enabling you to sharpen sales and marketing efforts and target prospects more effectively.
3 Examples that will help you make Quality Sales Funnels
Groupon increases email opt-ins using pop-ups
Groupon is really effective at using pop-ups to capture emails. They know their customers are interested in getting great value deals. They entice people to give their email addresses by offering 'the latest deals via email' to people visiting their site. Groupon's entire business model largely depends on this one lead generation tactic and has built its entire system based on it. For example, in 2020 alone, Groupon made over 1 billion pounds.
Check out the following link to experience Groupon as a first-time visitor: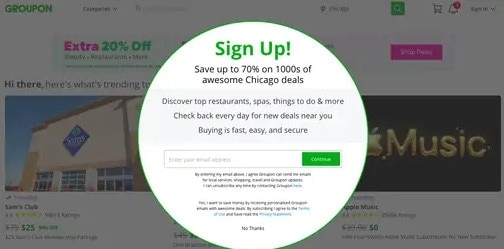 As soon as you enter the home page, you are met with a pop-up encouraging you to enter your email address. This rarely works, as people are unsure of immediately giving their details to a brand before they know anything about them.
But Groupon makes it work. They tell their customer exactly why they should sign up from the very beginning with information like:
Save up to 70% on thousands of deals
Discover things to do in your area, including restaurants, spas, etc
We update our deals daily
Buying with Groupon is fast and safe
Customers will either sign up or vanish as quickly as they appeared, but with email addresses being so crucial to how it drives sales of their deals, Groupon finds that this approach is worth the risk.
Asos uses email marketing to drive sales and brand loyalty
ASOS is another huge e-commerce player that is heavily focused on engaging new and prospective customers via email too. They are focused on building the emotional connection with their customers rather than Groupon, which has a more short-term sales focus. Building a brand is always the smarter move, as it builds long-term loyalty. ASOS sends regular emails to subscribers that focus on a key creative theme and their emails all have catchy titles with fun emojis scattered throughout to draw the eye.
Look at the following example: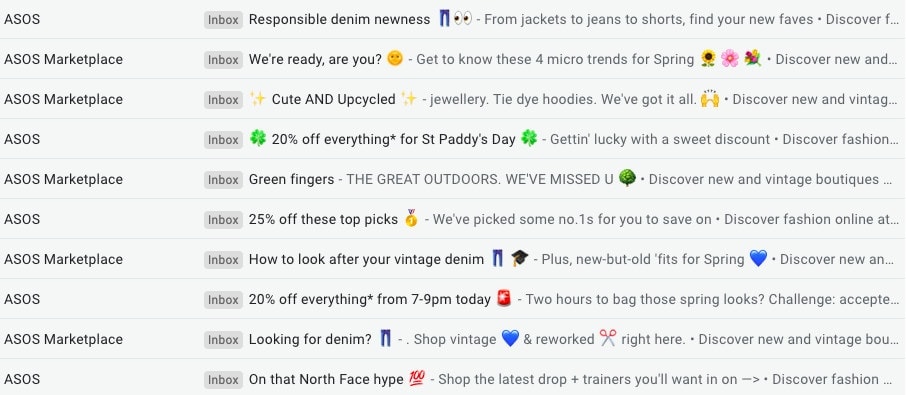 With a 56% higher open rate for email subject lines that contain emojis, you can see that ASOS are master email marketers! Overall, infographics, images, gif and emojis grab more attention than plain text and implementing them into your emails is a sure way of increasing the amount of people that engage with your brand.
ASOS has mastered this art, as shown below: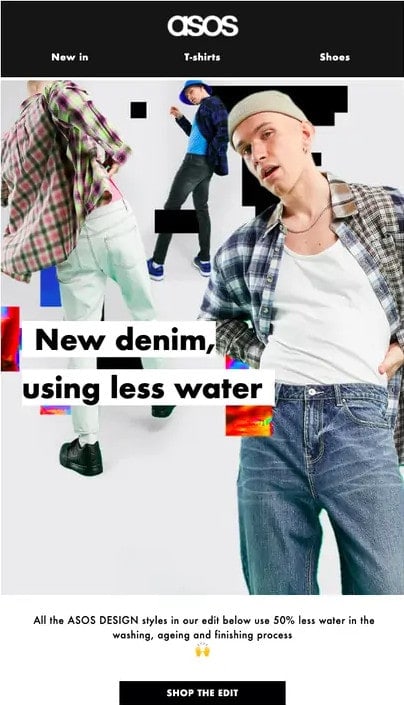 Amazon's homepage personalisation drives repeat purchase
Amazon's success lies in its ability to push customers towards products they are more likely to want. Jeff Bezos has been quoted as attributing up to 40% of Amazon's revenue to Amazon's personalisation engine. So it's a serious growth driver for their business!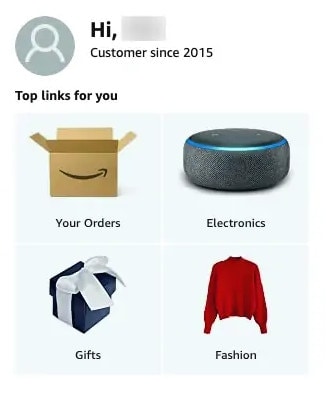 Amazon uses a powerful recommendation engine that uses personalised filtering. This means they look at what their customers have brought and create a list of related items just for them.
This results in a homepage that shows customers exactly what they want to see. They incorporate things like your brand preferences, timings, and different users. Altogether, it creates a personalised experience that is always encouraging customers to buy more.
Great Tools that will help you build your automated sales funnel
Sales Funnel Automation Systems
This funnel builder is a great way to achieve sales funnel automation. It can create and launch landing pages, email campaigns, social media marketing, webinars and sell products. GetResponse covers all the basics well.
Cost: GetResponse has a wide rarity of packages and prices from basic to max. On the average plus account, 1,000 users = £37 per month and 10,000 users = £75 per month.
Features: These differ depending on your package and number of users, but a basic package includes:
3 users
Email marketing
Website builder
Autoresponders
Unlimited landing pages
5 sales funnels
Facebook & Google Ads
Chats
Webinars
Content scoring and tagging
Market Automation
Email marketing
Landing pages
Webinar funnels
Similar to GetResponse, Kartra is another great solution. It includes a landing page builder, email marketing automations and lead database management. Kartra also offers users a great set of easy-to-use checklists to help you build and manage your sales funnel in no time.
Kartra offers four quality plans, 'Starter', 'Sliver', 'Gold' and 'Platinum'. All of which have a range of amazing features.
Cost: A Starter account = £99 per month. A Platinum costs £499 per month. With the other options in between.
Pros
It is an all-in-one system
It's easy to set up with the checklist features
There is a training portal to help beginners learn the ropes
Cons
There are limited integrations
You have to be using the correct tools for it to work
The granddaddy of sales funnel automation tools! It is specifically designed with small and medium-sized business in mind. ClickFunnels includes an email automation system and landing page builder. Users can enjoy a vast library of pre-configured sales funnel templates to get up and running in a few hours.
Cost: A ClickFunnels account = around £82. The ClickFunnels Platinum = around £214.
Feature of the starter plan are:
20 funnels
100 pages
20,000 visitors
Unlimited contacts
3 custom domains
Opt-in funnels
All advanced funnels (sales, webinar, membership)
Order pages and up and down-sell pages.
Webinar software to deliver live events in your automated sales funnel
Throughout the pandemic, this webinar platform has thrived and become one of the best on the market.
With a powerful modern platform, Demio offers both automated and live webinars and options to deliver pre-recorded and live recordings.
Demio allows presenters to display interactive polls, Q&A panels, call-to-action-buttons, launch offers, and it also can share presentation documents live.
Key features include:
Private and public chats between users.
Webinar analytics showing webinar's performance.
Users can sign up for a series of webinars.
Live, pre-recorded or webinar replays are available.
Livestorm goes beyond standard webinar features, as it can be used for meetings and product demonstrations of up to 12 people. It also integrates well with tools such as Miro.
The software is beautifully designed and simple to use and its Miro integration lets you analyse how well your webinars are doing. Further integrations include popular marketing tools like HubSpot and Salesforce.
Key features include:
On demand webinars that notify users when a webinar is starting.
Automated tools that can schedule webinars to replay at a set time during the day.
Polls and live chats.
Instant meetings.
EverWebinar allows your business to schedule and automate your webinars. With options to play them at set intervals, EverWebinar focuses on giving your users a live experience even in a webinar replay environment.
Key features include:
Just-in-time webinars what tell you when a webinar is due to begin.
The ability to stop your webinars from playing at night or on a date/holiday.
Automatic time zone detection.
Free training resources.
Integration with a variety of email marketing systems.
The ability to analyse your webinar performance data.
WebinarJam is developed by the same folks over at EverWebinar but are focused on live screening. There are no automations or scheduling for webinar replays, but if you combine it with EverWebinar, you get the ultimate webinar toolkit. It's very affordable and some might say it's a little more advanced than other alternatives.
Key features include:
Live streaming and automatic recording features.
Customizable brand pages.
Polls, live chat and a virtual whiteboard to interact with your audience.
Password protected security measures.
Analytic reports on your webinar's performance.
The ability to use pre-recorded videos for presentations.