What sales automation

tools

should you be using?
Sales process automation software is critical for maintaining good customer relations and simplifying the sales process. However, with the market becoming heavily saturated with a plethora of tools to choose from, we have curated the most optimal tools for brands to use.
This article will cover the best CRM systems that are specifically tailored to boost sales performance, alongside our best-practice methods for automating your sales processes to save resources.
By using sales automation tools as a standard practice, brands can succeed in lead capture and generation, making conversions more frequent. By the end of this blog, brands should have a strong understanding of which tools will increase their revenue and performance.
Which CRM Systems can boost your sales performance?
The Zoho CRM system provides a pleasant mixture of unique features at an affordable price. It is compatible with many of the different Zoho products and is an all-around great choice for your sales process automation software.
PROS
Zoho is free for up to 10 users.

Increases user engagement

Amazing feature set

It has powerful email marketing tools.

CONS
Workflow automation is locked behind premium costs

The voice assistant is not great

Zoho costs: $24 per user per month.
This CRM system is impressive for small and medium-sized businesses (SMBs) who want to get started as soon as possible. With an AI assistant, customizable options, and a reasonable pricing tier, Freshsales is good value.
PROS
A simple way to implement a CRM tool for smaller businesses.

Many customisation options.

A helpful AI assistant.

Good at blending with other systems to improve functionality.

CONS
There are currently no reports available in the free plan.

Finding out what sort of plan you want is very time-consuming.



The HubSpot CRM is aimed at small businesses with a free model and a wide selection of add-ons so that your business can customise it to meet all of your needs.
PROS
There is a usable free version available

The user interface makes set up and use easy

Amazing email integration features

CONS
When you add premium functions, the price can increase.

Salesforce is one of the most widely used CRM solutions. Its many features include AI, easy sharing of data between systems and many Salesforce partners.
PROS
A large range of advanced and customisable features

Strong team collaboration options

A third-party app marketplace

Amazing workflows and solid performance

CONS
It is quite tricky to learn

Is more expensive than some of the other systems.

5 Essential Tools You Need for Lead Capture and Lead Generation in 2022
Lead tools help businesses identify and capture new prospects to convert into paying customers. There are a wide variety of lead tools on the market, with some focusing on capturing leads (lead capture tools). While others focus on delivering pre-qualified leads for sales teams to drive sales (lead generation tools). Here are a few examples of lead tools for small businesses:
1. JotForm. This tool has thousands of form templates for you to use, with a large range of lead forms made with small businesses in mind. The lead capture templates can help you improve how you qualify leads from the moment you capture their details.
2. ZoomInfo. Using a variety of web techniques, ZoomInfo gives you access to a focused database to help you build the perfect prospect list. It integrates with a variety of marketing software, making it a seamless addition to your existing sales workflow.
4. Lusha. This lead generating tool focuses on helping B2B sales teams build prospect lists and nurture their leads. It's an easy-to-use platform that can help businesses scale up, whether it is big or small.
5. Octopus CRM. This is a piece of LinkedIn sales process automation software designed with small businesses and company marketers in mind. The Octopus CRM helps users create custom sales funnels that easily convert potential customers from LinkedIn. This is made for people who collect B2B leads from professional social media.
How can you use lead scoring software to identify valuable leads?
One of the most effective sales process automation tools is lead scoring software. Using qualifiers like job title, industry, and buying potential, lead scoring software can help identify the most qualified leads for sales teams to prioritise.
The more advanced sales process automation software can also track engagement levels and interest that the lead shows toward your product or service. This is based on their interaction with your website and emails that you send.
Industry favourite lead scoring software that you should really know about:

Gazelle.ai. An AI-Powered sales intelligence platform with algorithms that can rank over 8 million international companies based on whether they will expand. They do this by identifying leads within organisations that are active buyers, and marking those companies as growth companies. Gazelle.ai scores these growth companies and combines them with other filters such as company events, industry heat maps, revenue growth, etc. This gives them a better idea of which companies will be expanding.

Lattice focuses on providing a personalised experience across the buyer's sales journey. They do this by prioritising contacts for lead and account-based programs, and help sales teams run omni-channel sales campaigns. The Lattice Data Cloud tracks data to assist you. For example, growth data, firmographics, financial data, technographics and intent data.

SalesWings provide sales teams with actionable profiles and data of leads based on their interaction with your website in real time. This can guide your sales teams to sell smarter by targeting active leads based on what interests them the most. SalesWings can also supply lead scoring and website tracking capabilities to upgrade your email marketing platform.

Which sales process automation software tools can streamline your sales processes?
Managing complex sales processes is made easy with workflow automation and integration platforms. You can automate time-consuming, repetitive tasks to give your sales reps more time to focus on closing sales.
Have a look at the following sales process automation tools:
How should you automate your sales processes?
The 4 steps of building your sales process automation software tech stack
Step 1: Make a list of requirements
Make sure that you have a clear list of requirements for your sales automation tech stack before looking at solutions. There are thousands of tech solutions in the market and it is easy to get distracted by the latest solution, which may not actually meet your business's requirements. Setting out the requirements clearly before investing is a crucial stage to avoid buyer's remorse later down the line!
Consider:
Process alignment. When looking at CRM and marketing automation platforms, ask yourself if it will support you with your existing business processes. Will it help you track your prospects and leads to benefit you?
Where is your data and where does it need to be? You should have a single 'database of record' that centralises and integrates all of your data in one location. When evaluating tools, consider if they can align data across your tools and if they will integrate with other tooling in your tech stack.

Step 2: Clean and reorganise your data
Don't make the mistake of underestimating how long it will take you to clean your data before you implement a new tool. If you haven't already, add a process or tool to your tech stack to help you keep your data organised and up to date at all times.
Duplicate records can occur when data is merged from multiple sources, which can make data cleansing a more arduous process.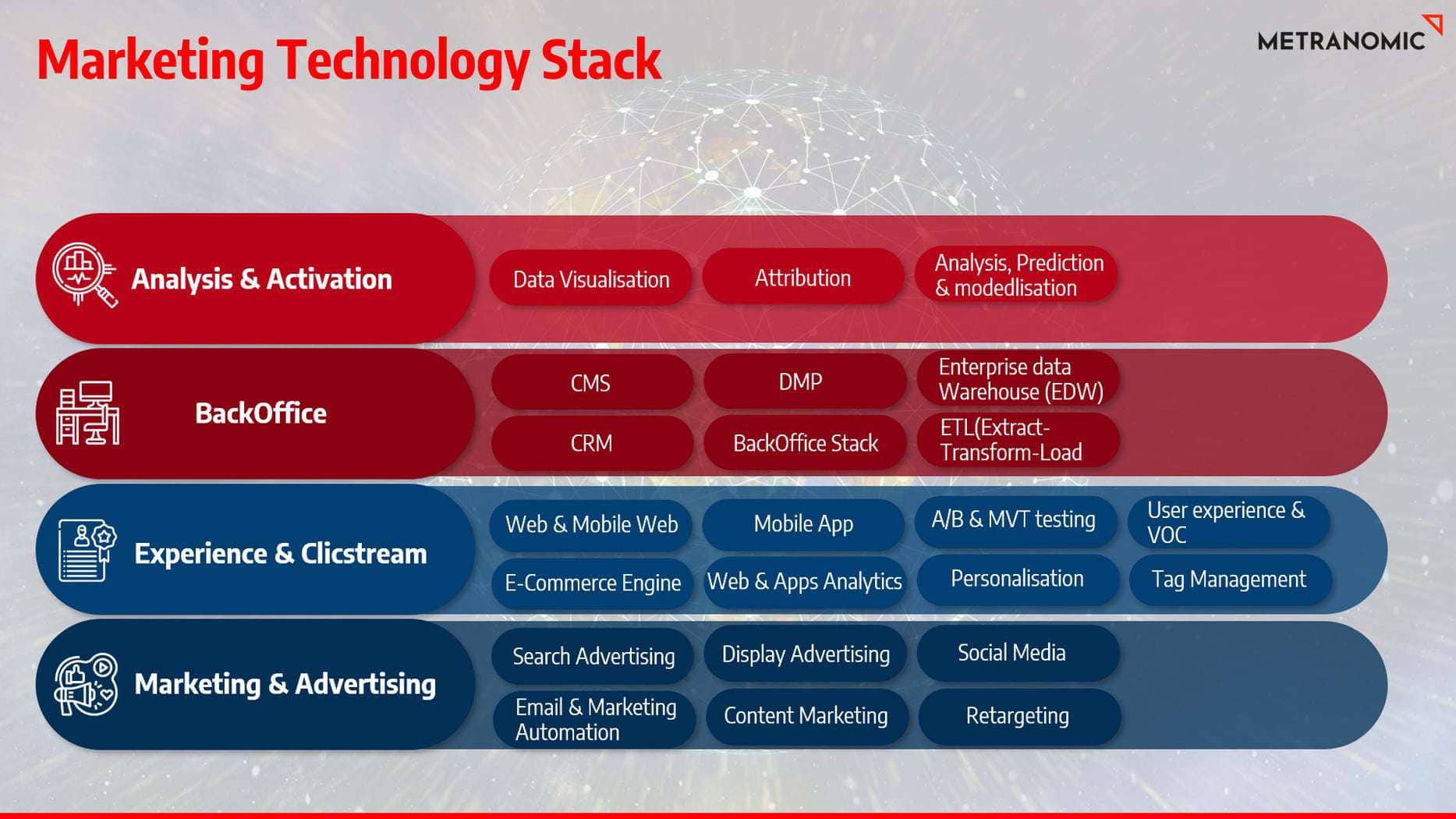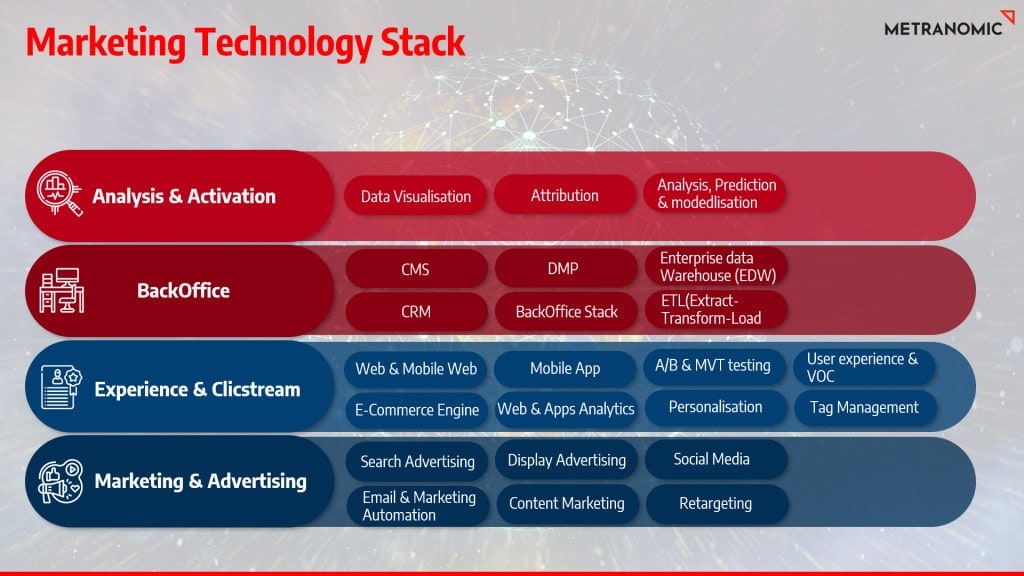 Step 3: Pick tools that will expand with you
When you are deciding on a new tool for your tech stack, ask yourself one question.
Will this tool be able to support you for the next 18-24 months of company growth?
If the answer is no, don't use that tool. It is a waste of time and money to add and take away tools that won't last.
Step 4: Document everything
What tools have you subscribed to? Why did you pick them? And who will access them?
Keeping notes like this will be helpful when you're questioning whether you should have chosen that specific tool. Keep reminding yourself why this tool was the best choice for your business and use it to its fullest.
You should keep a list of your software subscriptions and anyone who can access them. This is useful for a few reasons:
It can help you find problems within your marketing technology stack.

When employees leave, you can easily remove their access to any tool they could previously use, as well as swapping the billing and contact information to someone else within the company.

When someone new is employed, you will have a list of all the things that they need to be trained on.

You can track how much you are spending on tech.