How to build a successful CRM implementation plan in 4 steps
Having a well thought out and strategic CRM implementation plan is often overlooked in B2B marketing. With a strong CRM system implementation plan, brands can build rapport with prospects sooner, leading to an increase in long-lasting customer loyalty.
This blog will aim to cover our 4-step plan for a great CRM implementation, alongside 9 common reasons implementing a CRM usually fails and how to avoid them.
Without a strong sense of how to implement a CRM correctly, brands will fail to have accurate data available from the beginning, creating more issues than solutions. By the end of this article, brands will have a good understanding of the questions that need to be asked before implementation, as well as the best practices for maintaining the CRM after integration.
Step 1: Define the use case for CRM in your business.
A good first step in your CRM system implementation plan is understanding the issues that you and the team face in your existing sales processes. Tackle this before jumping into CRM. The most common mistake businesses make is to buy a CRM before having a clearly defined set of requirements. Ask yourself and your team what areas of your sales or customer service need improvement. Collaborate with them in order to get their input in the process. The functional specifications (a set of guidelines/reference points for a systems capability) that you develop for your CRM should help you narrow the focus. This allows you to be clear on the solution that you finally settle on (rather than being distracted by the marketing hype of the latest CRM fad).
Step 2: Outline a budget.
Before you begin your search, you should be very clear on the overall budget. Many CRM platforms charge per seat (user), so it's worth knowing how many people within the business will need access to the CRM system. Calculate your budget around this factor. CRM systems are also good at up-selling premium versions and additional features of their subscriptions. These can quickly add up, so follow these steps to calculate a monthly CRM budget:
Calculate the total number of monthly users you will need to have access to the CRM.
Define a comfortable budget that you are happy to pay per month per user.
Multiply the number of users by the monthly cost per user (4 users x £40 a month each = £160 per month).
Multiply this monthly cost by 12 months to outline your total annual CRM budget. In the above analogy, it is £1920.
Be very clear and realistic about the size of your budget in order to ensure that you get the right solution for your team and business. Don't forget that all-important set of functional specifications!
Step 3: Find an appropriate CRM vendor.
Your next step in your CRM implementation plan should be to find a vendor to supply your CRM software. When choosing a CRM, measure if the CRM meets your functional specifications. However, there are other considerations, such as.
How established is the vendor?
Do they fit within the budget allocation?
Do they integrate without existing email systems?
Is it simple to upload our existing sales data?
Will we be able to collaborate effectively as a team on this CRM solution?
Is the solution accessible via mobile and desktop?
How accessible will customer support be?
How well reviewed are they online?
Step 4: Having a strategy for your CRM system implementation plan
After you have found your perfect CRM system, you can focus on developing your CRM implementation plan. This can be done quickly, but there are a few best practice tips worth following here:
Define roles and responsibilities of each CRM user. Establish what needs to be done to ensure each user can fulfil these roles and responsibilities.
Map your existing sales processes. Translate this into a set of CRM scripts and a refined sales process that can be setup within the CRM system.
Define how you want to measure sales performance and the metrics that matter most to your business. Based on this, you can build your custom reports and sales dashboards.
Build a list of all technical tasks that need to be performed in order to integrate your existing systems into the CRM platform for launch.
Bring all the above points into a structured project plan. Work through each aspect of the project plan in order to launch your CRM solution.
Ensure that all users undergo extensive training prior to launch so they are confident and comfortable using the CRM system. This is the best way to avoid a failed implementation.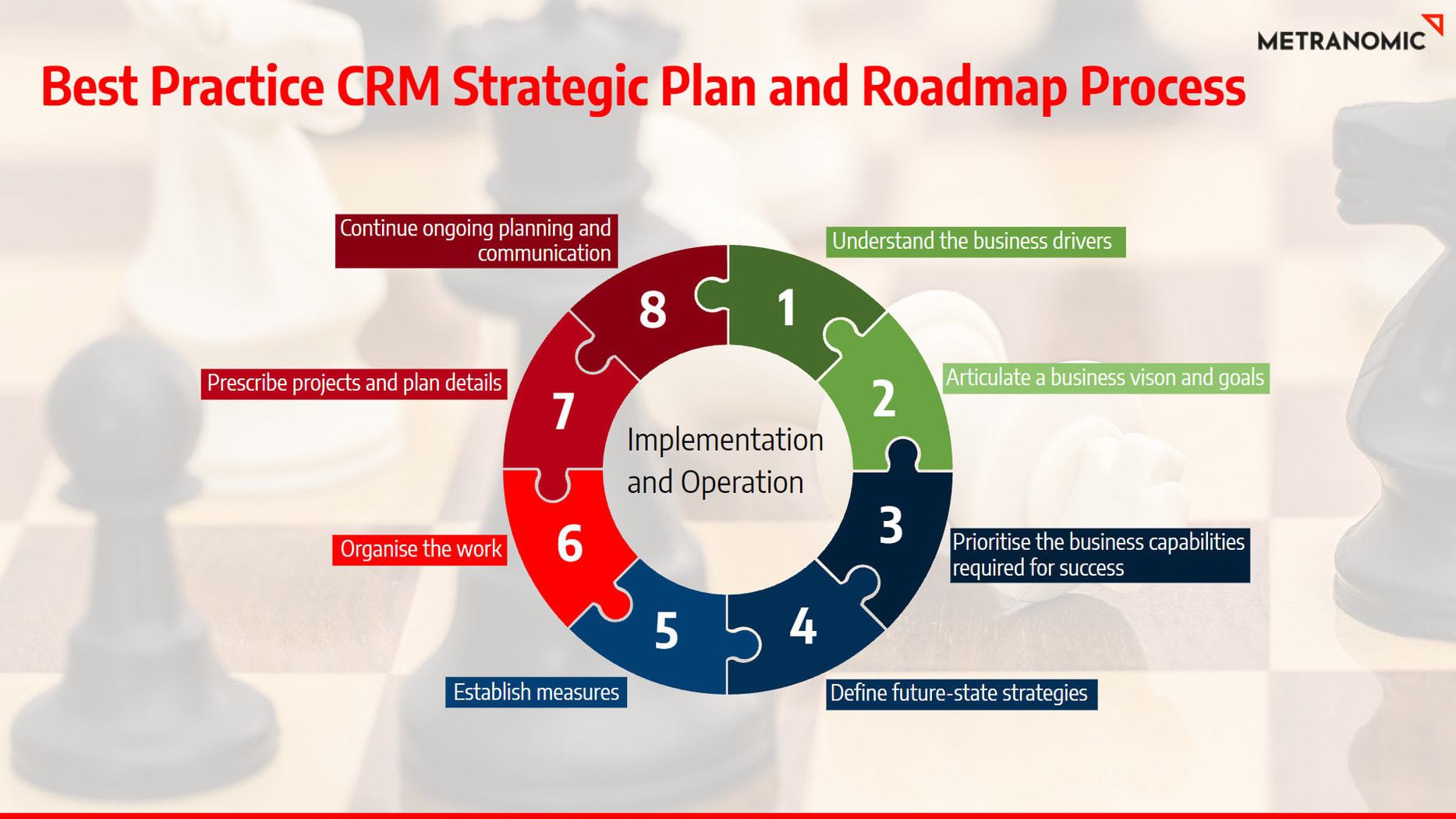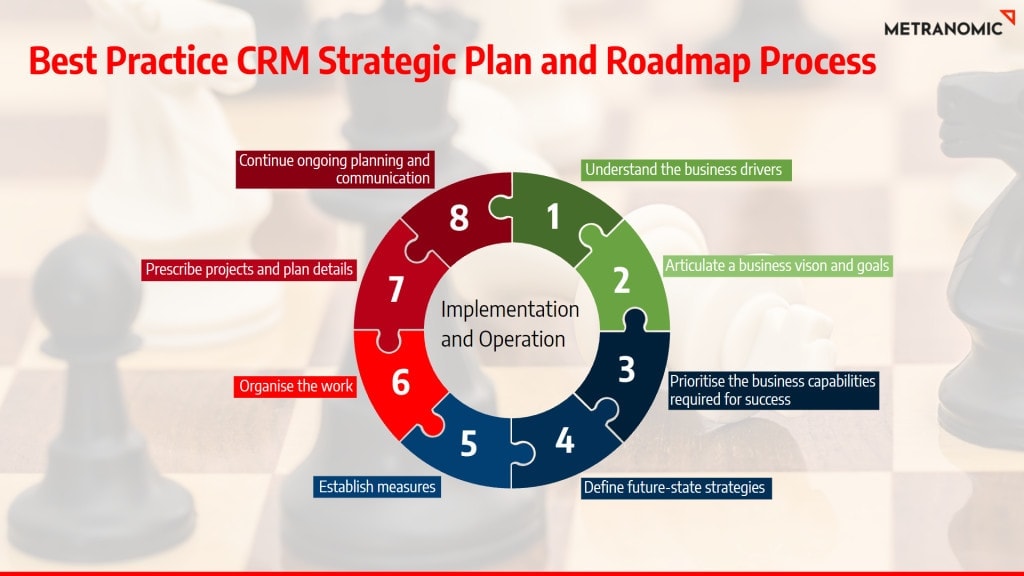 The 9 most common reasons for CRM Implementation Plans to fail
Over 50% of CRM implementations are considered a failure, but why is that? Here are 9 reasons your CRM implementation might not work out and how to avoid them:
A Lack of Strategy
For a successful CRM implementation, you need to ensure that the CRM system helps deliver on the goals and objectives of your business. CRM systems should improve productivity, help you focus on the best sales opportunities, and improve the overall visibility of sales performance. If it does not achieve this, then your CRM implementation is highly likely to be rejected by the team and fail.

You're using the wrong CRM solution
Picking the right CRM system is a careful balance between costs, business objectives and existing ways of working. If the CRM that you chose does not tick all these boxes, then there could be problems further down the line. To avoid this issue happening, we recommend you collaborate with your colleagues to develop the initial functional specifications of the CRM system.

Poor implementation
Your CRM system should always enhance and improve existing processes rather than adding additional admin to an already over-stretched team. Take your time over the implementation to get it right. If it is configured and deployed correctly from day 1, you are much more likely to avoid long-term issues that often occur when rushing through the implementation stage. Avoid getting too bogged down by the many complicated customisations and features. Just set up the CRM system for the best possible user experience.

A lack of user adoption
Another common mistake businesses make when implementing a customer relationship management system is overlooking the final user. With both executive decision makers and technical advisors, it is easy to forget the people who will actually use the system on a day-to-day basis. Understanding the need for the software and implementing it in a way that your team can use effectively is the only way to resolve this.

Constantly expanding CRM functionality
When implementing a CRM system, it is quite common for businesses to get distracted by the added extras and array of customisations which are available. Doing this extends the CRM implementation process and can quickly add up the implementation fees. Remember to stay focused on the functional specifications and keep it simple to implement the CRM quickly, as per the business requirements.
Trying to implement everything at once
Many businesses want to rush forward and do everything as quickly as possible, but this often leads to mistakes and doesn't give you enough time to adjust and test the new system. Take it slow and focus on one task at a time, beginning with the features that will benefit you the most. This tactic is a lot more likely to get your implementation done on time.
Not using an active load testing environment
Successful CRM system implementation plans require regular testing to make sure that your system is running correctly. However, only testing basic elements will not give you accurate results. Testing the system in real-life situations can show if everything works as expected. Running tests like this will speed up the implementation process and give your business a solid foundation for growth.
Failing to retire your legacy systems
After implementing your new CRM, it is important that you and your teams stop using the old systems. Therefore, keeping legacy systems live will lead to confusion and result in sluggish adoption. Nobody likes change!
Not including a maintenance strategy
Your CRM will need maintenance if you want it to be fully optimised. By including preventative maintenance in your schedules, you can make sure that your CRM is taken care of. This prevents problems, saves you money, and allows you to take advantage of the CRM's many features.