How to successfully implement your CRM
Having a strong set of CRM implementation steps is a great method for fast-tracking improved customer relationships and sales performance. However, this process can sometimes require massive planning and a prolonged testing phase.
Fortunately, this blog will cover how to implement your CRM in 5 simple steps, from importing existing sales data to the testing of your system. Brands will also learn the vital differences between how a CRM can affect B2B and B2C companies, highlighting the challenges and requirements of both.
Without a clear understanding of your CRM implementation steps, brands may risk going over budget and having a low adoption rate. By the end of this article, you will have a good grasp of the tactics used in a solid CRM implementation process, leading to better customer retention and productivity.
How to Implement Your CRM in 5 Easy Steps
Step 1: Importing your existing sales data into your new CRM system.
A common mistake businesses make when implementing a new CRM system is uploading every single piece of data that they can find into the system. This creates an unorganised environment that will be very hard to navigate for your employees. Therefore, this slows down the adoption and effectiveness of the new CRM system.
Most CRMs allow you to upload data via a CSV file. Upload only the essential data to keep it clutter-free and usable.
Step 2: Implementing roles and accessing settings.
Not everybody in the organisation needs to have administrative privileges and access to certain data. Consider who needs the access rights and administrative privileges of the CRM system for a cost-effective strategy. Consider:
Which users have permission to control and edit different parts of the CRM?
What fields of data are accessible to who?
How are leads and deals separated and accessed by members of the team?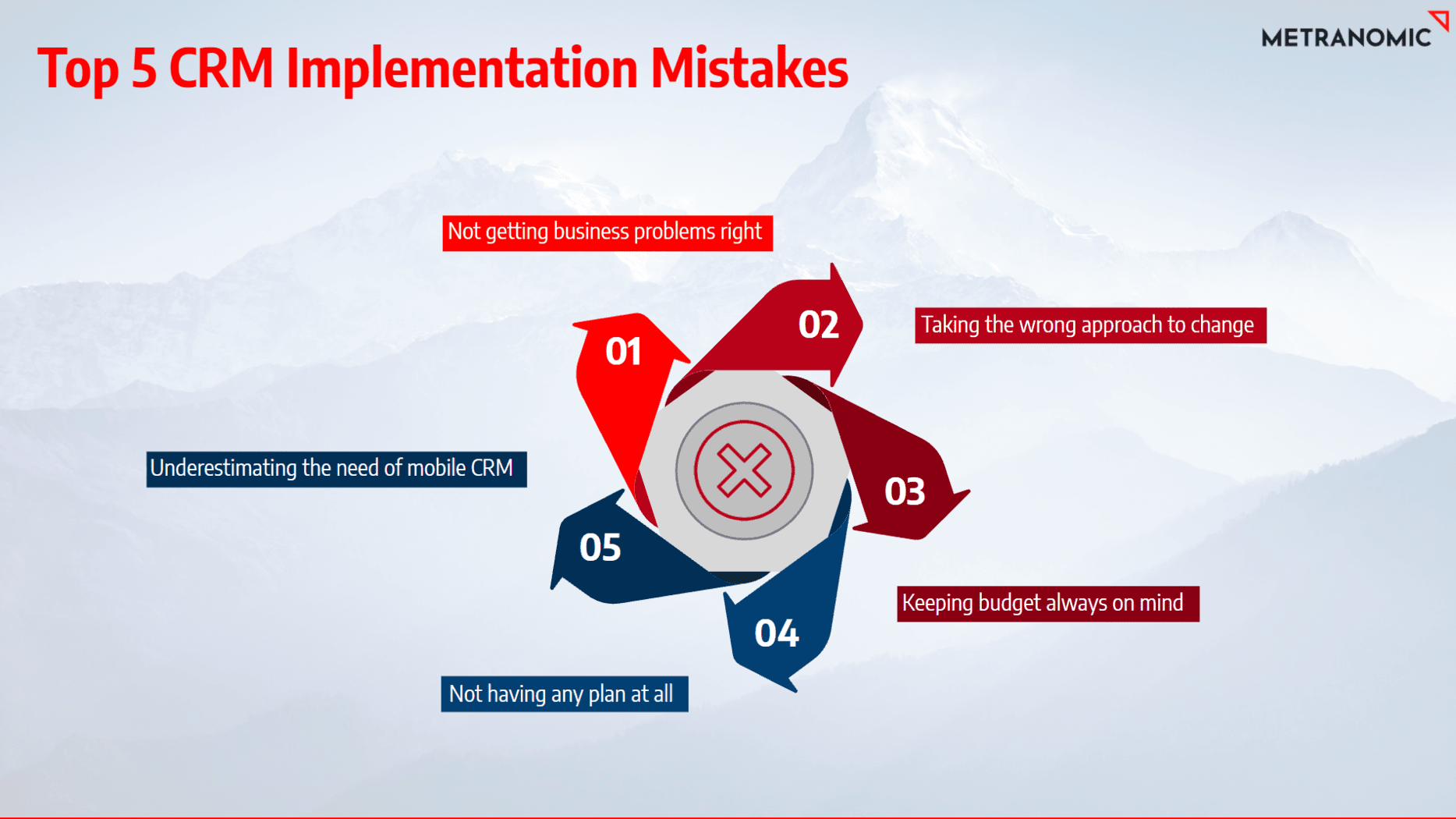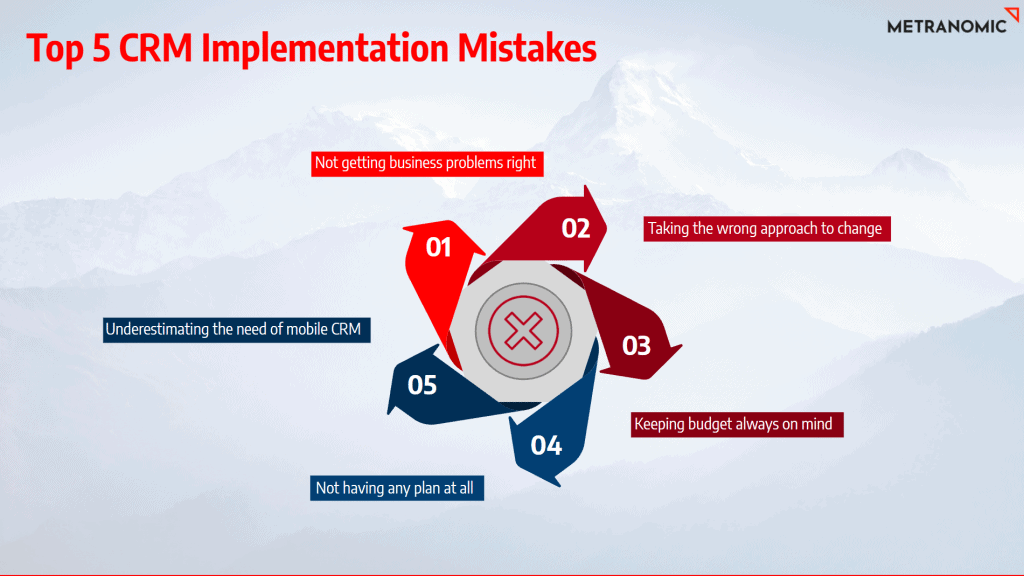 Step 3: Setting up your required integrations
You will need to integrate your CRM with the other systems you are using. For example, your email system (such as Microsoft 365 or Google Workplace). Alongside email, other aspects you might need to integrate include:
Automated chatbots
Marketing automations
Support ticketing
Social media channels
Live chats
Lead capture systems
Email marketing platforms

Step 4: Testing your CRM system.
Another thing you need to do for the successful implementation of your CRM is to see how all the individual parts work together in a test. The key components you should test for are:
Reports. Does your reporting data match the results you expected?

Migrated data. Do you have any duplicate data and do your records match?

Contact. Can you recognise your assigned data fields and are they fillable?

Email capture. Is the two-way email sync working and are your email exchanges all linked to the right contact?

Automated tasks. Are your task triggers working?

Integrations. Have you been able to connect with all your needed business apps?

Website forms. Are all your forms displayed accurately with fillable fields and are your forms correctly routed?

Pipeline management. Do your deal columns match the sales process within your sales pipeline?

Lead routing. Are your leads being routed to the right sales rep?

Step 5: Defining specific and measurable CRM targets
The last of the CRM implementation steps revolve around setting targets for your business. To support your company goals, we recommend outlining realistic targets for each user on a monthly basis. This will make it easier to track progress and enable you to measure performance within your CRM system. Some example targets include:
1. Weekly / monthly calls.
2. Weekly / monthly meetings.
3. Weekly / monthly proposals issued.
4. Weekly / monthly deals closed.
5. Weekly / monthly revenue closed.
What are the differences between B2B and B2C CRM systems?
B2B and B2C companies have different CRM challenges and requirements. Here are some of the key differences between B2B and B2C CRM systems:
B2C businesses have a larger number of customers coming into their CRM system. Therefore, compared to a B2B, B2C CRM systems need much stronger contact management functionality.

B2B businesses often manage multiple relationships within the same company. Whereas in a B2C, each customer is thought of as a single contact.

B2C sales are a lot faster than a B2B sale, which can take months to be agreed. On this basis, a B2B CRM platform should have a better sales pipeline tracking functionality and the ability to record all sales interactions over a long period.

Within B2C businesses, leads can come from many sources (social media, paid ads, contact forms) and repeating contacts are more likely. A strong contact duplication functionality is therefore recommended for B2C CRM systems.

B2B CRM systems are often used to track individual sales and relationships one-to-one. In B2C CRM systems, customer service queries are managed one-to-one, but much of the communications will be sent in bulk through email marketing or general service updates.
B2C CRMs are more focused on marketing automation and customer service, whereas B2B CRMs are more focus on lead management, tracking individual conversations and progressing individual deals.

B2B CRM systems need to capture detailed notes that cover every interaction with a lead (of which there will be many). In comparison, B2C consumers are quick decision makers, so detailed notes are mostly just focused on recording customer service queries.

Because of the broader market focus, B2C CRM systems need to integrate well with social media to answer customer queries and track engagement via Twitter, Instagram and Facebook, for example.