Modern CRM systems are common practice in the current market as they provide improved customer retention and customer segmentation. However, without a strong understanding of your CRM's features, these benefits are unattainable.
This article will aim to cover the techniques required to streamline your CRM system, alongside the 6 necessary CRM features all brands need to capitalise on. You will also uncover 4 amazing features all CRM strategies need in today's current digital market.
Without a clear understanding of the features a CRM holds, brands cannot improve sales performance or have insight driven sales forecasting at their disposal. By the end of this blog, brands will have a strong grasp of the features that CRM systems can offer to boost growth and hit annual goals.
Key CRM features you need to improve your sales performance
Contact Management: By recording customer data, managing contacts and setting up reminders for your next deal, you can reduce the length of the sales cycle and improve the rapport you have with prospects.
Mobility: Cloud-based CRM systems give you the freedom to access your prospect's details outside the office, so you never lose contact with them.
CRM Analytics and reporting: By breaking down your sales data and providing you with reports on past and projected sales performance, you can see how your business is performing and what needs to be adjusted. This is one of the most useful CRM software features that modern CRM systems have.
Customisation: A good customer relationship management system should enable you to customise the sale journey. This enables you to progress deals in a way that aligns with buyer's expectations.
Intuitive interfaces: Using a CRM system shouldn't be rocket science! With so many CRM systems to choose from, it is important that you have one with an easy-to-use interface that helps you get the job done with minimum fuss.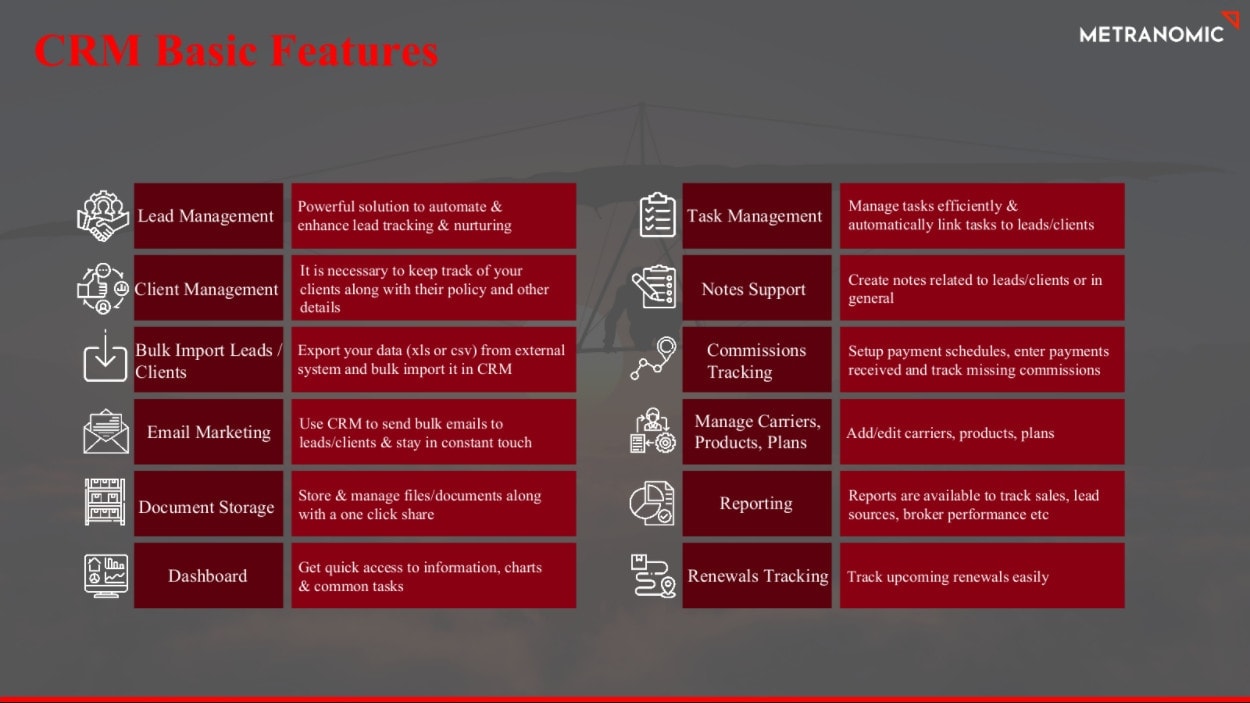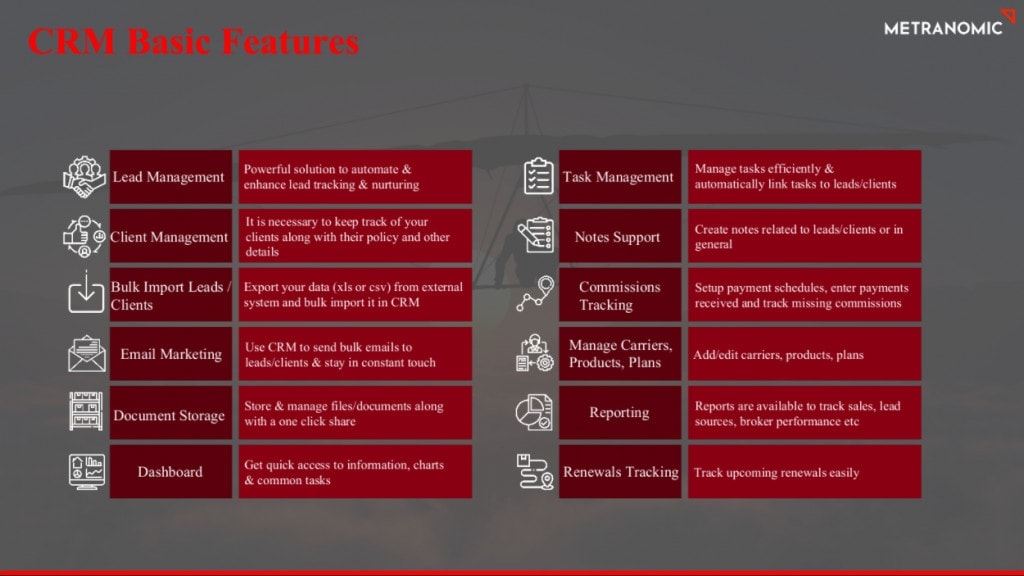 6 Critical CRM Features and benefits for improving your CRM System
1. Contact segmentation. Contact segmentation allows you to divide your contacts into organised groups. Divide these based on their specific wants and needs. Combining segmentation with individual prospect data (such as their needs, hobbies and interests) can really help you deepen personalisation in your communications, helping improve sales performance.
2. Managing opportunities. One of the often under-used benefits of modern CRM systems is their ability to calculate the potential value and conversion likelihood of opportunities. Most modern CRM systems help you identify leads based on their engagement, helping you streamline and optimise your sales pipeline.
3. Dashboard and reports. Customised reports can give you a real-time overview of your sales performance. CRM can keep you informed and navigate your sales pipeline with higher precision.
4. Mobility. With the ability to access data and receive deal alerts on your mobile, CRM tools can now make it a synch to progress deals. Accessing deal data on the go can also dramatically improve productivity.
5. Sales automation. Being able to automate some of the more repetitive tasks in your sales process helps free up time so you can focus on closing more deals. Tasks like follow-up emails and data collection can be automated to help your business become more organised.
6. Forecasting Sales. Sales forecasting helps you benchmark performance and make more informed decisions for the business. Sales forecasting reports available in CRM systems also give you insight into what is currently working in your sales process and what you could improve in order to grow your business.
3 simple techniques you can use to enhance your CRM System
1. Streamlining operations with CRM
Using a CRM tool can enhance and streamline business operations. This approach simplifies your core business processes by placing the CRM at the centre of your business. Additionally, a CRM solution can help you simplify lead generation and customer service to help you streamline your existing business operations.
The three key CRM software features:
Sales Automation
Marketing Automation
Service Automation
When should you invest in an operational CRM?
If your business has a linear sales pipeline.
If your company wants to automate its workflow.
To improve the administrative side of your business.

2. Deepening intelligence with CRM analytics

If your business is strongly focused on data collection and analysis, a more analytics and data-driven CRM strategy might be appropriate. This helps companies to deepen their customer and sales prospect data and to build their sales processes around individual prospects and customers. By looking at data like customer engagement, email open rates and clicks, this CRM strategy can help you have a more meaningful sales conversation with prospects and provide a more personalised customer experience.
The key features of an analytics-based CRM strategy are:
Deep sales and customer analytics
Contact enrichment
Data warehousing
Third-party data integrations.

When should you invest in an analytic-driven CRM strategy?
If your business needs a more personalised customer experience.
When you want to focus on sales performance (using data analysis).
When you have a complex sales cycle.
3. Integrating workflows and improving collaboration with CRM
By combining your sales, marketing and customer service data, all business functions can integrate their workflows and operate in a more collaborative way across all channels of communication. This helps improve sales and the customer experience. This approach also enables all teammates to better understand individual customers' needs.
The three defining features of a collaborative CRM strategy are:
Interaction management
Omnichannel customer service
Multichannel sales strategies
When should you consider a CRM strategy?
If sales, marketing and customer service need to better integrate.
If sales, marketing and customer service are spread across different physical locations.
When your company relies on (but can't track) cross departmental collaboration.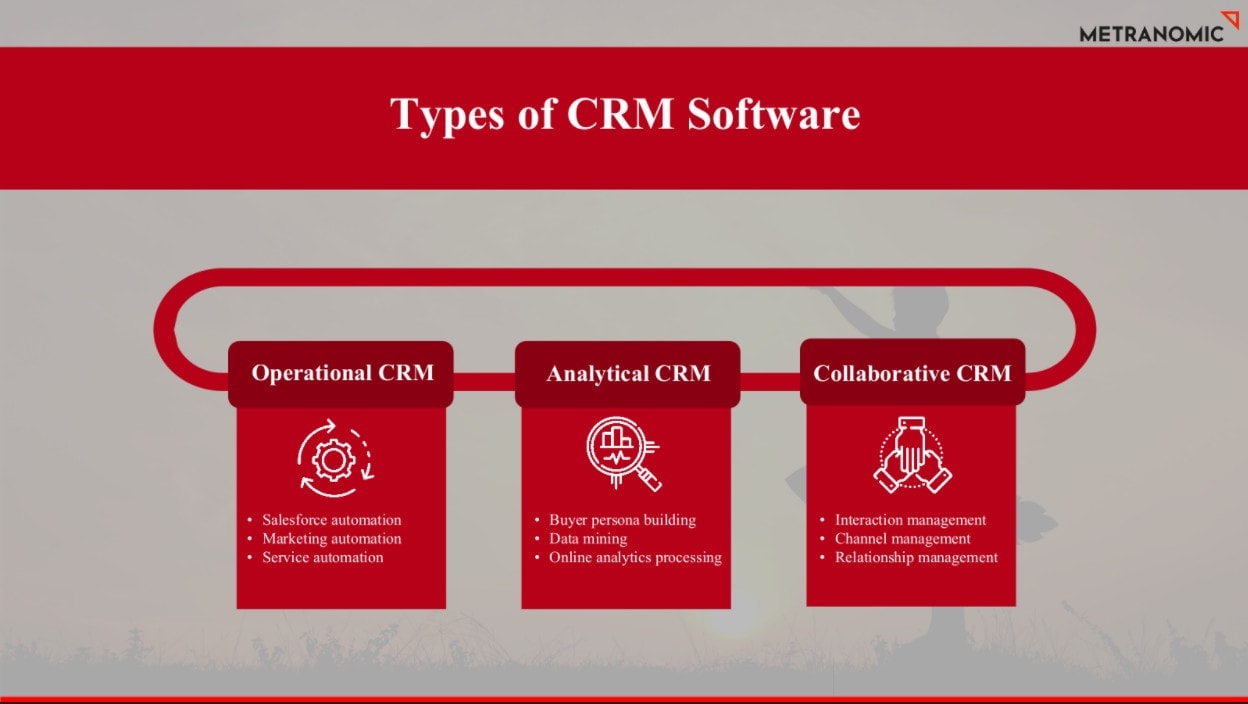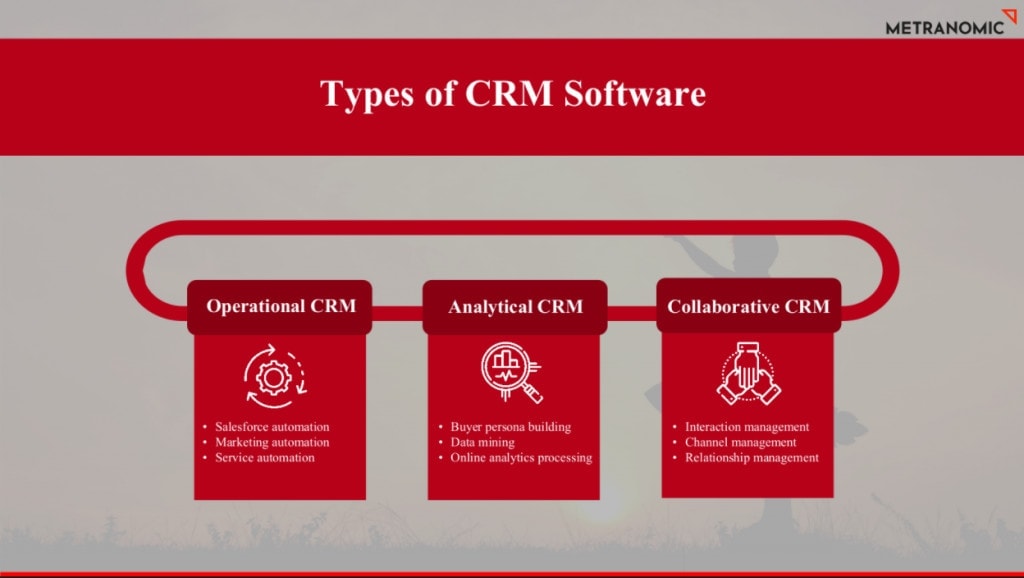 4 Prominent Features that all CRM Strategies Have
1. Opportunity Management
The sales pipeline and opportunity management are critical in managing and processing deals in an organised way. You can also use sales pipeline data to create sales forecasts and identify deals that are more likely to result in a closed deal. Accurate sales forecasts also enable you to set realistic sales goals to aim for. With a well-defined sales process, it is much easier to get valuable leads, allowing you to scale up your sales operations with minimum hassle.
2. Customer Service and Support
Once a prospect becomes a paying customer, CRM systems can enable you to maintain a positive customer relationship with the customer. This works by giving you complete transparency around their customer experience and any issues they have faced, so you can focus on resolving any issues that they have. Customer service reports within your CRM system will also enable you to identify areas for improvement in customer service and the overall customer experience.
3. Account and Contact Management
By combining data across sales, marketing and customer service, you can provide a smooth service for your customers. Combining contact details, order history, deal status and customer service issues is also extremely helpful when engaging with a customer to close an additional sale.
4. Calendar and activity tracking
Combining your Gmail or Outlook business accounts can ensure that all communications are recorded within the CRM system. This reduces the time required to record and update customer and prospect data. Gmail and Outlook integrations also mean that you can synchronise appointments into your existing business diary to prevent meetings from clashing.