The ultimate guide to content marketing in CRM
A CRM Strategy is only as strong as the content brands produce for it. Great CRM content directly affects marketing, sales, lead nurturing and customer service performance.
This blog will take you through our best-practice templates for creating strong CRM content, and how to optimise content to push customers further along the sales pipeline. Brands will also uncover the best ways to approach prospects with a range of conversation starters optimised for building rapport early.
If brands cannot capitalise on content focused on converting and improving rapport, their CRM strategy cannot run efficiently. By the end of this article, brands will identify the key factors that make great CRM content, and how to reactivate deals.
How does CRM content management affect sales performance?
4 examples of effective CRM Content to drive your sales pipeline
Within your business, a great CRM content management system works to drive website traffic and capture new leads. Once those leads have been captured, you need to engage with those prospects via a structured CRM programme. CRM programmes are mostly driven by CRM scripts.
Here are some examples of how you can drive your sales pipeline via a CRM platform using well-thought-out CRM templates:
1. Making a sales introduction

Hi [prospects name],
I saw your website, and it looks like you might be looking to [accomplish X specific goal]. Making no assumptions about your business goals, I believe [your solution] might play a pivotal role in your success.
If you're haven't heard of [your company], our solution helps businesses like [existing clients] with three major goals:
[Goal #1]
[Goal #2]
[Goal #3]
Are you free in the next few days for a call to discuss [prospect company]'s [business area] strategy?
Best,
[Your name]
2. When they visited your website.

Hi [prospect name],
I would like to introduce myself as [your role] at [your company]. I work with small businesses in the [prospect company industry] space and noticed that your colleagues had stopped by our website recently.
This inspired me to spend a few minutes on your site to gain a better understanding of how you are handling the strategy for [business area]. When doing so, I noticed a few areas for potential collaboration and wanted to reach out to you directly.
[Your company] is working with similar companies in your industry, such as [X], helping them [accomplish Y], while providing them with the tools to [manage Z].
Do you have 15 minutes to connect today?
Please also feel free to book time directly on my calendar here: [Meeting booking link].
Thanks,
[Your name]
3. If you're a stranger to them

Hi [prospect name],
I'll get straight to the point to make the 26 seconds it takes to read this worth your time (yes, I timed it.)
As [your job title] at [your company], I regularly help [prospect's job title] achieve [your service].
[Prospect company] is on my radar because we've helped a lot of companies in the [prospect industry] space with their [business area].
Can we schedule a 15- to 20-minute call to discuss your strategy for [your service] — I'd love to get to know your plans, challenges, and how you envision your plan changing down the road?
Even if you decide not to continue the conversation after our call, you'll leave with some advice for [business area] that will make an immediate impact.
Best,
[Your name]
4. If there has been a trigger event.
Hi [prospect name],
Your [LinkedIn description//company's recognition in the Inc. 500// connection with XYZ colleague] inspired me to reach out.
Other [prospect industry] firms like [existing clients] are upping their game in [business area] by leveraging [your product] to accomplish [key outcome of your product].
Within six months of working with [existing client], they saw [X results]. I'd be happy to share a few ideas about how [prospect company] could accomplish the same.
If you're open to it, when would be a convenient time to have a quick meeting over the next week?
Best,
[Your name]
How to optimise your CRM content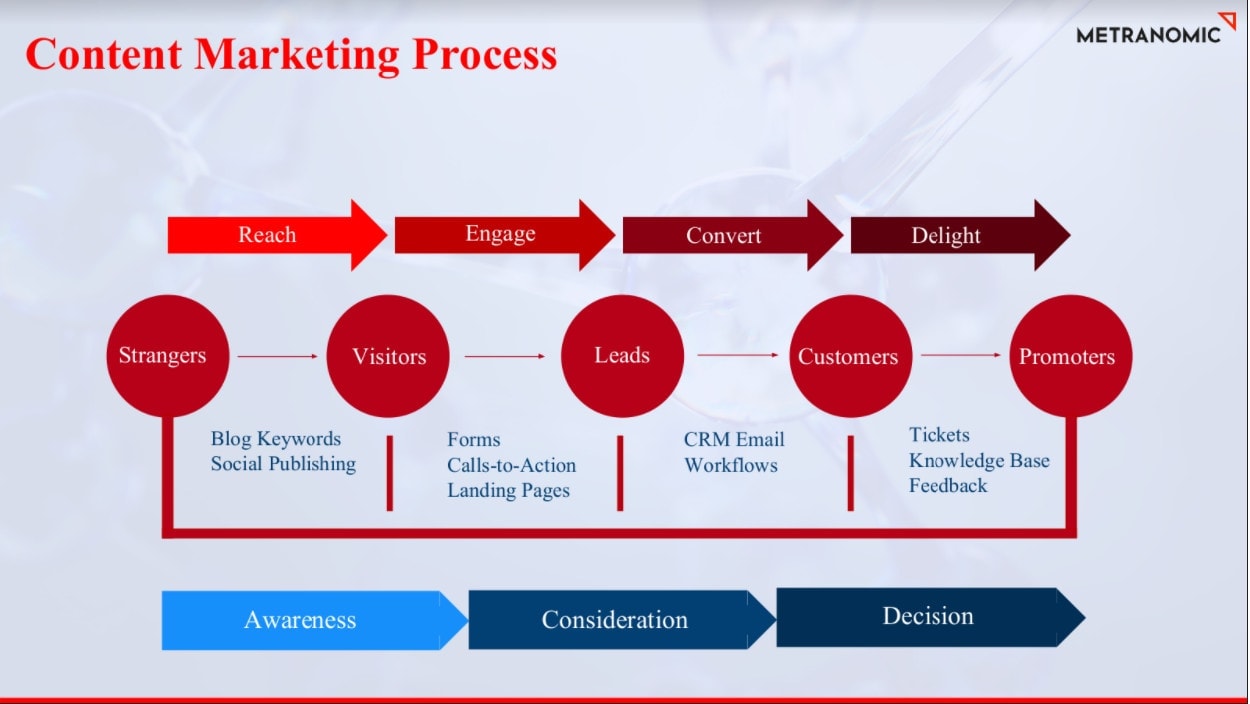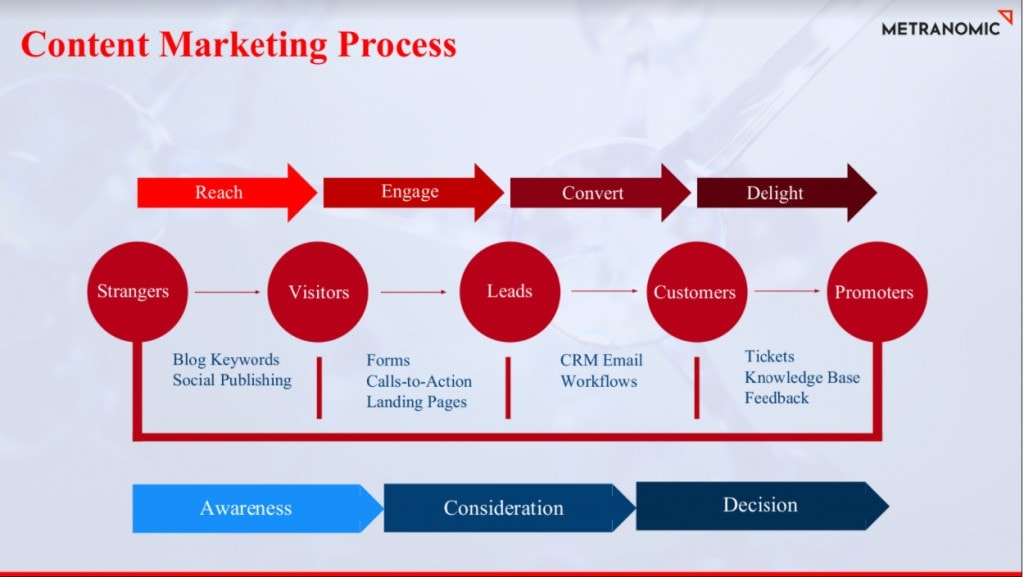 How to reactivate deals within your pipeline with great CRM content management
Try using these 6 methods to retain and prevent customers from drifting:
1. Onboarding Surveys
Use surveys or polls to find out what your customers are interested in and what they want from your business. Doing this early in the relationship is the best way to identify their needs and find ways of optimising your customer experience.
2. Abandonment messages
We recommend that for an optimised CRM content management system, emailing customers who have abandoned their basket and left your site without making a purchase is essential. You can remind them of what they are missing out on and offer them a small discount to drive the conversion. You can also ask them why they didn't complete the purchase to find out what you can optimise to improve future conversion rates.
3. Targeted On-site Promotions
Use your customers' past purchases, interests and website browsing history to create personalised offers specifically for them. Moosend is our favoured platform to do this, but there are many others out there that enable behavioural pop-ups to be shown to users based on past website browsing data. According to a survey by Adlucent, 57% of online survey participants are likely to click on tailored promotions. Not a bad performance!
4. Content Marketing
Sometimes when a customer is losing interest, it is because they are no longer interested in your products/services. When this happens, 93% of B2B marketers recommend content marketing. By creating blogs and videos with educational and entertaining content, you can help regain their attention and reinforce the value of your product/service.
5. Reminder messages
This is a critical feature of any CRM content management system. If a customer stops making their regular purchases or has failed to re-subscribe, sending a reminder message could be the difference between retaining their business and losing them for good. You can set up trigger-based email messages to send reminder messages out to customers that have not purchased for 3 months on an automated basis using most CRM or email marketing platforms (again, we are fans of Moosend).
6. Unsubscribe feedback
Collecting feedback from a leaving customer can give you valuable insight that you can use to prevent further customers from leaving in the future. Pay attention to the reason they left and any issues they may have had that might have led to that decision.
How to use CRM content to start conversations with prospects
Building a strong relationship leads to higher sales conversion rates and long-term customer loyalty. This all contributes to an uplift in overall revenue. The importance of developing a strong rapport can not be understated.
The following are examples of ways you can quickly build rapport in a conversation:
Is it true what they say about living in [city/state]? (For example, 'Is it true what they say about living in L.A.? Are the freeways essentially parking lots?')

Since you live in [city/state], do you go to [local attraction] all the time?

I have such excellent memories of [city/state] — I visited when I was X years old and absolutely loved [destination/feature]. What do you think about [destination/feature]?

If I passed through [city/state], what would be your top recommendations?

Is [city/state] a suitable location for [customer's industry/company/profession]?

I've heard [nearby restaurant/city/state] has amazing [food item]. Does it deserve the hype?

What's your commute like? (Do you drive, take public transit, carpool, etc.)

What brought you to [city/state]?

What's something most people don't realise about [city/state]?

Are there a lot of companies in [customer's industry] in [city/state], or are you guys fairly unique?

Is [city/state] where your company is located, or do you work remotely?

When's the best time of year to visit [city/state]?

My [niece/son/grandchild] wants to become a [industry] professional. Do you have any advice I should pass on?

I saw you used to work in [different field/profession/industry]. How was the transition?

Do you go to [well-known industry event]? Why/why not?