The CRM basics can help sales reps spend more time with customers, leading to more deals being closed. However, many brands are unaware of how the basic CRM functions can achieve this result efficiently. This article will cover the 7 ways you can use a CRM system to improve your sales velocity, alongside how to optimise your CRM to run efficiently.
Without a CRM to streamline your sales process, brands may overspend and lose qualified prospects due to not focusing their resources on the correct conversion opportunities. By the end of this blog, brands will know the best practice techniques for improving customer interactions, automating admin tasks, and centralising data to improve ROI and customer retention.
7 ways a CRM system can improve your sales growth
The following 7 CRM Basics for improving sales growth are vital for any brand who want to succeed in the world of B2B marketing
1. Having a laser-like focus on customers
CRM systems enable you to centre your sales and customer service processes in one location. This allows you to streamline how you engage with customers and prospects easily. This is both a huge time saver and improves your customer experience. Happy customers are more likely to purchase your products/services and become loyal to your business.
2. Integrating sales, marketing, and customer service
Through marketing, sales and customer service, you streamline each of the stages of the buyer's journey. Therefore, customers and prospects have a consistent experience throughout. Teams can also share data quickly and better collaborate, improving overall organisational efficiency.
3. Centralisation of all data
By having all data in one location in the CRM, fewer mistakes are made in sales and customer service. Having a single source of data also enables you to have a more accurate picture of business performance and areas for improvement.
4. Automating mundane admin tasks
Many basic CRM software allows you to automate admin tasks. Examples include email followups, appointment setting, and updating data records. You can then spend more time on high-impact areas of the business. Other tasks that a CRM system can automate include:
Lead capture
Inputting orders
Lead assignments
Lead nurturing campaigns
Promotional email sequences
Answering common queries with chatbots
5. Creating workflows
Workflows are commonly tasks that need to happen in a set sequence. You can create workflows in CRM systems for nurturing leads, issuing quotes, and closing a customer service query. Needleless to say, this saves time. It also ensures consistency in how work is done and enables a business to scale up sales and customer service teams as the business grows.
6. Making customer interactions easy
CRM systems can serve as a hub to resolve customer queries. As they can integrate in with social media, chatbots, and email, customers can have a seamless interaction with the company. Even from outside the office!
7. Creating custom dashboards
Modern CRM systems can help you in building customisable reporting dashboards. These enable you to monitor the most meaningful metrics for your business. Tracking sales appointments, sales, or time to resolve a customer query is all possible with custom CRM dashboards. Custom CRM dashboards can help you identify areas that need improvement so you can deliver an optimal customer experience and maintain sustainable growth.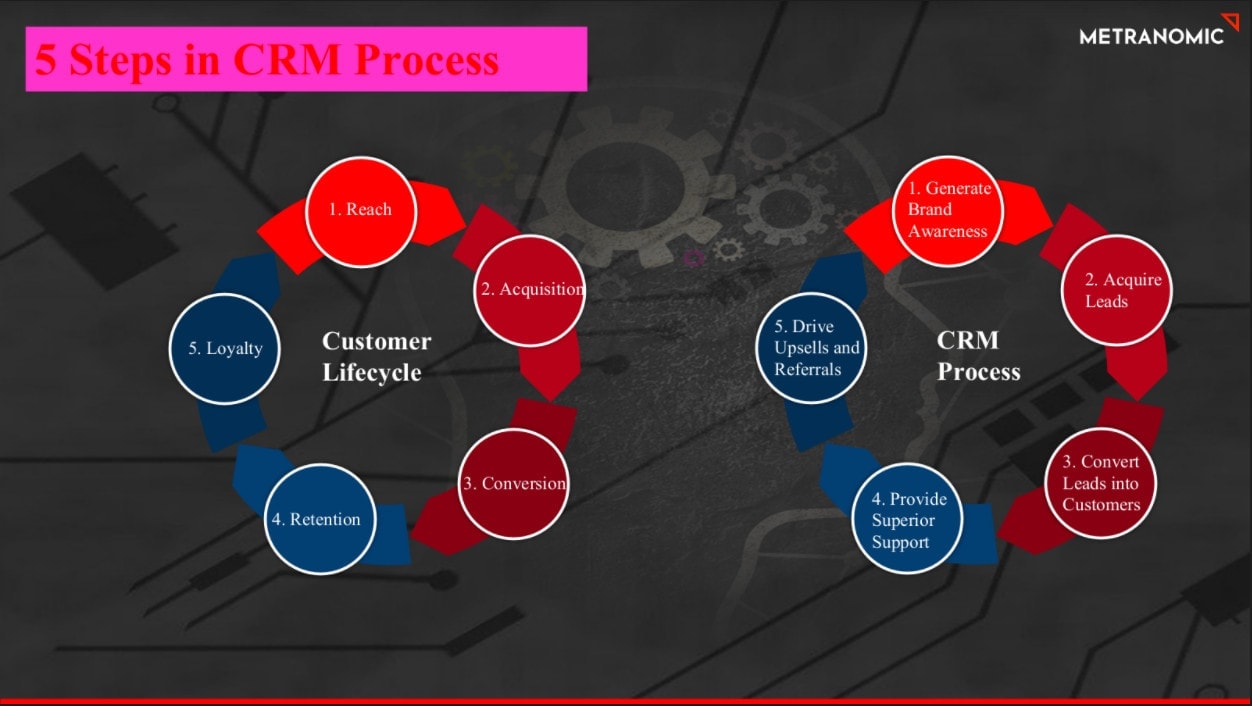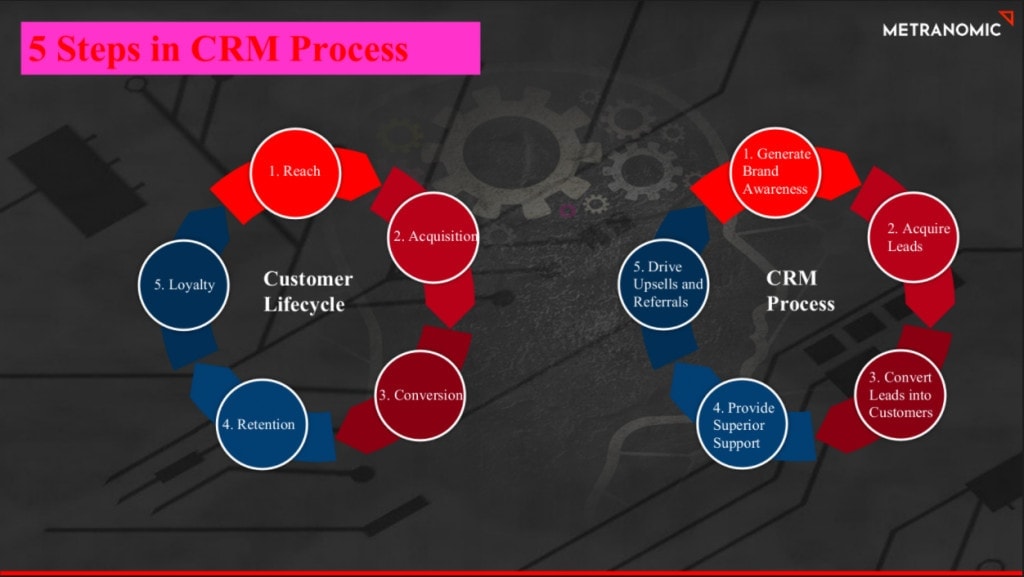 5 Essential CRM Basics in helping you understand if a CRM is needed for your business
1. Your prospects have multiple contact points
If your potential customer has a variety of contact points throughout their sales journey, there is a risk that information may get lost along the journey. A CRM system can help you organise this process so that your sales and customer service teams are aligned. This helps when communicating with many customers and prospects.
2. You're relying on excel sheets and messy processes
A basic CRM software function can stop you from relying on excel sheets and fumbling your way through sales and customer service tasks. It gives you action points, reminders, and reporting data so you can focus on getting the job done quicker and measuring your performance. Basic CRM functions also empower you with accurate sales forecasting to help identify ways of improving and streamlining your processes.
3. You lack clarity over sales performance
CRM systems ensure that your deals and prospects' details are organised and up to date, which allows you to monitor how well your sales efforts are performing and you are on track to hit targets.
4. You have a long, complex sales cycle
Many sales cycles last for months and include many stakeholders that need to sign off before you can close the sale. With multiple stakeholders and a sales process stretching out over such a long time, it's easy to forget what stage of the sales funnel they are in and what was mentioned in the last call. A basic CRM function can allow you to record and review the complete sales history so you can pick up where you left off.
5. Running marketing campaigns
Imagine you are running paid ads to generate sales, running lead capture campaigns, email marketing or have an outbound contact center. This basic CRM function allows you to combine these activities into one location, making it easier to measure and drive sales from all marketing efforts.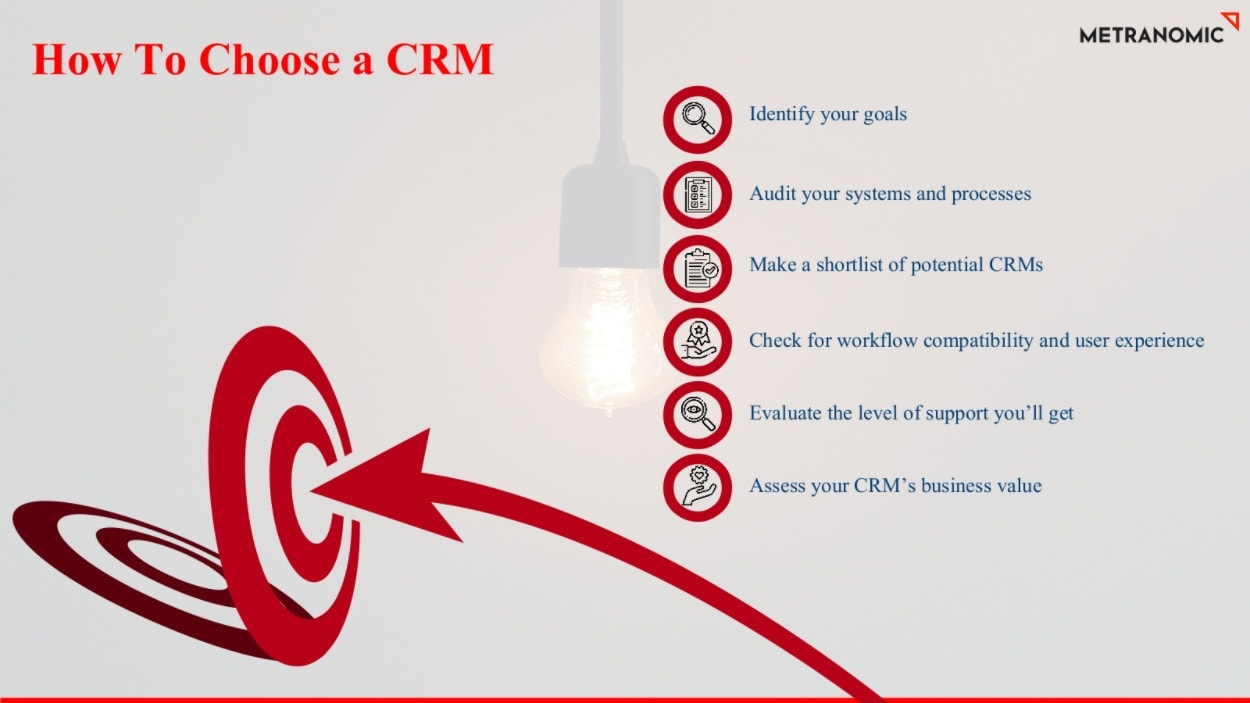 How to optimise your CRM Efficiently
How to get the most out of your CRM System in 5 Easy Steps
1. Develop your CRM strategy and train people
Having a well-thought-out plan is critical to ensure the adoption of the CRM system. Discuss and collaborate with colleagues on this to ensure that everybody agrees with the new way of working. Once the system is fully set up and configured, be sure to train up everybody that will use it to ensure a seamless transition into the new way of working with basic CRM software.
2. Customise your settings
Customising your CRM to reflect your sales process allows you to get the most out of the system and your team. Think about your existing processes and how they will can adapt within the CRM system. Accurately mapping your sales journey is a good way to start this.
3. Migrate your sales data into the CRM
Most basic CRM software allows you to upload a CSV file of your contacts, deals and any companies you are currently working with so that you can bring in information about your current prospects and opportunities. Doing this correctly allows you to get the new system up and running.
4. Integrate any other tools
Centralising your sales, marketing and customer information within the CRM will give you a full view of any prospects and customers. This removes the need for your sales professionals to waste time manually entering data. Taking this one step further, you can also integrate your lead capture, email marketing, call data, email marketing and web analytics tools into your CRM system. It gives a complete view of overall sales and marketing performance.
5. Set up your CRM dashboard
You can customise the CRM reporting dashboard to help you get the exact data that you need in a visual format. This can give you a clear overview of how your sales and marketing efforts are performing.
How to Optimise Your CRM System for a streamlined performance
1. Regular maintenance
Ensuring that your CRM is up to date is the best way to get the most out of your leads. Your CRM system is only as good as the data that it holds. It is important to update and maintain the data that you have on deals, customers and customer service queries to get the full benefits of this basic CRM function.
2. Beware the bells and whistles
With many hundreds of CRM systems to choose from, it is easy to be seduced by the latest shiny CRM, which usually commands a price premium. The advice here is to ensure that you have a clearly defined set of functional requirements before evaluating CRM systems. This ensures that you get exactly what you need, at a price point, that is manageable for the business.
3. Avoid overly technical systems
Most CRM tools are user-friendly but ensure that you find a solution that is easy to navigate and understand without the help of an IT expert.
4. Ensure robust data security
CRM systems store all of your customer's personal details, including their names, contact details and buying habits. Make sure you are protecting the valuable data by choosing a CRM system that is ISO 27001, PCIDSS and GDPR certified (depending on your requirements).
5. Email integration
Most CRM systems integrate with Google Workplace or Microsoft Outlook. However, it is worth checking that your email service provider is supported by the CRM tool you are evaluating. Most CRM systems offer email tracking when email accounts are integrated. This means that when a sales email is sent from the integrated email account to a prospect, the CRM system will track and report if the email has been opened or the email has been clicked on. This valuable data can help you prioritise the most engaged prospects within your sales pipeline.
6. Data accuracy
If the data being inputted into your CRM system is not accurate, things will quickly go wrong. Many basic CRM systems now include data validation in them. This prevents you from entering inaccurate data and they also prompt users to fill in a complete set of information when a new prospect is added. To get the most out of the CRM system, focus on accuracy when inputting data.
7. Segment your leads
Choose a CRM tool that will help you categorise and segment your leads into the sector, deal size, type, conversion probability, etc. This will help you prioritise the most promising leads and spend time on those leads and deals that are most likely to convert.
8. Ensure the CRM is accessible
Using a system that allows you to respond to client requests, manage and act upon them from anywhere will help you stay on top of the game. Many basic CRM functions allow the CRM to be accessible via browser and have mobile apps. This ensures you can keep up to date on deals and customer queries wherever you are.