Administrative tasks are often the focus of a sales rep's day rather than spending it on high valued sales activities. This can be easily fixed by using sales process automation (SPA). This blog will aim to cover 4 sales processes every business needs to automate, alongside the benefits that come with it. You will also uncover the trade secrets for how to automate your sales process to improve your ROI dramatically.
By using sales process automation, brands will have time to focus on closing deals and ensuring a higher customer satisfaction is met across the buyer's journey. By the end of this blog, brands should have a good grasp of how SPA can generate and nurture more qualified leads, leading to a healthier pipeline.
4 Critical Sales Processes you can automate
1. Prospecting. Finding prospects is not only a tedious job but for salespeople, it is the most time-consuming. To save your resources, and the time of your sales reps, automating processes like email list building and contact enrichment should be a priority.
2. Lead qualification. Finding a sales-ready prospect is like finding a needle in a haystack. With no strategy in place, salespeople are often left unguided when qualifying leads. Lead qualification scoring can be automated by measuring key metrics such as turnover, headcount, engagement levels, recent staff changes and media coverage to give a sense of where the sales opportunities are.
3. Sales engagement. Prospect engagement can be automated to increase sales traction and keep prospects active. For example, after the initial communication, an automated follow-up message that includes some interesting content can help nurture the customer. For deals that go cold, prospect re-engagement campaigns can also be automated. Although you risk your business becoming less personalised by doing this, automating sales engagement is a good way to keep yourself in the prospect's mind.
4. Sales operations. The last step in how to automate your sales process focuses on sales operations. Not automating your sales operations is a real lost opportunity because sales teams are often tied up in low-value tasks that could easily be automated. Studies show that 27% of sales representatives spend over an hour a day logging data. Small things like data management, setting appointments, reporting and lead routing are easy to automate and save an enormous amount of time when you do so.
What are the benefits of sales process automation?
The aim of every business is to reduce the time required to close sales as much as possible. SPA helps to achieve this with minimal errors. Other benefits of sales process automation are:
1. Sales automation tools are easy to use. You don't need to be an expert to install and use most sales process automation tools. They are designed for the regular business owner and are relatively easy to get started with.
2. They are very comprehensive. Everything can be automated from the initial contact all the way through to closing a transaction. This means tasks like proposals, sales pitches, and contact management can all be done by SPA tools. With their inbuilt analytics, SPA systems allow you to track all communications and transactions between customers and your business, making it easier to sell similar or more premium services.
3. SPA helps your sales reps prioritise tasks. This is a critical benefit of sales process automation. Sales reps have many responsibilities, one of which is negotiating sales. This is a very time-consuming task which for some clients can end up taking hours. The trouble with this is that many sales reps have to split their time between low and high value tasks! Therefore, a lot of time and effort goes into low impact tasks. SPA systems help sales professionals organise leads and tasks in order of priority, which enables them to focus on the higher impact work first.
4. SPA analytics can help measure efficiency. To help you keep track of how efficient your sales process actually is, most sales process automation software comes with built-in analytics to measure sales performance. This can help you optimise sales processes to be more effective.
5. There are fewer errors overall. Human error can be found in any form of business, but with sales reps, they are most likely to occur during repetitive tasks that reduce your productivity. The most effective way to reduce the number of errors is to automate those repetitive tasks and leave your sales reps to focus on the human side of sales.
6. SPA systems can give your business more accurate sales forecasts. In order to predict how fast your business will grow, you will need accurate sales forecasts. Sales process automation tools can offer you exactly that by analysing sales trends, orders, opportunities, and quotes to predict low/high sales and revenue. By looking at the forecast, you can make more accurate capital allocation decisions to drive further growth.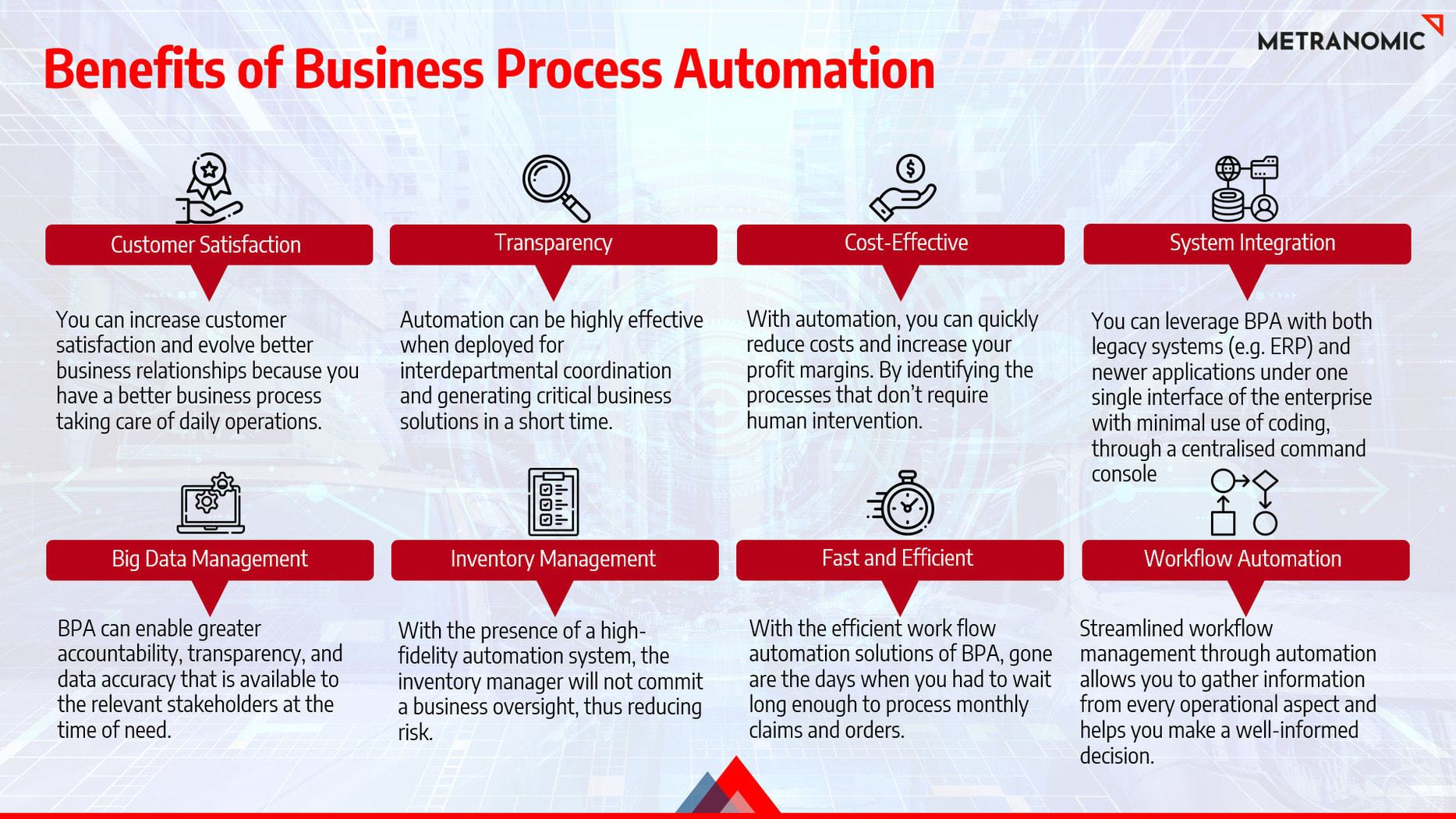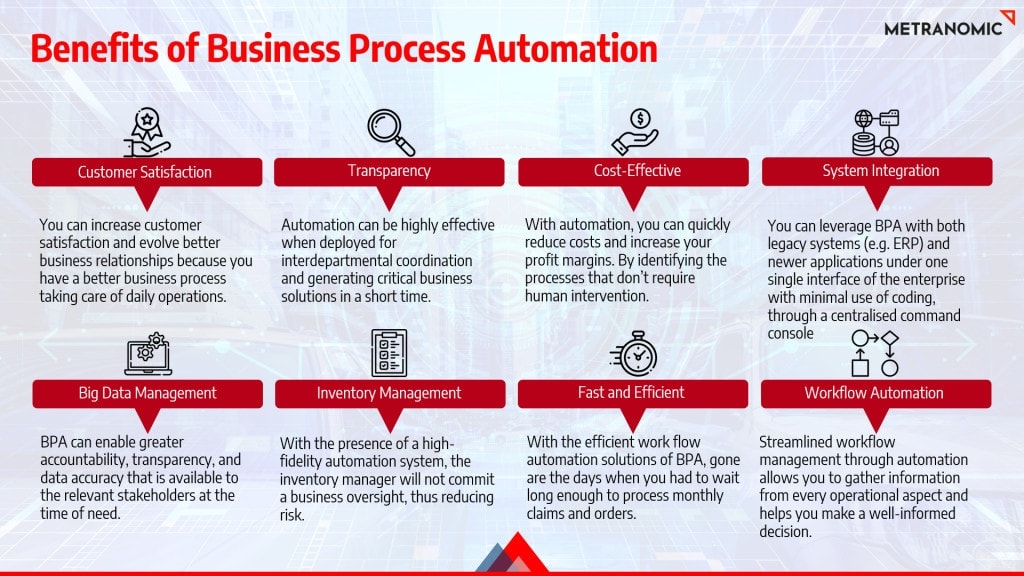 3 Ways you can automate your sales processes for improved revenue
1. Customer onboarding

Customer onboarding guides the customer through the workings of your product or service. This can be done through step-by-step tutorials, one-on-one questions they may have, and even milestone celebrations when they reach a new target or goal.
Onboarding is a crucial part of any business and for good reason. Most revenue comes from your existing customers and if they are pleased with the service you provide, they will become your most profitable referral source. Here are a few examples:
Slack

. Slack helps their new users find their footing with live animated links that explain tasks and functions, as well as providing useful FQAs.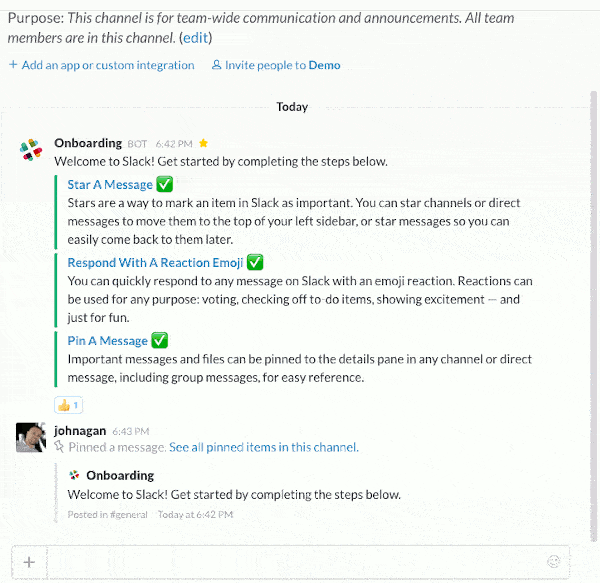 Dropbox

. Dropbox starts by personalising its customers' experiences by asking questions to understand exactly how the customer will use Dropbox. Because of this, Dropbox can give its users the information they need immediately, so they can get straight to business.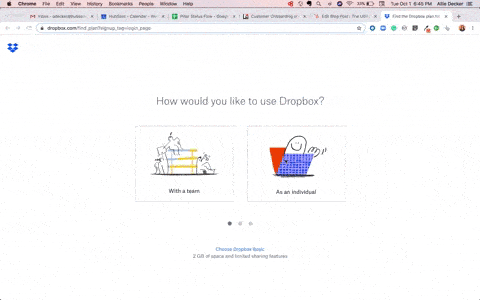 2. Email automation

Automated emails replace manually written emails with ones that are sent automatically whilst still maintaining a sense of personalisation. For example, sending a message to a group of contacts who all work in the same industry or emailing a prospect that has recently visited your website. Here are some examples:
Topic workflow emails. A topic workflow can be created based on each industry related topic that your business produces content about. Group your topics through related content like eBooks and webinars into a content bundle. You can then create an email workflow for an industry and use triggers like page views and content downloads to send more content to the people who are most engaged. Companies like HubSpot have free, useful tools that can trigger content download workflow based on form submission. This includes their conversion tool, HubSpot Marketing Free.

Blog subscriber welcome workflow. One of the easier things to automate is a blog welcome email. These are normally sent as a friendly hello to new subscribers to thank them for getting involved and let them know what they will get out of your blog. It can also guide them to important tools like subscription settings and encourage them to read some of your blogs' best articles. This automated process is triggered when a customer subscribes to your blog.

A lead nurturing workflow. This type of workflow targets leads that have been actively downloading content like ebooks and subscribing to webinars. It focuses on sending more content to encourage them to progress towards a sale.
A lead nurturing workflow can include customer success stories, a free trial, product demo and webpages they might like based on their previous activities.

3. Proposal automation software
Wrike. Wrike is a proposal management software solution that is used by over 2.3 million people across the globe. It can manage complex proposal requirements and includes proposal-related tasks, folders, and a dashboard. All of which is customisable so that your team can meet their proposal deadlines. Wrike can help your business cut down on 90% of emails and save time in producing a proposal.
To help your team get started, Wrike has interactive training videos, as well as a guide and a help centre to help answer all questions.
Formstack. Formstack is an easy-to-use workflow management system with over 200 pre-made forms you can customise to suit your needs.
It is perfect for smaller businesses that have documentation-heavy processes, despite being sold at a slightly higher price than other workflow tools. Other features of Formstack include automatic payment and data collection with processes that send information directly to the people who need it. As well as a dashboard that gives you a visual display of KPIs and all of your other data plus customisable reports of metrics like conversion rates, unique views and abandonment rates.
PandaDoc. Pandadoc is an all-in-one document automation solution that is easy to use in both large and small sales teams. Its greatest feature is its large template collection and editing tool, which allows businesses to create proposals, contracts, and interactive quotes quickly.
Overall, PandaDoc is a great tool to streamline and automate elements of proposal creation, which includes automatic notifications and a wide range of automations.
PandaDoc can integrate with a huge number of other systems like PipeDrive, Microsoft Dynamics, Insightly, Google Drive, and many more although some are reserved for premium account holders, so make sure you double-check.