Take your marketing strategy to the next level by using a data-driven marketing approach 
How can data-driven advertising improve your marketing strategy?
What does data-driven mean?
A data-driven advertising process involves using analytical data to make informed business decisions, improving marketing efficiency and productivity. This approach analyses your marketing objectives and finds relevant data from different sources. For example, website tracking, social media and buyer's habits.
How can data boost your marketing campaigns?
Data is essential for your marketing campaigns. It provides you with useful customer data. For example, demographics, purchasing behaviours, purchase predictions and profiles. 
As a result, a data-driven advertising approach can help you produce innovative and tailored messaging for social media, email and SMS.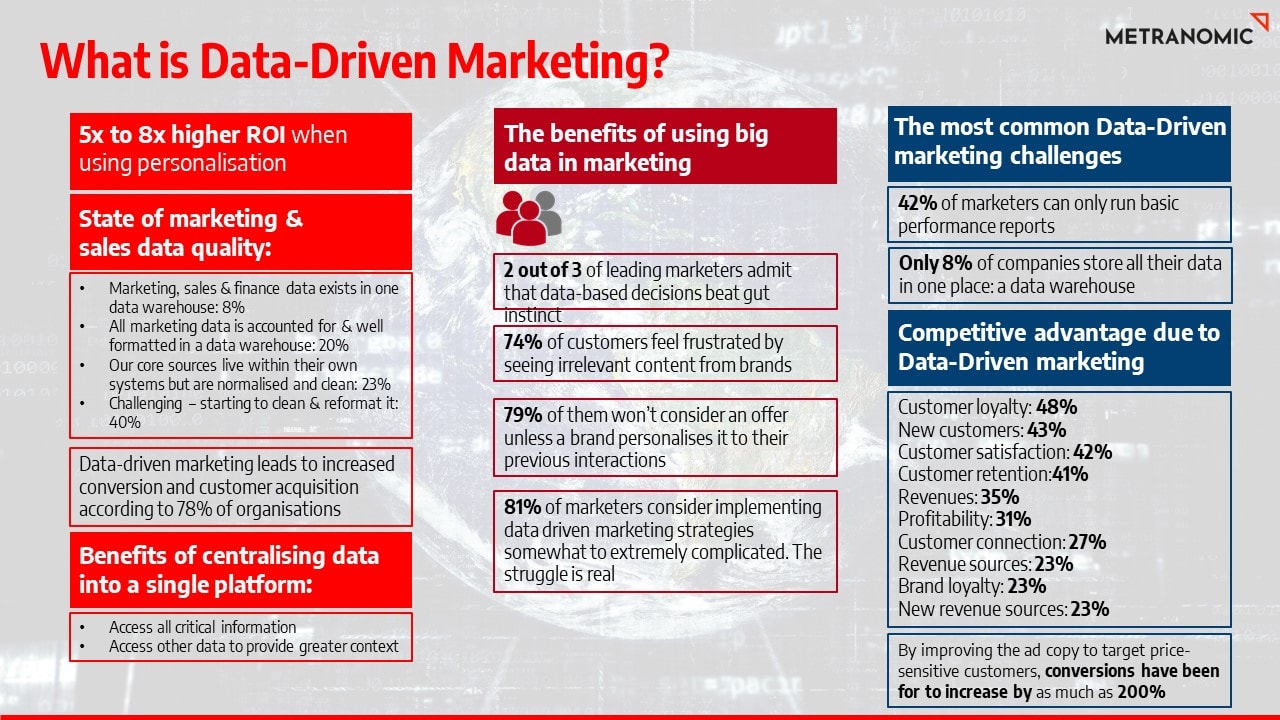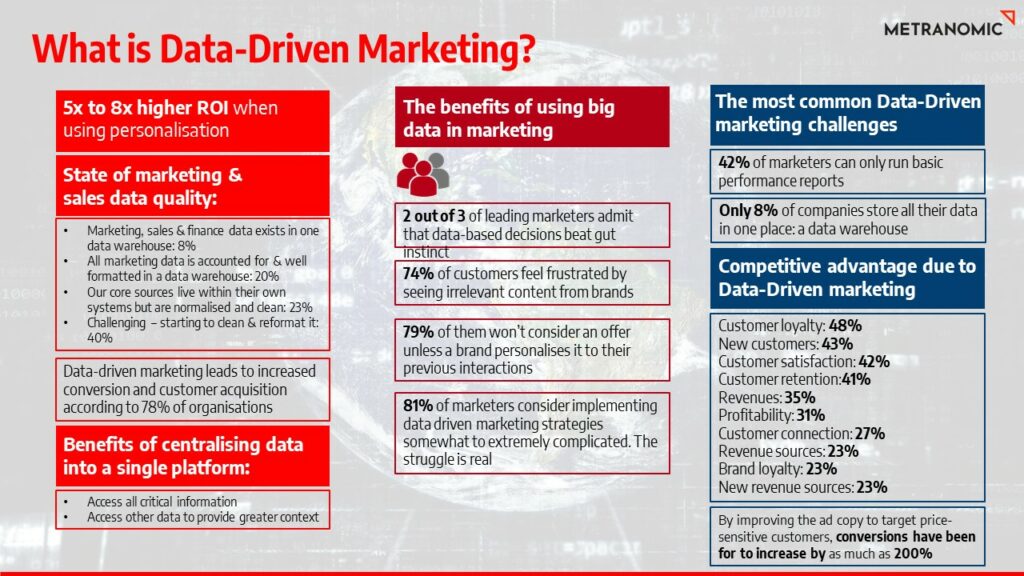 5 Amazing Benefits from using Data-Driven marketing
A Data-driven marketing strategy can provide the following 5 benefits:
1. Customer Experience
A data-driven approach improves customer experience by analysing customer data to create a detailed customer profile. 
2. Brand Awareness
Brand awareness is enhanced by using data analytic tools such as Rapid miner, Infogram, SAS, Clickmeter and more. These help you track different brand metrics, such as brand interaction and purchasing.
3. Content Personalisation
Data-driven advertising boosts your content personalisation for blog posts, social media posts, Ebooks and videos. It can provide your marketing teams with data on the type of content your customer engages with. This can depend on a variety of customer data, such as their age, gender, location, interests and purchase behaviour.
4. Customer Targeting
Data-driven marketing can help you find which channels to use, such as social media, email or SEO, to promote your brand. Doing this can help you create personalised advertisements in the places and times your audience is most active online.
5. Marketing Decisions
Using a data-driven approach allows you to make informed marketing decisions by providing data analytics.
A complete guide for building your data-driven advertising strategy.
5 effective steps to help you create a data-driven marketing strategy 
1. Plan your data-driven marketing strategy
Planning your marketing strategy allows you to reach your marketing goals. For example, lead generation, social media growth or SEO improvement. Below are five steps to help you plan your marketing strategy. 
Set out your business objectives. Begin your marketing strategy by outlining your business objectives, such as customer service, efficiency, cost management or product reliability. 
Outline your target market. Outlining your target market provides you with a variety of customer data, such as demographics, product interests and geographics.
Define your marketing initiatives. Defining your marketing initiatives can help your marketing teams understand how to achieve their objectives.
Outline your marketing tactics. Marketing tactics can help you promote your brand and product. Accomplishing these marketing goals can be achieved through marketing tactics such as social media targeting, email targeting, or ads.
Find the best marketing channels. Choosing the best marketing channels is key in a marketing strategy because it can help you communicate with your target audience, helping expand brand awareness. The marketing channels you can choose from range from social media (Facebook, LinkedIn, Twitter), email (Gmail, Yahoo, Outlook) and more.  
2. Make sure your marketing goals are SMART
The SMART (specific, measurable, achievable, relevant, time-bound) criteria can help you focus on metrics to measure for analysing your marketing performance. This informs you if your marketing campaign is effective. SMART can also help you achieve the goals that you have set for your marketing strategy. 
Your SMART goals can be broken down into different key performance indicators to help you accurately measure your marketing performance. A great example of how to set up different KPIs is to find out how many followers you have on social media and to use this baseline to help with your SMART goals. Another example is using KPIs to help increase the amount of followers on your social media platforms, such as Facebook, Instagram, and LinkedIn.  
3. Find and segment your customer groups 
Once you understand your SMART goals and marketing strategies, it's important to find the right customer group to target. This helps you reach your marketing goals. Using a data-driven approach can help you create detailed customer groups and help you with your customer segmentation.
Analysing your customers' buying habits helps find and segment your customer groups. For example, unique products may attract customers that have the same interests. You can segment your customers into different groups such as demographics, geographics, buying behaviour and more by using a clustering analysis to analyse customer data. 
Segmentation analysis can help you find out which customers are most loyal to your business and specify what products they are most interested in. 
4. Align the buyer's journey and your sales cycles
Once you can analyse and segment your customer groups, look at their buying journey. Understanding your customers' buying journey improves your sales cycle as it helps enhance customer experience and add value to your products. 
A data-driven approach can help you build a strong marketing campaign by understanding your customers' buying intention. As a result, you can find out more about your customers' buying intention by looking below at the 3 stages of a buyer's journey.
Awareness Stage
Your customers are trying to figure out what they want in order to solve their needs. The best way to connect with customers at this stage is by providing content such as blog posts, Ebooks, videos, and social media marketing. Segmentation analysis is a helpful way to help you get started and find your ideal target audience.
Consideration Stage
At this stage of the buyers' journey, prospects are looking at different products or services from your website and are considering if to purchase. Content formats such as videos and webinars can be perfect to use at this stage because they are informative and specific to your buyer's needs. 
Decision Stage
Once your customers become qualified leads, it is important to keep them as a customer for your business. You can do this by using several formats, such as FAQs, pricing, shipping info and warranties. Using these formats can help your customers gain trust from your business. 
The buyers' journey framework can help you predict when your customers are going to buy your product. A data-driven approach can help give you a detailed analysis of which stage your customer is in.
Your sales cycles can help provide you with information on how many customers are currently shopping on your website. This is done by using a data-driven approach to analyse your sales on a monthly basis. Aligning data from both your sales cycles and buyers' journey will help target messages to the right customer. 
For example, car dealerships are often very concerned with the sales cycle and the buyer's journey. A good example of aligning your buyers' journey and sales cycle is from a car dealership that has created seasonal ads to create their own brand. The sales cycle provided them with data that they should convince their customers in the awareness stage to purchase a car in the long term.  
5. Align Customer Experience with Strategic Priorities
Your customer's experience are the interactions they have with your business, through your product and services. Improving your customer's experience can be helpful for your business because customers can have high expectations of their buying experience from other competitors. 
A good way of improving your customer's experience is by analysing your customer segments, personas, interests, purchase frequency and keeping them up-to-date. As a result, using frequency analysis can help you align your customer's experience to the stage they are at in their buyers' journey.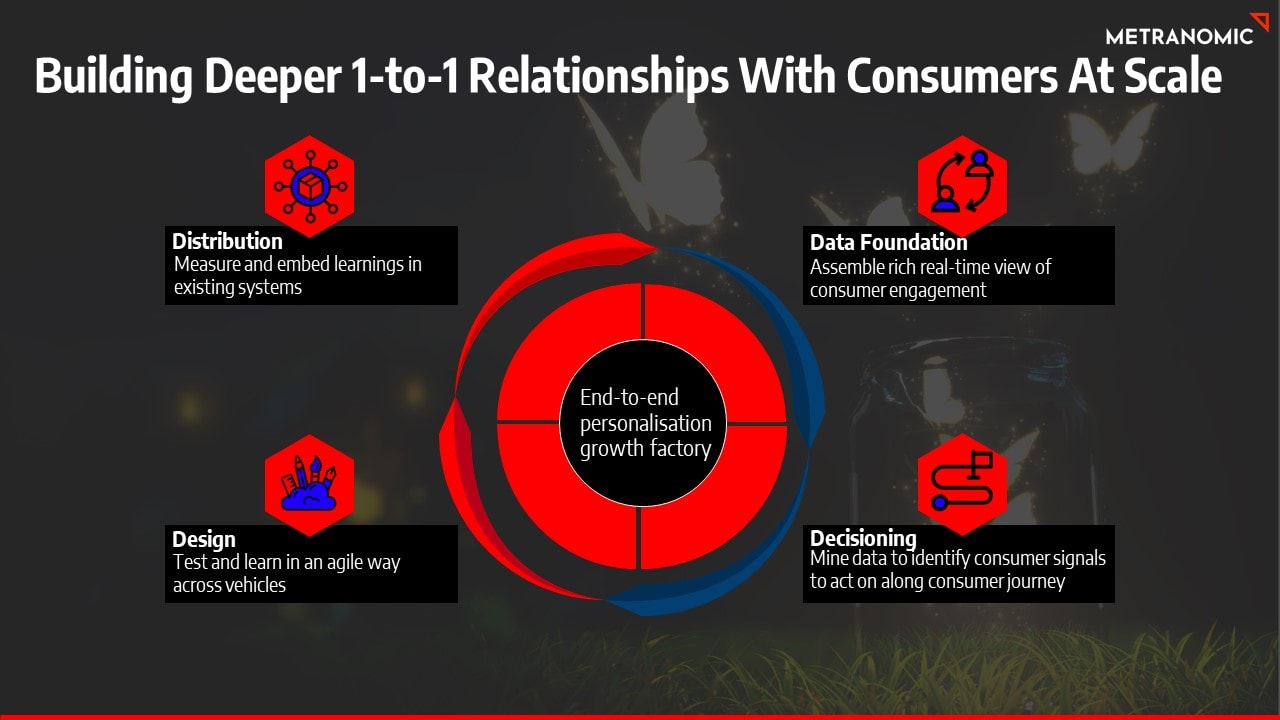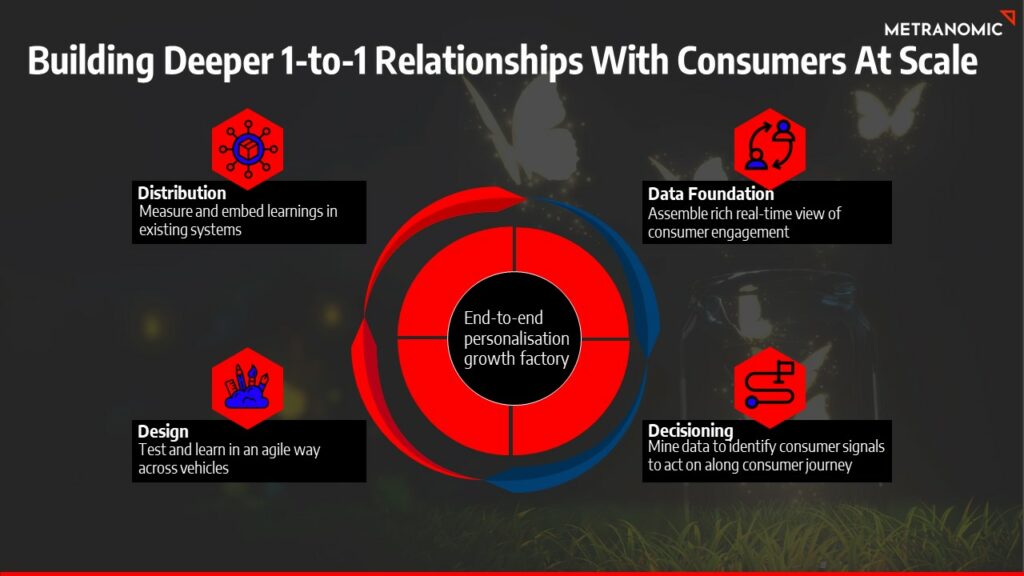 2 Great Examples for helping you with a data-driven marketing campaign:
1. Demographic data to improve your marketing campaign
A company named GreenPal ran a headline reading "Local Lawn Pros in Nashville are a click away". The CEO of GreenPal thought the ad was a success because it brought in a conversion rate of over 10% on the Nashville landing page. 
However, to improve it, he used census data in the local Nashville area, which showed a price-sensitive demographic. This meant that residents in that area viewed the pricing of their products as a high factor in their buying decision. 
GreenPal could use the census data to contextualise their audience and make their headline more specific. For example, it read "The cheapest lawn mowing in Nashville". Using this data would help them gain their conversion rate to 30% 
2. PPC (pay-per-click) data to improve your website SEO
It can sometimes be difficult for your business to use a new channel when you are already using one that is reliable and effective. Or maybe you're taking a risk by limiting your marketing campaigns and may need to start again. 
A gig marketplace in Hiresquare could avoid marketing risks by using PPC (Pay-per-click) data to improve their websites for search engine optimization. They used a PPC campaign to look at the keyword search report, which gave them an analysis of how their keywords were performing in the search engine. 
Pay-per-click campaign data also gave them data on both the conversion rate of their keywords and the location of these keywords in the sales funnel. 
The Best Data-Driven Tools to improve your data-driven marketing
3 best practices to help with your data-driven marketing plan
Research your ideal customers
Make sure you are aware of who your ideal customers are before you collect data from different sources. Build customer profiles and inform your sales and marketing teams. For more in-depth research on your ideal customers, you can gain insight into the purchasing habits of your current consumers. Therefore, provide them with surveys or hold a Q&A! Doing this can give you a great platform to begin your customer data collection and boost your data-driven marketing.     
Data Management
Managing your data can help keep your customer data up-to-date, secure, organised, and efficient. Data management can also give you an accurate customer persona by providing you with up-to-date analytical customer data.
Customer Data Protection
Customer data protection is important for having your own data-driven marketing campaign. Using customer data has become more privatised and protected by various laws, such as the General data protection regulation (GDPR). 
3 Amazing Data-Driven Marketing Tools
Below are three great data-driven marketing tools you can use to boost your data-driven marketing campaigns. 
A brilliantly designed data-driven marketing tool that can help you keep track and analyse your customer data under one platform. It also connects to Hubspot customer relationship management (CRM). 
Hubspot marketing hub comes with several great features, such as content optimisation, social media management and ad tracking. This data-driven advertising tool can also be a flexible option for you and your business because it comes with a free plan to get you started with your data-driven marketing campaign. 
Google analytics is an effective data-driven marketing tool that can help you keep track of visitor activity on your website, such as providing information on how many visitors leave your website and how long they stay on your website. 
This data-driven advertising tool can also inform you of other aspects of visitor data, such as their demographics, for example their age, gender, geolocation, hobbies and more. Google analytics also comes with several modern features such as web traffic measurement, visitor reports, analytics and more. 
Google analytics also comes with a free version which can provide you with free courses to help you get started with your Google analytics account. 
An amazing data-driven marketing tool that can help boost your social media posts and blog posts by using analytics to discover new keywords on the web. It also finds trending articles to help improve your data-driven marketing plan.
Buzzsumo comes with several fascinating tools such as shared content report, content analytics, real-time monitoring and more. A flexible data-driven advertising tool that comes with a free plan that gives you 10 searches a month, 1 year of data and more.